Phygital sparkly things seem to be the next big thing for NFT lovers. An upcoming auction, hosted by Sotheby's, is hawking a collection which includes a ring that can be worn in both the metaverse and in real life. It will be auctioned alongside pieces from big names such as Picasso and Salvador Dalí.
The "Art as Jewelry as Art" sale will take place in September. The phygital (spanning both the physical and digital worlds) ring was dreamt up by Francine Ballard of Metagolden.
There are so many new ways to invest. And for NFT enthusiasts, to have both physical items as well as digital items, may be a little more appealing than just holding an NFT.
Says Ballard, "For under-30 consumers, digital assets have become as important as physical ones. Luxury is awakening to that fact now. And this is where our brand sits."
Named the 'Ethereum Expedition,' the ring has no published guide price yet. The buyer of the 1-of-1, emerald and 18 karat gold ring will own the piece in both the metaverse and the physical world. However they can sell the NFT or the physical ring as separate pieces later.
The Ethereum Expedition ring looks like a miniature geodesic dome. The artist says the piece is "inspired by the intercontinental rocket launches that typically span upwards of sixteen hours, which would be curtailed to approximately thirty minutes via up-and-coming space programs like Elon Musk's SpaceX."
Phygital Jewelry Paired with NFTs
Metagolden is a platform that sells jewelry anchored to an NFT. They say the aim is to "connect people to a new retail experience where status is measured by scarcity and differentiation, and value is ascribed by return on investment."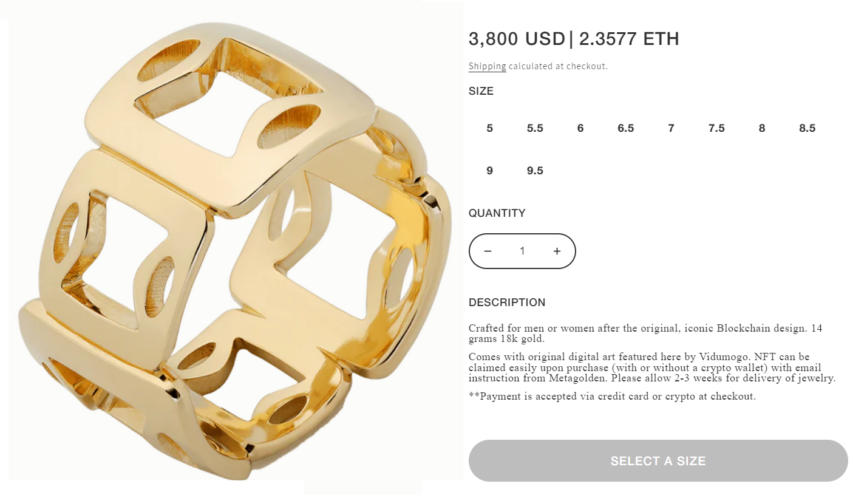 Unisex Blockchain Ring
They say their mission is to "demystify Web3 and provide tangibility to the intangible, while simultaneously turning consumers into investors."
Metagolden have already been selling their NFT-paired jewelry in the Metaverse. For example, they have their own shop in Decentraland. You can also buy the items at ARTCADE @Fred Segal store. And, at CashLabs Gallery Crypto Valley. There are also some pieces on OpenSea.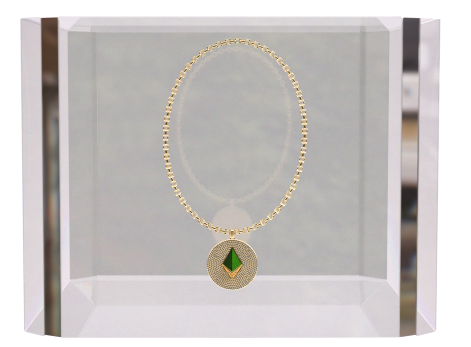 Source
If collecting beautiful items is the path to financial freedom, then this is an interesting proposal. The Sotheby's auction will run from September 24th to October 4th.