Back to the list
Polygon Price Prediction 2022-2035: Is MATIC a Good Investment?
www.cryptopolitan.com
22 March 2022 00:41, UTC
Reading time: ~14 m
---
Important news around the Polygon Network at the start of this year is the launch of a photography NFT platform that will be deployed through the Polygon blockchain. The platform is the product of the Associated Press, and aims to enable collectors to purchase and trade tokenized photographs from global news. AP's goal is to cover subjects in climate change, space and war through photojournalism.
The live Polygon price today (21 March 2022) is $1.49 USD with a 24-hour trading volume of $551,869,911 USD. Polygon is down 0.18% in the last 24 hours. The current CoinMarketCap ranking is #16, with a live market cap of $11,462,351,717 USD. It has a circulating supply of 7,696,069,521 MATIC coins and a max. supply of 10,000,000,000 MATIC coins.
The outlook for the coin looks more positive after the news that Polygon had raised a $450m warchest through a private sale of its native MATIC token to advance the mass adoption and its own position in Web3.
What do you think will be the top project for #Polygon in 2022?
Which projects do you want to see more of on #Polygon through 2022?

— Polygon | $MATIC 💜 (@0xPolygon) January 4, 2022
Polygon is the leading platform for Ethereum scaling and infrastructure development. Its growing suite of products offers developers easy access to all major scaling and infrastructure solutions: L2 solutions, sidechains, hybrid solutions, stand-alone and enterprise chains, data availability solutions, and more. Polygon's scaling solutions have seen widespread adoption with 3000+ applications hosted, 1B+ total transactions processed, ~100M+ unique user addressses, and $5B+ in assets secured.
What's new with Polygon (MATIC)?
Mina Protocol and Polygon are working towards implementing support for Mina on Polygon PoS. This bridge will enable developers building applications on Polygon to leverage privacy and verifiability via Mina's zero knowledge-SNARK-based protocol.
Polygon is an Ethereum based project that hopes to solve fundamental issues the Ethereum blockchain faces, such as interoperability and scalability. It is the first project on the Ethereum blockchain to launch an adequately structured tool that addresses Ethereum scaling problem. Consequently, many have termed Polygon as Ethereum scaling solution.
Ethereum is home to several DeFi projects like the Polygon, formerly known as the Matic network. Since the Matic network has brought numerous functionalities to the entire Ethereum blockchain, several developers have taken an interest in the project that has, in turn, led to steady growth of Matic price.
Major cryptocurrencies such as Bitcoin, Ethereum, Ripple, etc., witnessed a slump on the 1st week of June, and yet, the value of Polygon(MATIC) rose nearly 35% in the same period. Investors saw Polygon (MATIC) as the next big thing, and in a short period, it surged past other cryptos to rank among the top 15 biggest cryptos globally.
In Feb 2021, Polygon rebranded itself and upgraded it by bringing in promising metaverse projects and integrating Matic Plasma Chain. This development provided a layer one blockchain network with integrated scaling solutions for NFT, DeFi, etc.
Polygon has become a massive hit in India and led cryptocurrency exchanges like CoinSwitch Kuber to list the currency on their platforms. Polygon Matic price prediction is based on analyzing the previous price and forecasting the future. Polygon price predictions on Cryptopolitan are based on analyzing the entire cryptocurrency market, price action, and trends to determine whether Polygon cryptocurrency is a good investment.
Polygon (Matic) Overview
Polygon (Matic) was formerly known as the Matic network, and it was developed on the Ethereum blockchain to solve scalability issues faced by Ethereum. The Matic network employs its unique Polygon SDK to create interactive decentralized applications (dApps) on the DeFi platform. It combines both PoS and plasma framework in its core and runs on Ethereum layer two.
Polygon successfully converts the limited Ethereum blockchain into an open blockchain network usable by many. In essence, it makes Ethereum steady as the internet of blockchains.
In turn, Polygon (Matic) project benefits immensely from the already established Ethereum blockchain in several ways. Firstly, every blockchain project needs a secure security infrastructure, the Matic network benefits from Ethereum's array of qualities such as an active and vibrant community, established security systems, and transparency.
Within the Polygon network, transactions are settled using the Matic coin. Matic price has risen over the years, sparking interest from cryptocurrency enthusiasts. Polygon technology has improved efficiency within the Ethereum blockchain. Today, Polygon boasts of handling up to 65,000 transactions per second on its single sidechain. Similarly, it has averaged an impressive block confirmation time of two seconds per transaction.

Polygon Overview
Polygon Overview
Coin
Symbol
Price
Marketcap
Change
Last 24h
Supply
Volume (24h)

MATIC
$

1.46

$

10.06 B

0.69%

6.87 B
$

477.09 M
Polygon Technical Analysis
Polygon price forecast is conducted after carefully analyzing its price history and employing technical and fundamental analysis to forecast future prices based on Moving averages. Matic's previous price records indicate that the coin has been steadily positive growth despite the unpredictable volatility.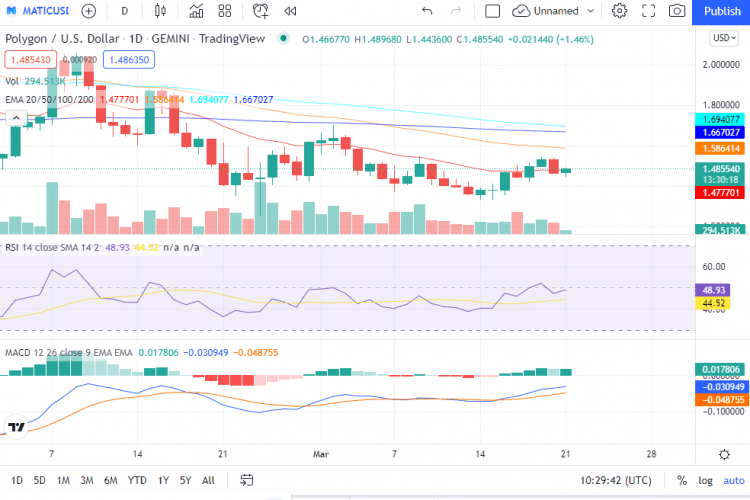 Polygon price analysis reveals that MATIC prices are currently in a bearish spell as prices have sought support at $1.45. The current market sentiment is bearish, and if this persists, Polygon prices could retest lows of $1.48.Resistance for MATIC/USD pair is seen at the $1.60 and $1.70 levels, while the immediate support for the MATIC/USD pair is seen at $1.48, and a break below this level could see prices retesting lows of $1.45. The next level of support is seen at $1.40. On the other side, resistance is seen at $1.60, and a break above this level could see prices rallying to $1.70.
The Polygon prices have been trading between $1.45 and $1.50 for the past few hours with no clear direction.MATIC trading volume is seen to be picking up as the 24-hour volume stands at $2,609,628.MATIC/USD is currently dominating 0.61 percent of the total digital assets market, ranking 16 overall. Bears seem to have countered any bullish momentum, so the bulls will have to wait for a breakout to retake control.
Polygon Price History
According to Polygon's plan, all Matic coins will have been released by December 2022, which is good news for long-term investors because it guarantees significant future gains.
Since its inception in 2017, Matic tokens have had an incredible run that has withstood the test of unforgiving crypto market turmoil that usually ends up wiping out invalid tokens.
Matic has a total market cap of $7,730,433,023 with an average daily trading volume of $1,224,150,489.
Despite the prevailing bearish trend currently experienced in the crypto market, experts are convinced by Matic's crypto price prognosis and price forecast data that indicates an overall bullish trend for the long-term investment horizon.
Based on Coingecko's data, Polygon had recorded impressive gains since its launch back in 2017. The crypto token has recorded incredible gains of up to 44157.6%, and the rally is expected to continue in the following years.
Matic recorded its all-time low price of $0.003143 in May 2019 during the famous bearish run. However, since then, the coin had continued to make significant gains until May 2021, when it recorded a new all-time high price of $2.62. It seems then that May is the month of Polygon, after all.
Cryptocurrencies are a fickle thing – it's impossible to predict which will be popular in the future and which will lose favour. However, we think that Matic has a lot of potential and will hold its value well.
Pros and cons of investing in Polygon (Matic)
Polygon, formerly Matic network, has been considered a stable investment by crypto enthusiasts. Anyone interested in Ethereum and its bundle of projects likely has an affinity for Matic.
It is a well-structured organization with clear goals about extending the scalability of the Ethereum blockchain and making cryptocurrency more accessible to the public. If the project continues to push forward strides, their success is inevitable, and consequently, Matic holders will benefit significantly.
Investing is a full-time activity that requires individuals to analyze potential risks and returns before committing. However, within the crypto world, numerous uncertainties shape the prices of crypto coins. Therefore, even for a seasoned professional, it is challenging to make precise predictions on the price of a coin based on historical price actions alone.
However, for an individual to earn impressive returns on their investments, they must take risks. Here, we'll discuss some of the benefits of investing in the Polygon ecosystem.
Pros of investing in Matic
Since Matic is a scaling solution on the Ethereum blockchain, it is difficult to foresee its downfall. Therefore, most forecasts are convinced that Polygon will be in existence for years to come. So what are some of the pros of investing in this token?
It provides new scaling solutions to the Ethereum ecosystem, ensuring a bright future and allowing investors to make long-term investments.
Since 67% of the tokens are already in circulation, and maximum supply is expected to be realized by December 2022, the coin offers immense growth potential in 2022 and beyond, allowing investors to reap more profits.
Matic allows for the interconnection of blockchain networks, a scaling solution that assures investors of Matic's future performance.
Polygon is supported by a strong community of developers that ensures the project performs well and consequently maintains and increases Matic's price level.
Cons of investing in Matic
It is indeed public knowledge that investments always come with a degree of risks. Investing in Matic may result in losses if careful considerations of the involved risks aren't well conducted. Below are some possible shortcomings of investment in Matic.
Recently, the Polygon network was hacked, and the perpetrators made away with millions worth of Matic tokens. The hacking was a huge red flag for investors since it indicates that the network isn't as secure as it should be.
Price volatility. Every cryptocurrency experiences volatility; however, when dealing, sometimes crypto coins experience extreme price drops that may hurt an individual's portfolio. Since Matic already competes with Avalance, Polkadot, and Cosmos, it is unclear who will win the race. Therefore, for a long time horizon, investors should keep tabs and know when to exit.
Where to buy Polygon (MATIC)?
If you would like to know where to buy Polygon, the top cryptocurrency exchanges for trading in Polygon stock are currently Binance, OKX, Hotcoin Global, and Bitget.
Polygon Price Prediction 2022-2035
Trading Beasts
Trading Beasts have produced impeccable forecasting analysis in the past, and they continue to do so. According to their published information, Matic stands a chance to realize impressive gains in the future but not for 2022. The Polygon price is forecasted to reach $1.39798 by the beginning of April 2022. The expected maximum price is $1.74747, minimum price $1.18828. The Polygon price prediction for the end of the month is $1.39798
Based on TradingBeasts forecast, we expect a bearish trend in 2022, the worst in April with a reduction of 10.44%. Prices will pick up by mid-2023. This upward trend is expected to continue till 2024. The projections imply stabilization of prices following the expected change in the overall market sentiment. Also, since Matic tokens are released monthly, it is likely that when we are nearing the maximum supply, the price of the crypto coins will increase due to higher demands that will create supply pressure.
Wallet Investor
Polygon Price prediction by Wallet Investor indicates that the Matic token will have an incredible bull run in the following years which is in contrast to Trading Beast's. Wallet Investor expected MATIC to be an "awesome" long-term investment. According to its Polygon crypto price prediction, MATIC could hit $2.96 by next March. It suggested that by March 2027 it could hit $8.9 however, the average price of one token after one year would be $ 3.286. Similarly, the coin is expected to be worth $11.371 in 5 years, indicating a profitable investment for long-term investors.
Cryptopolitan
Cryptopolitan acknowledges the massive potential of the polygon project and how it impacts Ethereum by allowing off-chain transactions and consequently reducing network congestion. Polygon is a solid project that reduces gas fees and contributes to the overall growth of the Ethereum token and ecosystem.
Following its numerous qualities, it is difficult to turn a blind eye to the potentially bright future of the token. Cryptopolitan can strongly recommend Matic as a cryptocurrency for short and long-term investors. However, this recommendation is not to be taken as investment advice but rather an insight for individuals who do their research.
Polygon Price Prediction 2022
The token is a good investment option for short-term holders because we project the token to close 2022 with a minimum value of $1.7, which is still a 10% return on investment. The maximum expected price could be as high as $2.9.
Polygon Price Prediction 2023
In 2023, that the token will continue to increase its value. Since it is projected that the token will have maxed out its maximum supply by the end of 2022, 2023 looks even more promising. The long-term earning potential for the token increases significantly after the entire supply has been reached.
The price predictions for the token indicate that it will record a minimum value of $1.310 and a maximum value of $1.927 by the end of December 2023. The average price of one token in the same month will be $ 1.54.
Polygon Price Prediction 2024
Many crypto experts view the Polygon token as a long-term project since it is one of the pioneer projects to successfully exploit the Ethereum network and scale it by facilitating off-chain transactions. The developments advanced to allow the Etheruem network to interact with several other blockchain technologies.
The cryptocurrency market is destined to witness a rise in the token's price. According to Polygon forecast 2024, the token will register a minimum value of $1.518 and a maximum value of $2.233. By December 2024, the average price for the token will be $1.786. The data above implies a 53% increase, a conservative Polygon prediction but still maintains a bullish momentum.
Polygon Price Prediction 2030
Eight years from now is a long time to make accurate forecasts; however, projections can be made based on the prevailing growth rates while keeping all other variables constant. Realistically, many changes will have transpired in those years; however, based on available data, MATIC can trade at $ $5.13 by 2030.
Polygon Price Prediction 2035
Making predictions for 2035 are equally complex. Cryptopolitan expects the price of the token to increase systematically over the years. By considering the witnessed growth, a single token can trade at $ $6.97 in 2035.
Polygon Price Prediction by Industry Experts
Conclusion
Although the crypto world has been highly volatile in the past few months, Matic has maintained the same price level for a long time with minor changes. Considering the projections about the token price, it is highly likely that long-term investors will make good profits from the token.
Similarly, scalpers, day traders, and short-term holders may also use Matic as a fantastic investment tool. It provides tremendous opportunities for crypto investors of various risk profiles. For instance, risk-tolerant investors may purchase and hold the token for ten years or more. The individual will be accepting more risk, and in return, the individual will benefit from the projected high percentage price changes during that period.
We always encourage new investors to do enough research before leaping to buy a particular cryptocurrency. Ideally, crypto investments are considered riskier than conventional real investments like real estate. However, the higher risks are often accompanied by higher returns.
Investors need to practice proper risk management strategies to protect their cryptocurrency portfolio from necessary losses. For research purposes, below are some frequently asked questions about the token.
FAQs about MATIC
Is Polygon (MATIC) a safe investment in 2022?
Short-term buyers may not benefit from holding the token. However, investing in Matic is encouraged for an individual with a long-term perspective since it has a robust earning potential.
What are the risks of investing in Polygon?
Currently, it is hard to tell any specific risks tied to Matic as an individual project. However, a security risk was exposed this year when hackers managed to steal tokens worth $611 million in August. Other than the security risk, the project is relatively stable. One thing that could jeopardize the success of the Polygon project is competitors such as Polkadot, Cosmos, and Avalanche.
Where can I buy MATIC?
Today, it is traded on Coinbase crypto exchange, Binance, Huobi Global, Binance.US, and FTX under spot trading.
Should I invest in MATIC?
Depending on your investment goals, Polygon coin may be suitable for you or not. Short-term traders are exposed to more risks and more chances of losing the dollar value of their investment. However, for long-term investors, Polygon is a great investment platform that provides crypto investors with an opportunity to make significant gains.
Is Polygon (MATIC) profitable for short-term investors?
Matic price prediction for the short-term does not show significant gains over the short term implying minimal activity in its price action. Therefore, crypto investors looking to profit in a short period may not benefit from investing in the token. However, experienced traders may seize the opportunity and make profitable trades on the relatively inactive trend charts.
Should I buy and hold Polygon (Matic) for the long term?
Based on the Matic price prediction and technical analysis, it is evident that Matic will perform better in the long run. The Ethereum based project champions interoperability, a concept that has crippled blockchain technologies for a long time. The successful execution of the project will undoubtedly result in an overall increase in the value of MATIC.
Therefore, it is safe for crypto investors to make long-term investments with the Polygon crypto. Wallet Investors project a long-term earning potential of +86.07% in one year. In 5 years, it will be worth 12.896 USD
---
Source
---
Back to the list