Back to the list
Aptos 'Not Here To Kill' Any Blockchain: Co-founder
blockworks.co
30 January 2023 19:39, UTC
Reading time: ~6 m
---
Venture capital-backed, layer-1 blockchain Aptos saw huge price growth in January, with its value surging over 400% in the last month.
Native token APT traded at just $3.59 last month, but last traded at $18.37. Its nearly $3 billion market cap has now surpassed Stellar and Bitcoin Cash and is approaching that of Ethereum Classic and Monero.
When you consider the fully diluted value, Aptos is currently the fourth-largest chain at $18 billion. But interest in the network has raised some eyebrows, largely because it has a low user and developer base.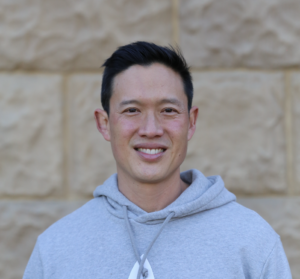 "That is pure insanity for a chain with near zero users and applications; what are investors pricing in? Aptos was shamed for its poor token allocation that favored insiders and investors, which allowed them to stake vesting tokens to earn liquid rewards," said Blockworks Research Senior Analyst Dan Smith.
Blockworks spoke with Aptos co-founder and Chief Technology Officer Avery Ching, who broke down the network's development, insight on its user base and why he thinks it's gaining traction right now.
Confidence in a tech-bro team
Ching worked at Meta, formerly Facebook, for about a decade. His focus was data infrastructure and scaling systems to support insights and analytics for products within Meta.
Three years into working there, he joined the Diem (or Libra) team, where the mission was to build an innovative financial infrastructure for Facebook's billions of daily active users.
The project ultimately didn't work out, and Ching left, along with co-founder Mo Shaikh, to work on a related project, now known as Aptos.
The duo's experience at the social networking site "allowed us to build this technology in a way that would be even more open and more permissionless than within the boundaries of something that happened at Meta," Ching said.
Aptos currently has a team of more than 100 people, and there are no plans to grow too fast. The network has people based around the world including Palo Alto, New York, Seattle, Florida, Israel and Asia, which Ching credits as having "fueled the rise of Aptos."
"And some of them come from other backgrounds like myself that know how to operate machines at scale in large production environments for supporting goods for customers," Ching said.
As impactful as cloud computing infrastructure?
Ching said the main goal for Aptos is to be for decentralized applications what cloud computing is for Web2.
"Think about what Netflix relies on, or Dropbox, or Amazon, or Meta? These products rely on millions of machines running in data centres across the world, they can scale up and scale down at a minute's notice so that they can have a tremendous amount of volume to support their products."
But the Web3 industry is still far from being the decentralized internet for everyone, and Aptos wants to be around for the long term.
"There's just a ton of things to solve before we can make this more mainstream. So that's our mission. That's our purpose," he said.
But what's driving the buzz behind Aptos?
The network claims its mainnet launch had 10,000 full nodes and more than 30 projects, which, according to Ching, is the highest number of projects a blockchain ever counted at launch.
Aptos' Github page shows a number of projects built in gaming, DeFi, infrastructure, marketplaces, NFT tooling and bridges.
Aptos proponents tout an increase in total value locked (TVL) in recent weeks with respect to DeFi protocols, such as decentralized exchange PancakeSwap — a DEX which originated on Binance Chain. But a TVL measured in US dollar terms is misleading when much of a chain's DeFi activity is taking place in the native token during a parabolic run.
Looking at the Aptos TVL in APT terms shows a downward trend since late 2022.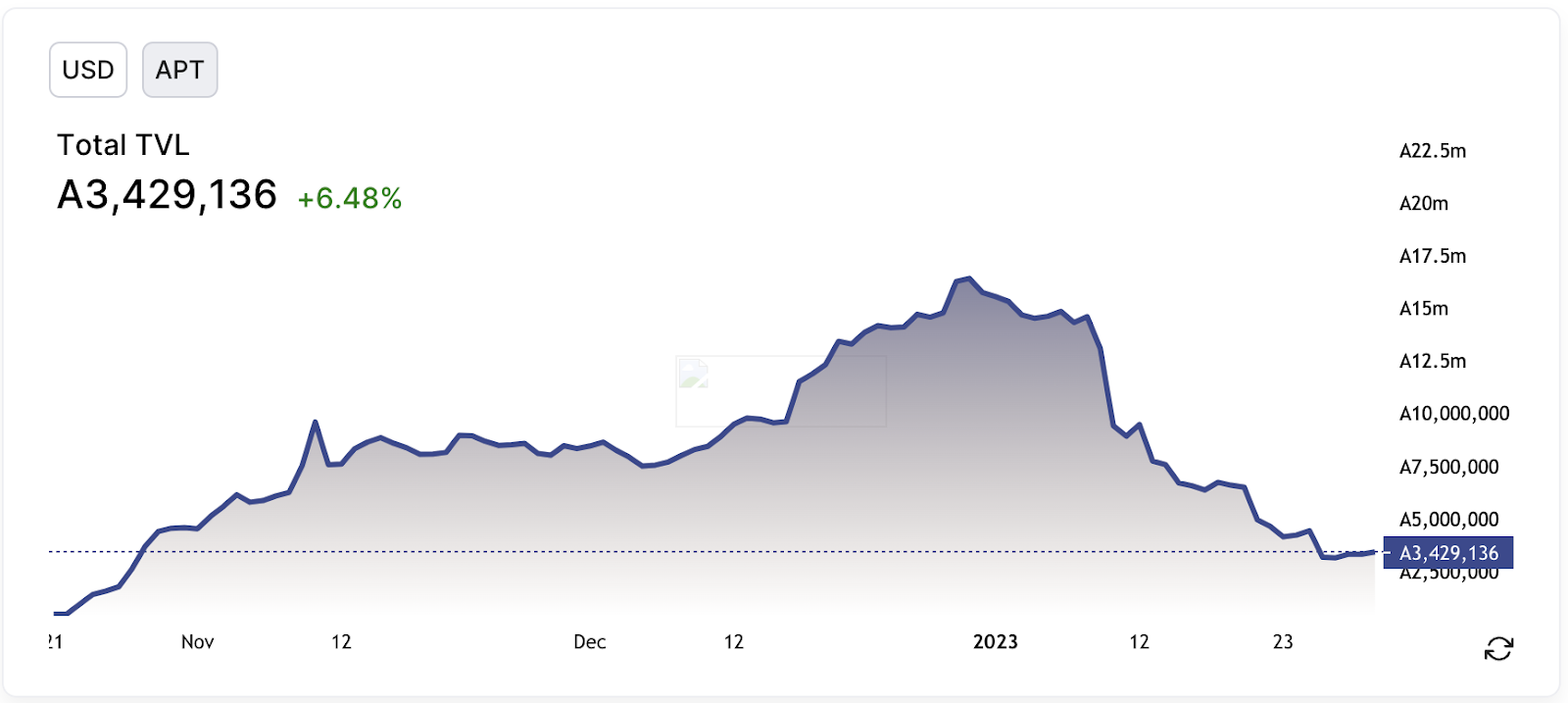 The network's market cap to TVL ratio, shows it attracting many multiples of the ratio for Ethereum at the current APT price.
Ching doesn't care for the tired 'Ethereum-killer' trope.
"We're not here to kill anybody," Ching said, noting, "I think Ethereum is a great technology. In fact, we're inspired by many of the things that Ethereum had done."
The core team's 19% token allocation is locked for 12 months, according to the Aptos Foundation's tokenomics breakdown, however, the full APT allocation is available for staking even while unvested, meaning that the team, the foundation and investors can all profit from selling daily staking rewards into the surging market.
Ching declined to comment on the tokenomics.
"I can't speak to the token specifically, I can just speak about what our mission is and kind of what we're doing and why we think it's getting traction now," he said.
Early NFT foray and other activity
Aptos reports having added over 5,000 NFT collections, with the top ones being Aptos Monkeys, Aptosmingos and Bruh Bears, according to a press release.
Aptos Monkeys shows about 1,700 APT in traded volume (about $30,000) over the past 24 hours on the leading Aptos NFT market Topaz.
OpenSea's currently top-ranked BAYC Sewer Pass traded 907 ETH ($1.4 million) over the same time period.
The network's native wallets have over 1.4 million downloads, the release notes, however daily active accounts have remained stagnant in the past month, ranging from about 25,000 to 30,000.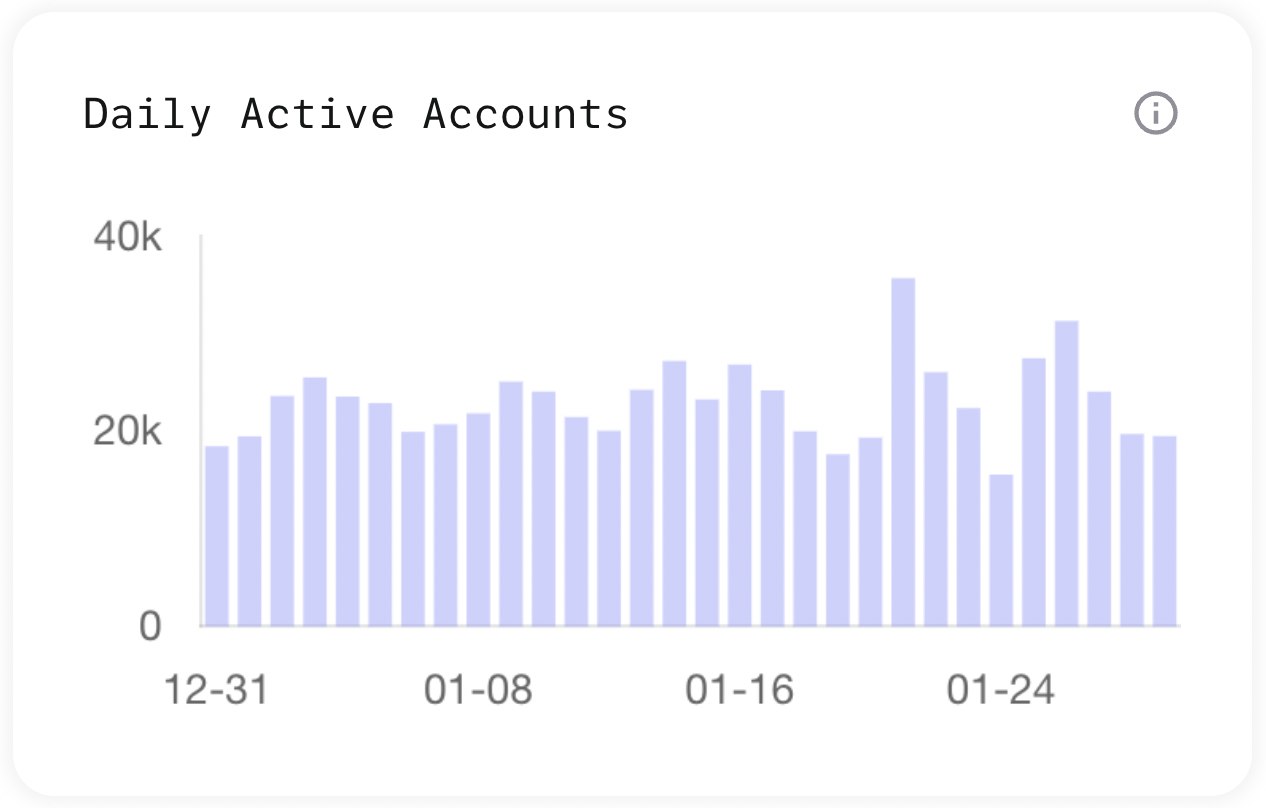 The network's developer and user base is considered low compared to other major blockchains.
But Aptos told Blockworks that by the end of 2022, it counted 2.85 million cumulative unique addresses and 60.6 million user transactions.
"For a network that's just like a little more than three months old, this is pretty tremendous," Ching said.
Another point of interest for the network is some of its recent partnerships, including Seoul-based gaming studio Megapixel, which is set to announce its first Web3 game on Aptos.
Korean interest has largely been driving the APT price rally, Blockworks previously reported. Aptos pointed to its world tour hackathon starting next week, with the first stop in Seoul.
A rough time for the industry
Aptos had a rocky launch in October, with observers noting that it didn't actually live up to its promised transactional speed. However, Blockworks' Dan Smith said the chaos was to be expected because "launching a layer-1 is a multi-year undertaking."
Ching said many people would say the network's launch happened at possibly the worst period, given the bearish environment around the industry.
"But for us, we were not really focused on a lot of the exterior things like that," he said.
"Hundreds of projects had been waiting for us to launch and asking us to get going on the technology stack and wanted to build, and we felt like serving those builders was more important than anything else at that time."
Ching notes a focus on four verticals: gaming, social, finance and immediate entertainment.
Social seems like an obvious choice for Ching, given his experience at Meta and the fact that this is a great way to attract people to blockchain. Aptos expects to soon make an announcement in this space.
Macauley Peterson contributed reporting.
---
---
Source
---
Back to the list