Samsung crypto wallet: 6 coins that are potentially involved
News that Samsung will be integrating a cryptocurrency wallet into their latest line of smartphones, the S10, has everyone in the crypto community frothing at the mouth. The ability to transact with digital assets from the world's leading smartphone brand is a huge reason to be excited. However, with so little currently known about the digital wallet, what could be expected from it?
Looking at the recent announcement from the Mobile Business Summit, plus the rumors going on in the crypto community, there are potentially six projects (Enjin, Cosmee, Bitcoin and Ethereum were confirmed on a sheet in the Samsung presentation, BAT and ICON are still rumors) that are involved with the Samsung Digital Wallet. We look at what they could potentially be used for.
Bitcoin and Ethereum
The two main cryptocurrencies were shown in the Samsung presentation. The obvious reasoning for the top two cryptocurrencies to be involved would most likely relate to digital payment methods.
The Samsung S10 will feature Europay, Mastercard and Visa (EMV) contactless payment abilities, with global payments activated, the device will operate as a point-of-sale (POS) device. Most likely using Bitcoin and Ethereum as payment currencies. There could potentially be more, but at this time those two are the only mentioned.

Here is a fragment of Samsung's presentation at the Mobile Business Summit. Samsung talks about the S10's blockchain features.

As you can see there's built in support for Bitcoin, Ethereum, Enjin, and Cosmee. pic.twitter.com/HTNrmPqL5U

— Heslin Kim @BlockchainROK (@BlockchainROK) 26 februari 2019
Enjin (ENJ)
Enjin appears to be the wallet of choice for Samsung, with the logo of Enjin appearing in the Samsung presentation on the Mobile Business Summit. The mobile operator appears to have partnered with Enjin to assist with their own blockchain wallet. Enjin is a blockchain eco-system that focuses on gaming, but also offers the "World's most secure mobile cryptocurrency wallet. Made for Bitcoin, Ethereum, Litecoin & ERC20 ERC721 ERC1155 Tokens". Considering that, there is potential that Samsung will add ERC20 tokens and Litecoin, possibly also including a gamification aspect and non-fungible tokens (NFT) into their wallet.

Read more: Enjin Coin (ENJ) spikes over 100% after Samsung rumors


Basic Attention Token (BAT)

On a leaked image in the possession of Asia Crypto Today, the logo of Basic Attention Token (BAT) is visible in the Enjin Wallet on in the Samsung Blockchain keystore. This has sparked rumors of a partnership between Samsung and BAT. Basic Attention Token focuses on digital advertising, and is integrated in the Brave web browser, through which users can tip content creators with BAT. Content creators can then purchase ads on the BAT advertising platform. It's still a rumor based on one leaked image, but could the Brave browser be coming to Samsung as well?
ICON (ICX)
One of the offerings that the Samsung digital wallet will also offer is Digital ID. ICON has previously been mentioned to have partnered with Samsung in mid 2018. Both companies are based in Korea so there is a good chance that they would collaborate. ICON had previously spoken about their CHAIN ID service, the world's first blockchain joint authentication service. While not much has been said about it in recent months, CHAIN ID makes use of ICON's Loopchain platform that connects an ecosystem of blockchain communities through ICON. CHAIN ID looks set to allow digital identification to become the new form of unlocking your smartphone and safely transacting. "CHAIN ID prevents single points of failure such as hacking attempts and will allow users to experience a more convenient and reliable environment for making financial transactions" according to an ICON Medium post.
Cosmo Chain (COSM)
Cosmo Chains dApp Cosmee is also present in the Samsung presentation, ensuring that it will be involved in the Samsung digital wallet. While the exact reason why this dApp would feature from the start is unclear, Cosmo Chain focuses on connecting customers and companies through a mutually beneficial beauty ecosystem. The Cosmee dApp claims to be the "World's first blockchain-based beauty community platform". Also noted, is that Cosmee is partnered with ICON.
Read more: Will offering a crypto wallet on the new Samsung S10 push mass adoption?
While not all projects here are confirmed to be working with Samsung, these are simply insights from the community. Looking at several coins following the Samsung announcement, Enjin (ENJ),Cosmo (COSM) and ICON (ICX) all saw significant price increases.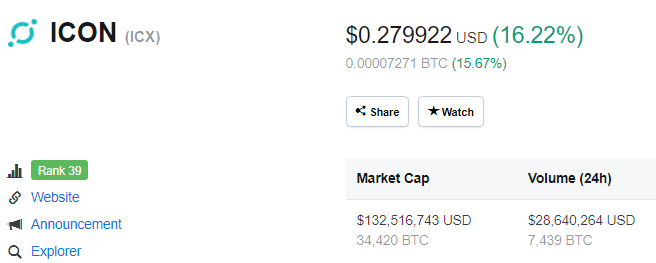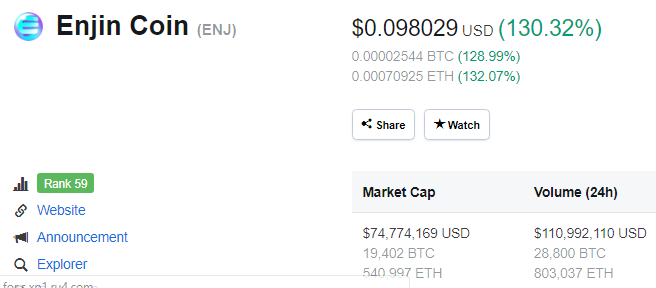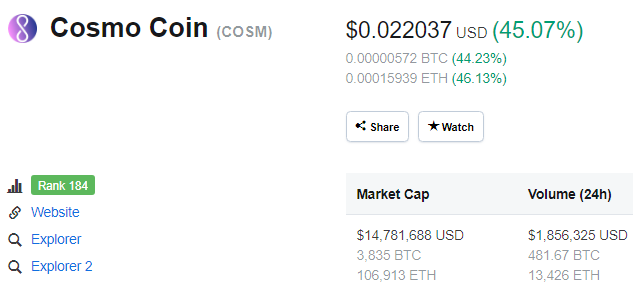 Enjin & Cosmo coin? That's a first. Gotta appreciate Samsung's allegiance to South Korean projects. We'll see if the bet pays off. $icx next?

— NETWORKCHAIN (@networkchain) February 26, 2019
Back to main page