Back to the list
Germany Topples Singapore as Most Crypto-Friendly Country: New Rankings Reveal
tokenist.com
20 April 2022 08:23, UTC
Reading time: ~4 m
---
Coincub has ranked Germany as the most crypto-friendly country globally in its latest global crypto quarterly rankings. The central European country moved two places up from the previous order usurping Singapore to take pole position. This comes after a raft of regulatory changes in both nations has brought contrasting fortunes to digital asset adoption.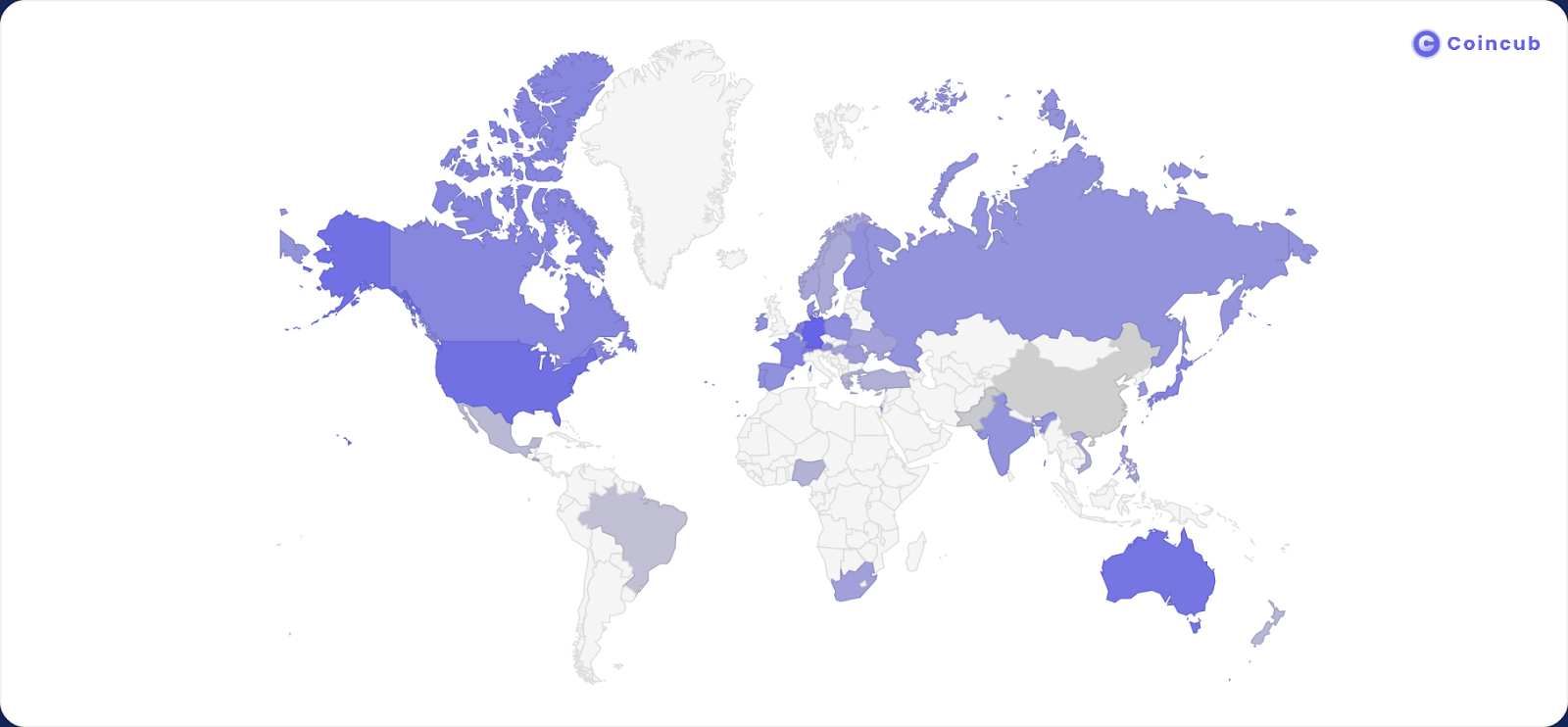 World map showing countries with significant Bitcoin adoption. Source: Coincub
New Regulations Leads to Singapore Losing First Position
Meanwhile, Singapore formerly ranking first, lost its position due to new policies implemented by the government. These new laws include restricting crypto services advertising by Virtual Asset Service Providers (VASPs) outside of their websites and a clampdown on Bitcoin ATMs.
Incidentally, the new regulation in the southeastern country led to its largest bank, Development Bank of Singapore (DBS), backtracking on its retail crypto plan. The DBS had in 2020 commenced a digital assets trading desk to allow institutional and accredited investors to tap into the growing digital asset space. It further revealed its intention to expand the service to retail customers in 2022. But those plans have now been shelved for the time being.
Singapore is currently a hotbed for crypto firms, especially after Beijing's continued crackdown on digital assets. Its favorable laws and progressive stance saw the government enact regulations to guide the space as far back as 2019. The rules under its payment service act (PS Act) mainly focused on money laundering and terrorism financing using digital assets.
However, following the explosion in crypto adoption, the Money Authority of Singapore (MAS) increased its overreach into the industry. It instructed Digital Payment Token (DPT) service providers in Singapore not to promote their services to the general public earlier this year. Furthermore, it has actively discouraged retail trading of cryptocurrencies and has consistently warned the general public against it.
On the other hand, German banks have shown increasing interest in providing a safe means for their customers to trade cryptocurrencies. The county's largest savings institution, Sparkasse, made up of individual savings banks, is on the cusp of allowing retail crypto transactions. Thereby providing 50 million users with the option to buy, sell, and hold Bitcoin. It is also exploring the possibility of providing custodial services to Germans via a crypto wallet.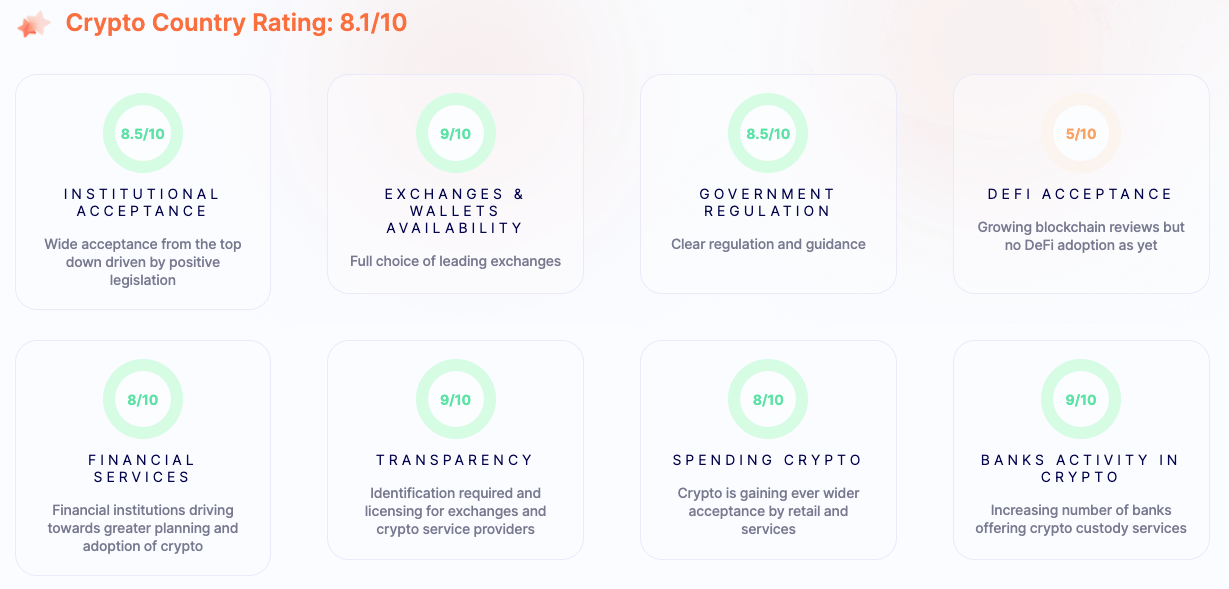 Germany's Score Card. Source: Coincub
Aside from its unique institutional stance on digital assets, Germany's number of Bitcoin nodes is second only to the USA. It has also implemented a progressive taxation policy toward crypto compared to other countries. The combination of all these has seen it score 8.1 in the crypto country rating and become the most crypto-friendly country worldwide.

Join our Telegram group and never miss a breaking digital asset story.
Interesting Twists Within the Top Ten Global Crypto Rankings
The top ten within Global Crypto Ranking throw up some interesting twists. The US rounds out the top three behind Germany and Singapore, but it ranks first in domestic mining. The reason for this is not far-fetched from the constant flocking of miners to the US following China's mining crackdown. The migration has caused the US to account for over 50% of the global Bitcoin mining hash rate.
Top Five Bitcoin Mining Countries in the #globalcryptorank

1. USA -35.40%
2. Kazakhstan – 18.10%
3. Russia – 11.23%
4. Canada – 9.55%
5. Ireland – 4.68%

Read more: https://t.co/wwaptVIfV0 pic.twitter.com/CwV2lC50gG

— Coincub (@Coincub_) April 14, 2022
The top ten are completed by Australia, Switzerland, Hong Kong, Netherlands, France, Canada, and Japan. Just like El Salvador, the city of Lugano officially accepts Bitcoin, Tether, and Lugano's own LVGA Points tokens as legal tender. This has ensured Switzerland takes fifth place in the first quarter of 2022.
Also, due to excellent all-around crypto ranking criteria, including vast volumes of crypto transactions, the Netherlands, France, and Spain have risen significantly. They also have high rankings for the number of blockchain start-up companies in their economies, indicating a thriving blockchain-tech ecosystem. Finally, their progressively favorable regulations protect the interest of crypto users.
Following its tough stance on crypto and its outright ban on mining activities, it is no surprise to see China come last place. Also, the United Arab Emirates (UAE) made its official debut on the ranking coming in at 26th. It is predicted that the federation will soon be competing for the top spot on the list once it develops a more transparent tax framework. However, it is making up for lost time with an ambitious plan to become a global crypto hotspot, issuing clear guidelines for ICOs.
Finance is changing.
Learn how, with Five Minute Finance.
A weekly newsletter that covers the big trends in FinTech and Decentralized Finance.
Awesome
You've subscribed.
You're well on your way to being in the know.
Do you think the US can rank higher on the list if the US government brings favorable regulations to the space? Let us know your thoughts in the comments below.
---
Source
---
Back to the list