Back to the list
Volume of Solana-based NFTs Surpasses Ethereum's Numbers
coinquora.com
05 July 2022 13:01, UTC
Reading time: ~2 m
---
According to a recent tweet from Santiment, the volume of Solana-based non-fungible tokens (NFT) surpassed that of Ethereum. Although the volumes differ by a tiny factor, it is still a very critical one.
An important factor to take into consideration is the fact that the volume that was charted in the tweet was not calculated in USD but in the blockchain's native token.
In other words, despite Ethereum observing only 550,000 ETH worth of NFT transactions, the volume exceeds $550 million. However,1.3 million worth of SOL transactions is only worth about $43.39 million.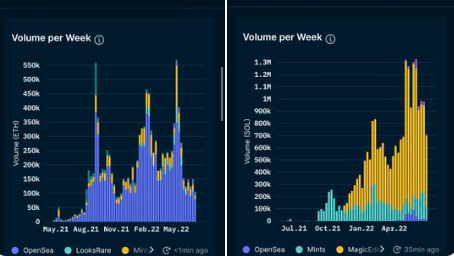 NFT volume ETH (left), SOL (right) (Source: Twitter)
Solana's NFT did not surpass Ethereum's except when it came to the total transactions conducted throughout the week. The weekly amount of transactions for ETH stood at 500,000, while Solana's stood at 630,000. This means that Solana's activity was about 32% higher than that of Ethereum.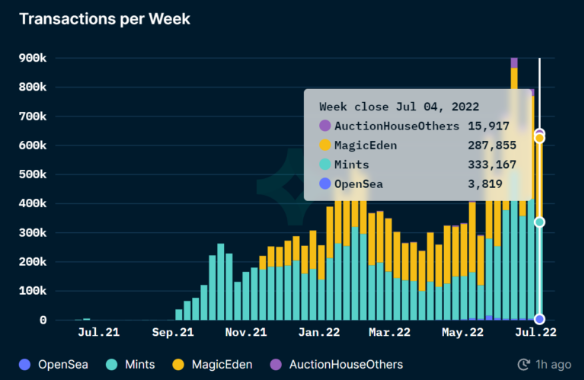 Solana NFT transactions this week (Source: Nansen)
When looking at the macro time frame, Solana's NFT marketplace has been experiencing a steady decline in terms of daily volume. Over the last two months, the highest volume noted on MagicEden was 380,000 SOL.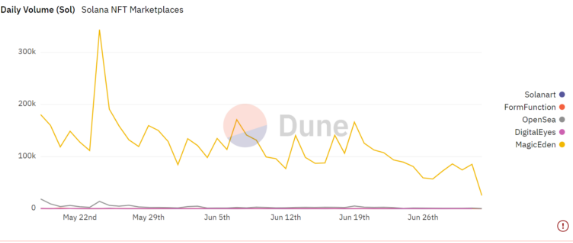 Solana daily NFT volume (Source: AMBCrypto)
Over the same period, the daily NFT purchases on Solana have also decreased by about 78%.
On the other hand, Ethereum is suffering a similar fate. Since its peak of $476 million in May, the daily volume of NFT transactions for Ethereum has dropped to just $15 million on July 3.
In addition to this, OpenSea has already registered $43 million worth of volumes. If things continue at this rate, OpenSea could only record $344 million in transactions by the end of the month.

OpenSea monthly NFT volume (Source: DUNE-AMBCrypto)
---
Source
---
Back to the list