Back to the list
A Tale of Two Ethereum NFT Parties: Doodles vs. Goblintown
decrypt.co
26 June 2022 16:01, UTC
Reading time: ~4 m
---
If you only followed NFT NYC from afar on Twitter this week, you could easily have the impression that the entire event was a disaster resulting only in public ridicule. There were tweets making fun of Apefest, tweets laughing at an NFT date proposal, and a viral tweet thread declaring NFT NYC had "already failed" on Monday night, when the week had barely begun.
The truth is less satisfying for NFT skeptics and haters: the vibes were super positive and everyone I encountered was bullish, despite the brutal crypto downturn. As Amy Wu of FTX Ventures tweeted, "Last wk ppl told me #NFTNYC would be weird because crypto was dead. Happy to report the opposite happened."
At lunches, panels, and parties scattered across the city, people proudly pumped their JPEGs, sure. There were plenty of Punks, Apes, Cool Cats, and Gutter Cats stitched onto hats, hoodies, and jean jackets. But people also discussed NFTs with utility, NFTs as tickets to IRL events, and other potential use cases beyond just a wealth flex.
Two specific parties in particular provided a perfect accidental contrast in where the hottest NFT collections stand right now.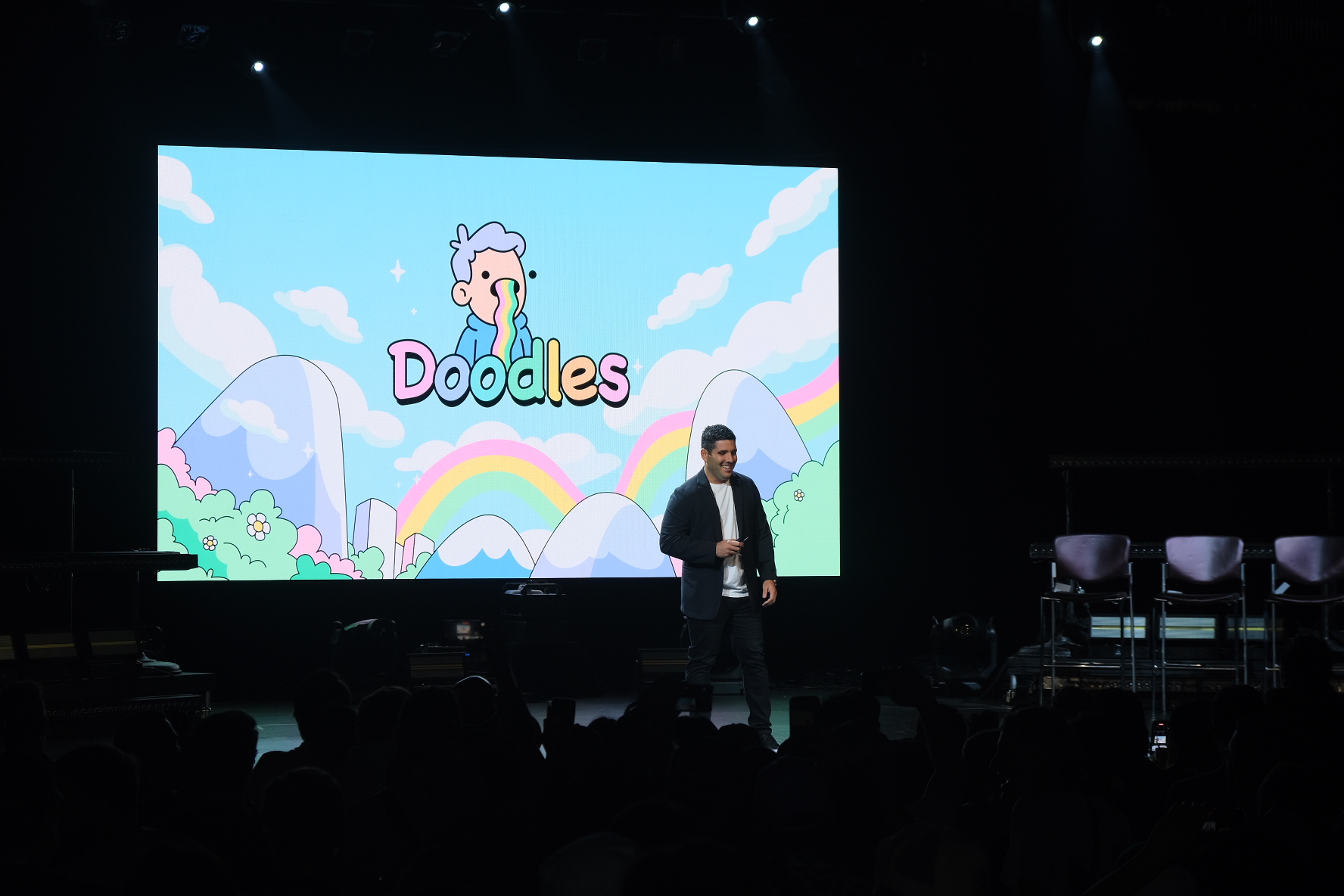 Doodles CEO Julian Holguin onstage at the Doodles party on June 21, 2022. (Photo: André Beganski/Decrypt)
Doodles, the No. 13 bestselling NFT collection ever, held a "kickoff party" on Tuesday night at the Palladium Theater in Times Square. The event was called for 7 p.m., but Doodles holders had to wait in their seats for hours until the presentation finally started at 10:05 p.m. That was when Doodles CEO Julian Holguin, a former Billboard executive, took the stage.
Holguin ran through a PowerPoint presentation. One slide reminded the audience what Doodles has achieved to date, with bullet points like "sold out in minutes," and "2,600 ETH in the Doodlebank." Then Holguin reviewed all of the marketing activities Doodles did at this year's SXSW conference, three months ago. Even devoted Doodles holders in the audience were groaning.
It felt like a corporate presentation at NewFronts in 2011.
Finally, Holguin introduced a pre-taped video from Alexis Ohanian announcing that 776 Ventures led the first ever Doodles fundraising round (Doodles didn't say the size of the raise). Then he introduced a pre-taped video from Pharrell, the new chief brand officer of Doodles; the audience erupted.
After the Doodles event, I went to the Goblintown party at Terminal 5. The contrast was like night and day.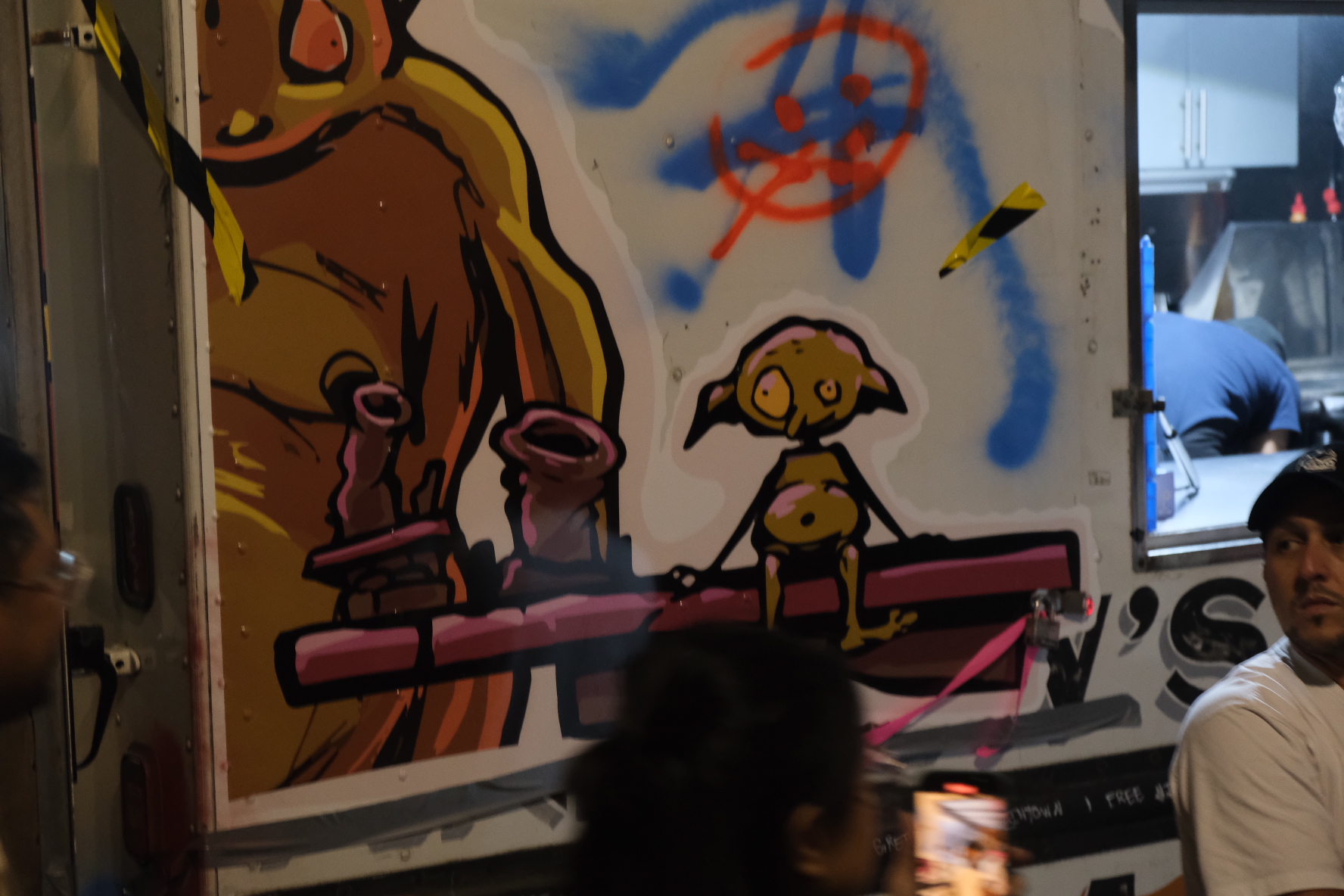 Goblintown graffiti art on a burger truck at a party on June 21, 2022. (Photo: André Beganski/Decrypt)
For the uninitiated, the Goblintown NFT collection came out of nowhere last month and on June 1 its floor price doubled overnight to around 9 ETH, or $17,000 at the time. Its OpenSea floor price has since come down to 3.65 ETH, or $4,500. The collection is themed around urine and nihilism, and boasts, "No roadmap. No Discord. No utility."
So it was fitting that the Goblintown party had a grungy, unpretentious vibe. A truck outside served up cheeseburgers; party organizers spoke only in Goblin gibberish; inside the party were Illuminati triangles, Tarot cards, and a (real) tattoo station. At an afterparty on the dance floor of Chelsea Music Hall were more people in goblin masks, gummy burgers, and "WANTED" signs with Beeple's face on them.
It was pure fun, with no talk of marketing activations or chief brand officers. It hit the right note for the current crypto market. It felt like a community.
The retort from Doodles fans to all this will be obvious: Doodles is taking serious steps as a business to bring value to holders and grow the brand. NFT influencer @NFTbark attended the Doodles event and raved in a thread, "Doodles is a brand ready to permeate pop culture for years to come." He loved the slides and the mission statements. He concluded that the presentation "would be impressive at a Fortune 500 company."
Maybe so. But NFTs are also supposed to be fun. If it's not fun, what are we doing here, other than flipping cartoons for profit?
Sounds like they have everything in place to become a major multimedia entertainment brand.
Now they just have to convince millions of people how a cartoon character with detached retinas who vomits rainbows is supposed to fit into their lives in a meaningful way

— Sean Capone (@SeenCapone) June 23, 2022
I don't own a Bored Ape or a Goblin, but now I know which group has better parties.
---
Source
---
Back to the list