Back to the list
WiV adds its wine NFTs to Arkane Market
www.cryptoninjas.net
27 May 2021 20:01, UTC
Reading time: ~2 m
---
WiV Technology, an ERC-721 based non-fungible-token (NFT) platform representing real-world assets, today has announced a new partnership with the NFT marketplace platform, Arkane Network to enable users to easily trade fine wine on the blockchain.
Arkane Network has been added to WiV's growing list of marketplaces where people can access tokenized fine wine. The addition of Arkane's capabilities to the WiV platform makes it simple for wine collectors to create wallets and access a marketplace of more than 200,000 Arkane wallet users.
How It Works
The use of blockchain-based NFTs makes wine trading quicker, cheaper, and more transparent. Bottles or cases of wine are allocated an exclusive non-fungible token (NFT); which can then be traded at various blockchain-enabled marketplaces. The physical wine is stored in professionally managed wine cellars.
"Joining the Arkane Network is a natural development of our multichain strategy. Arkane's tools make it simple for people to trade wine on the blockchain even if they haven't been involved in the crypto sector before. Their metaverse development is also very interesting, because we believe that it's a perfect fit for tokenised fine wine. With the metaverse, you can have a virtual cellar full of fine wines; epresented by unique NFT art even if you don't have space for a wine cellar in the real world. We've also found that the team behind Arkane has a superb vision for the future and their blockchain-agnostic approach dovetails neatly with how we are developing the WiV platform."
– Håkon Harberg, Co-Founder of WiV Technology
WiV's NFTs on Arkane Network offers an elegant representation of the world of modern wines; with a rare Kvevri wine from Georgia, a certified organic Spanish red, and a Pinot Noir from Argentina.
Special Giveaway
To celebrate this partnership, WiV is giving away one NFT representing a case of 6 bottles of Dzelshavi; believed to be one of Georgia's oldest grape varieties, rumored to have emerged in the 5th century AD.
2020 Solomone — Dzelshavi (Qvevri Red)
Year — 2020
Appellation — Chiatura, Imereti
Name — Dzelshavi (Qvevri Red)
Proprietor — Marani Solomone
Vineyard site — Chiatura, Georgia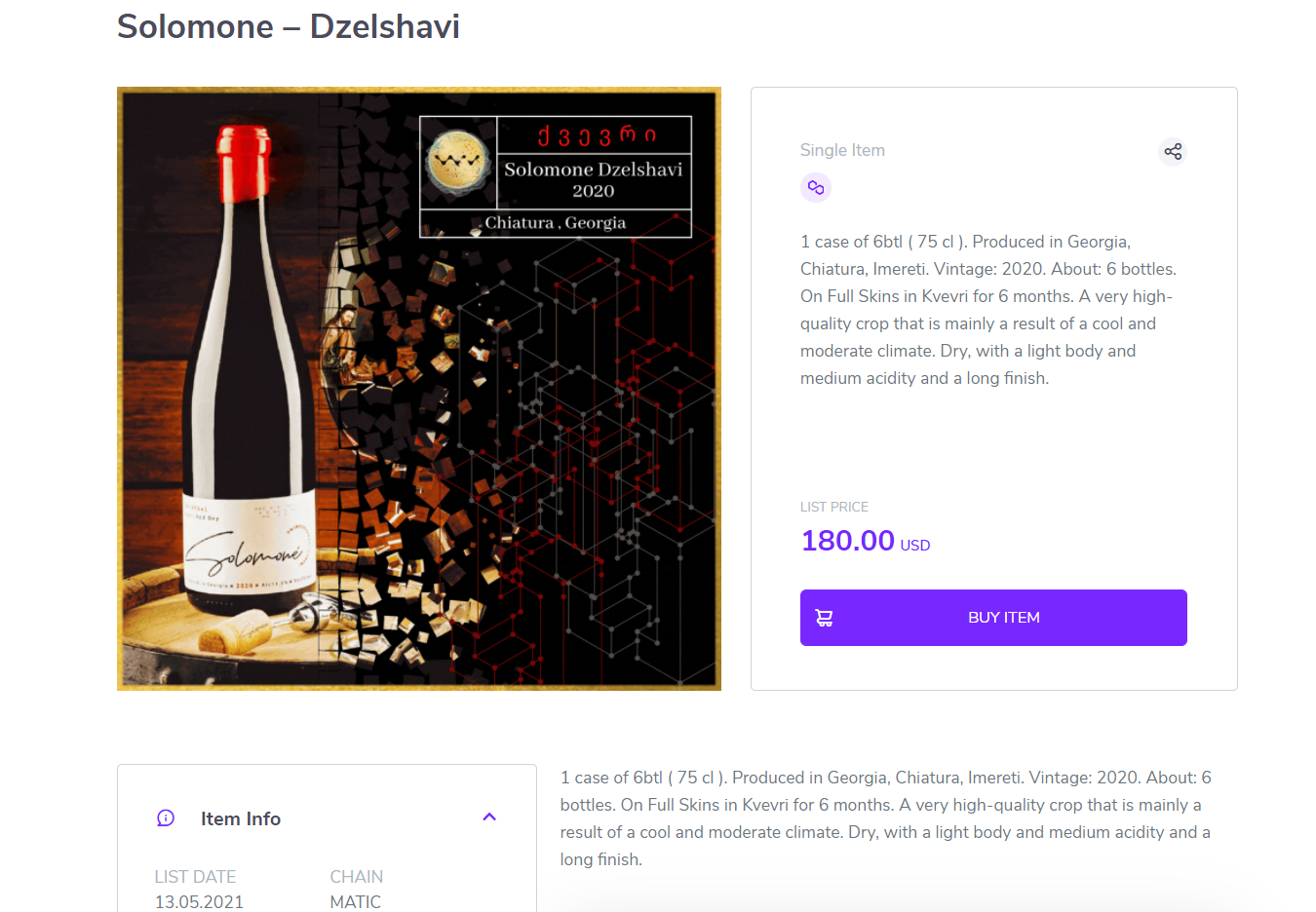 The WiV platform is a blockchain-based system for valuing and protecting the provenance of fine wine. WiV Technology plans to offer WiV as a white-label solution to existing wine dealers and wholesalers, allowing these businesses and their clients to benefit from the fast, secure, and low-cost trading provided by the platform.
---
Source
---
Back to the list