Prominent French soccer club Paris Saint-Germain F.C. is teaming with its cryptocurrency exchange sponsor Crypto.com to launch matchday posters co-created with artificial intelligence tools—and fans can collect the posters as NFTs.
Benjamin Benichou, an artist that uses generative AI as part of his creative process, designed the poster series for PSG. Out of 1,970 total incarnations, just seven were ultimately chosen to be released via the NFT series.
Paris Saint-Germain F.C. will display the posters across seven matches this coming season, starting with its September 24 match against Olympique de Marseille in France's Ligue 1 soccer league.
LaLiga NFT Fantasy Soccer Games Coming to North America
All seven poster NFTs will be airdropped for free on Crypto.com's NFT platform for eligible account holders to claim. Each NFT will be made available corresponding with the matchday aligned with each poster.
Fans who collect all seven NFTs will also be eligible to win prints of Benicho's original poster artwork, signed shirts from PSG players, and VIP tickets to attend the team's final home match of the season.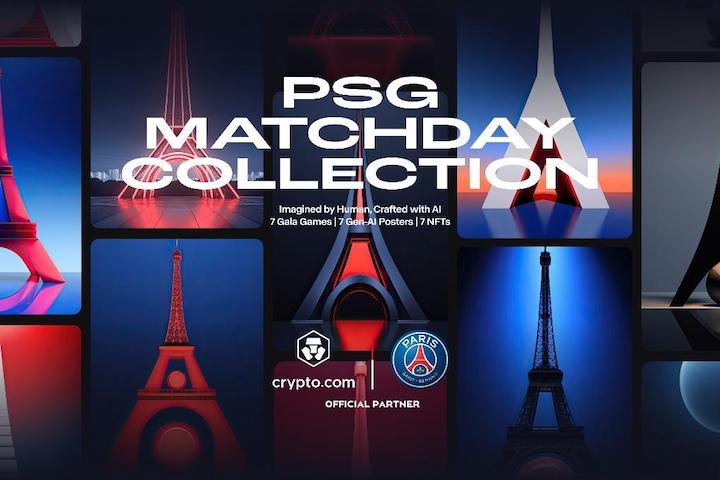 Promotional artwork for the Paris Saint-Germain NFT collection. Image: Paris Saint-Germain F.C.
"This collaboration with Benjamin Benichou has given us a better understanding of this new tool, which opens up endless creative possibilities," PSG Chief Brand Officer Fabien Allègre said in a statement. "In continuing to explore new frontiers, Paris Saint-Germain is striving to redefine the future of sport, opening up unexplored horizons for new generations of supporters."
A Crypto.com spokesperson clarified to Decrypt that "Gala Games" in the marketing image above refers to prominent matches during the soccer season; it's not a reference to Gala Games, the crypto gaming startup.
Crypto.com signed a deal in 2021 to become PSG's first official cryptocurrency platform partner in a sponsorship that reportedly pays the team about $30 million across three years, according to Sports Business Journal.
Paris Saint-Germain made a previous leap into Web3 in 2020 via its licensing deal with NFT fantasy sports game Sorare, while superstar player Lionel Messi's agreement to join the club in 2021 reportedly included payments made through Socios crypto fan tokens.
Benichou is also CEO of social e-commerce startup Drop. On LinkedIn, Benichou has shared images of AI-generated Nike concept stores he designed with Midjourney.
"When you explore the intersecting potential of a brand as inspiring as Paris Saint-Germain and a tool as powerful as artificial intelligence, the possibilities for creation become infinite," Benichou said. "This initiative paves the way for a new territory of artistic and creative expression where art meets technology."