Known for his era-defining pop art in the 1980s tied to his social activism, Keith Haring's work stands the test of time. Now, a selection of digital drawings that the late artist created in 1987 will be sold by auction house Christie's as Ethereum NFTs.
On Tuesday, Christie's announced that it will host "Keith Haring: Pixel Pioneer," an online auction of five digital works originally created by Haring on a Commodore Amiga computer. Haring was given the device by the late psychologist and author Timothy Leary, according to Gil Vazquez, Executive Director and President of the Keith Haring Foundation.
Previously only viewable via floppy disc, the drawings were minted by the Foundation for the sale. Estimates for the auction, open for bidding from September 12-20, range from $220,000 to $500,000 per work.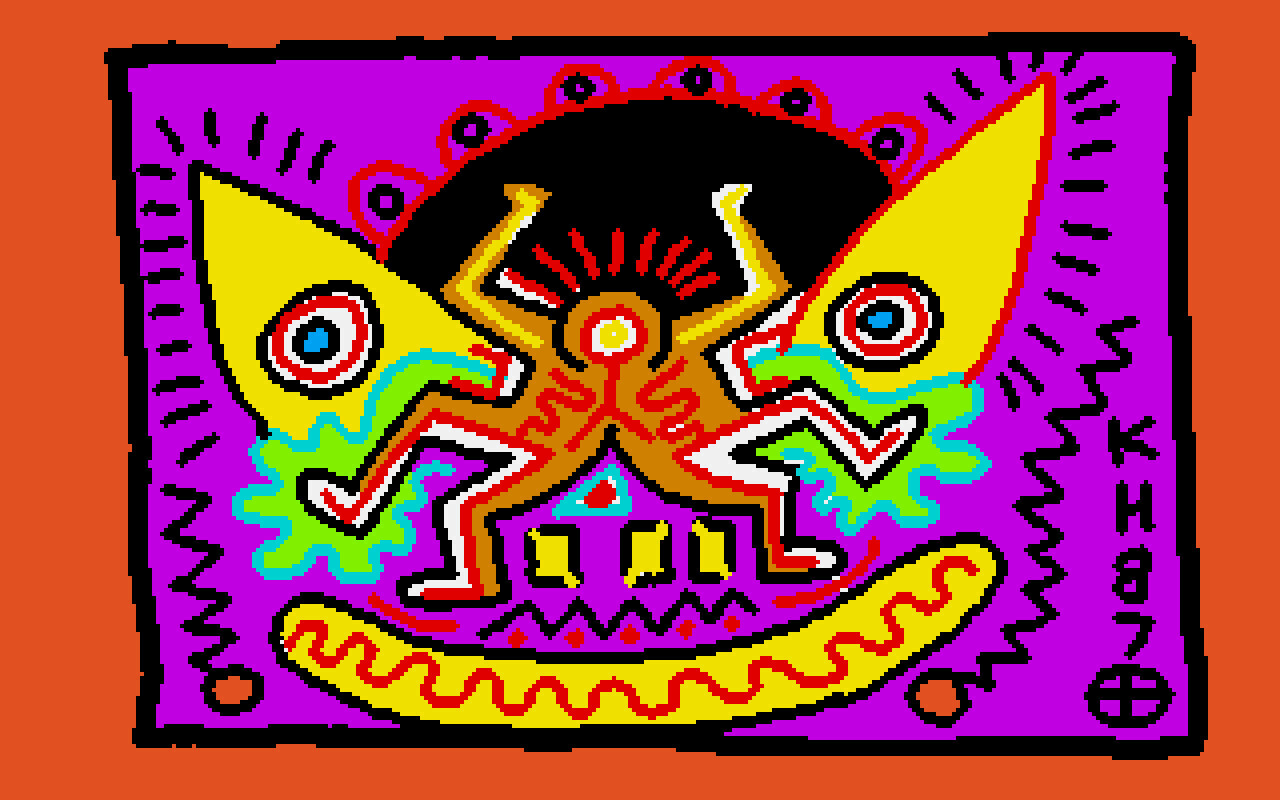 "Untitled" by Keith Haring. Image: Christie's
The pieces will be exhibited in Seoul, Korea from September 7-8 and then at Christie's New York from September 14-19. The Amiga drawings have been minted in collaboration with technical partner Digital Practice, alongside global licensing agency Artestar.
Haring's signature style consisted of the repetition of figurative shapes in vibrant colors, outlined in black. His work bridged clashing genres—popular culture and street art with that of the traditional gallery establishment.
Haring died in 1990 at age 31 from AIDS-related complications. Even as his star rose, he continued to chalk versions of his celebrated designs on the New York subway and composed numerous murals. Vazquez told Decrypt that all of that, along with his digital art experiments, fit well within Haring's broader mantra of "art is for everybody."
Painter Lee Mullican's Pioneering 1987 Digital Art Released via Tezos NFTs
"It makes sense that he would use any medium possible to communicate his ideas to the masses," said Vazquez, "especially people who were not gallery and museum-goers."
"He manifested art in non-traditional ways such as subway chalk drawings, murals, found objects, painting on industrial tarps, and digital art, rather than tried and true painterly canvas," Vazquez added. "At its core, it was rebellion against the established, accepted ways of disseminating and consuming art."
Haring's work can now be found in the permanent collections of institutions including the Museum of Modern Art (MoMA) and the Los Angeles County Museum of Art (LACMA).
"Keith Haring defined a generation where art spoke to the masses. His New York City subway drawings in the 1980s brought art into the streets, and his aesthetic became iconic," Nicole Sales Giles, Christie's Vice President and Director of Digital Art Sales, told Decrypt. "His ability to bring the art world to everyone made him a pioneer of his era."
She added that while many see the creative world of Web3 as separate from the traditional art world, the walls are coming down.
"Beeple's work is currently on view at Crystal Bridges, other major institutions like LACMA have added NFTs to their permanent collection, and serious collectors are continuing to view digital art as an important category within their collections," she said.
Gucci's Iconic Fashion Is Reimagined in Christie's NFT Art Auction
"Keith Haring, if he were alive and practicing today, would—I believe—be a strong proponent of bridging the Web3 and traditional art worlds," Sales Giles added.
As the Amiga drawings attest, Haring was an early adopter when it came to embracing the emerging digital age. A rendering of the first Apple Macintosh computer appears in his "Untitled" work from April 1984. When it went under the hammer at Christie's in 2021, it was the first physical work sold by a major auction house with the option to pay in cryptocurrency.
The Haring Foundation first dipped its toe into Web3 in March last year. To celebrate National Youth AIDS Awareness Day and raise funds for charity, it partnered with MAC Cosmetics and ConsenSys on a collection of 5,275 NFTs in which MAC's Viva Glam lipstick was animated with Haring's most famous artworks.
MAC Cosmetics Releases Keith Haring Polygon NFTs with ConsenSys
By showing that such an iconic artist supported digital art so early, Sales Giles is confident that the Christie's auction will help continue to expand the collector base for this category.
"Haring's art appeals to such a wide audience," Sales Giles told Decrypt, "that I am confident this sale will continue to introduce more traditional art collectors to Web3—and vice versa."
Vazquez added that he sees "a deep divide between the traditional art world and the Web3 art world," but that he believes it will be "temporary."
"There is always suspicion of the new by who and what already existed," Vazquez said. "This was true when Keith was with us and continues to be true today. Acceptance is never immediate. It takes time, but is inevitable."