Ryan Gittleson has been trying to get crypto and poker to work together for a long time. It hasn't proven so easy—but his vision for Virtue Poker is finally coming to fruition.
Founded in 2016, his company was incubated by Ethereum software giant ConsenSys with an eye to decentralize online poker. The company completed a $12.5 million token sale two years later, and further raised $5 million in funding in 2021. (Disclosure: Decrypt was also incubated by ConsenSys, which remains one of our 22 strategic investors.)
However, Gittleson's dream of a seamless on-chain poker experience—in which strangers could buy into and cash out of verifiably fair poker games via automated smart contracts—proved difficult for a number of reasons.
Social Poker App PokerGO Play Lands on Gala Games
For one, layer-2 Ethereum scaling networks had not yet proliferated to the degree that they could speedily enable in-game transactions at a reasonable cost. Also important: facilitating such an unlicensed online gambling ecosystem is illegal in the United States and much of Europe.
So, after another three years, Virtue nabbed a gaming license from the tiny island nation of Malta and launched a legal, play-to-earn poker game in the U.S. But the company struggled to attract and retain users; by last summer, Virtue was on the brink of collapse, and the platform's website went dark.
Until today. This morning, Gittleson beta-launched Virtue under an entirely new format, but one still dedicated to the company's original mission: tapping into the tools and ethos of crypto to redefine poker for the modern age.
"It's been really frustrating spending all these years and not getting it working yet," Gittleson told Decrypt. "But I do believe this vision can work, and that it can leave an impact on the poker industry, which really hasn't seen any innovation in the last decade or so."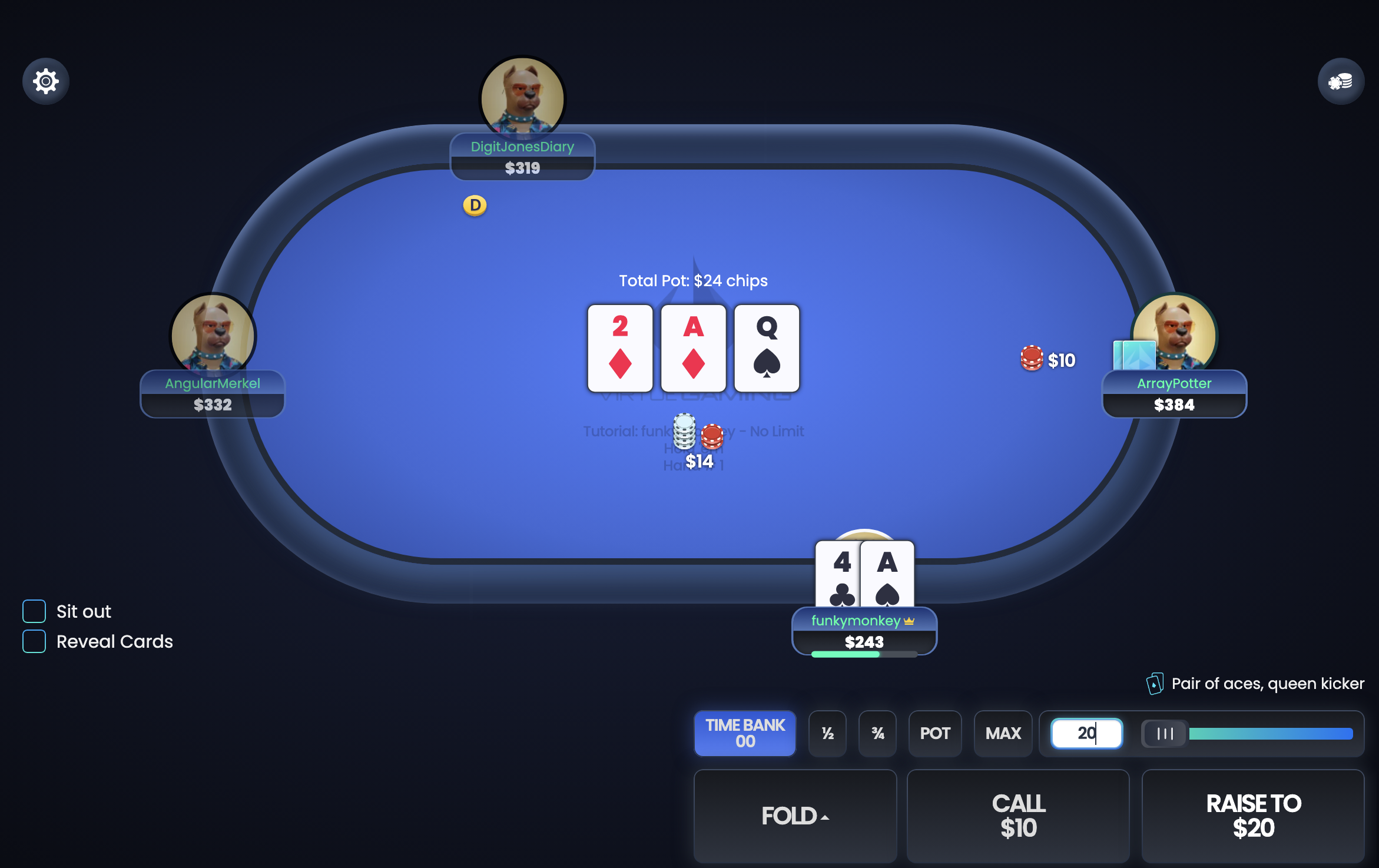 A peek at gameplay on the revamped Virtue Poker. Courtesy: Virtue Poker
The revamped Virtue Poker will not facilitate in-game gambling of fiat money or cryptocurrency. It will instead provide easy-to-navigate infrastructure for clubs and organizations around the world looking to put on their own online poker games and tournaments. In particular, Gittleson has rebuilt Virtue to cater to NFT communities, which can now token-gate games for holders only.
"I noticed that all these NFT communities were playing poker weekly as a way to create engagement outside of Discord chats," Gittleson said. "A lot of them said they'd want to do it more regularly, if it wasn't so difficult to organize."
Any organization that sets up a poker club on Virtue will be able to customize their own online lobby and playing space, which can handle over 1,000 guests playing games including No Limit Hold'Em, Pot Limit Omaha, and Short Deck. While the platform is currently free, Gittleson plans to eventually charge club organizers a monthly subscription fee, based on membership and usage.
Gittleson envisions that NFT communities could incentivize members to participate in Virtue tournaments by offering winners NFTs and fungible tokens as prizes. They could also, per Gittleson, charge players buy-ins and just manually handle the payouts themselves.
The legality of such a scheme, however, is dubious: federal law currently prohibits any person from knowingly accepting any form of payment to settle unlawful internet gambling debts, and Virtue Poker is not a licensed gambling platform.
"We don't handle the money, we don't know if there is money or not," Gittleson said. "And that's what makes this legal."
As of writing, Virtue supports Ethereum and scaling network Polygon, Solana, and the BNB Smart Chain, though it plans to expand to additional blockchains in the future. On Thursday, to celebrate the platform's re-launch, Gittleson will host a private multi-table tournament for holders of Virtue's original token, VPP. The tournament's winner is set to receive $500 USDT.