Information on social media platform X(formerly Twitter) suggests that Friend.tech founders 0xRacerAlt and Shrimppepe have connections to a failed NFT project, Kosetto.
Kosetto NFTs
Kosetto is a tradeable NFT wearables project launched last December on Ethereum. The project, which consisted of 1,689 items, sparked significant excitement with users flooding social media platforms with posts about it. However, after it had introduced a Chrome extension for its NFTs in January, the project went silent in February after promising that "something big was coming."
OpenSea's data shows that the floor price of the collection is currently 0.01 ETH, around $17. The last sale for the NFTs occurred in February, with its total sales volume at only 5 ETH.
As of press time, Kosetto's website was unavailable, displaying an Error 402.
Describing the project's sudden demise, Justin Kalland, the Vice President of Innovation at Horizen Labs Ventures, said:
"The entire thing just disappeared, last update was in January that a Chrome extension was available. No communication or warning to users."
Link to Friend.tech founders
On X, several crypto community members have pointed out that the struggling NFT project was linked to the Friend.tech founders.
Kalland pointed out that a search of 0xRacerAlt's tweet shows that they have deleted several links to the NFT project and that the Friend.tech founder held an official position on Kosetto Discord.
CryptoSlate confirmed that 0xRacerAlt and Shrimppepe play an active role in Kosetto's Discord community.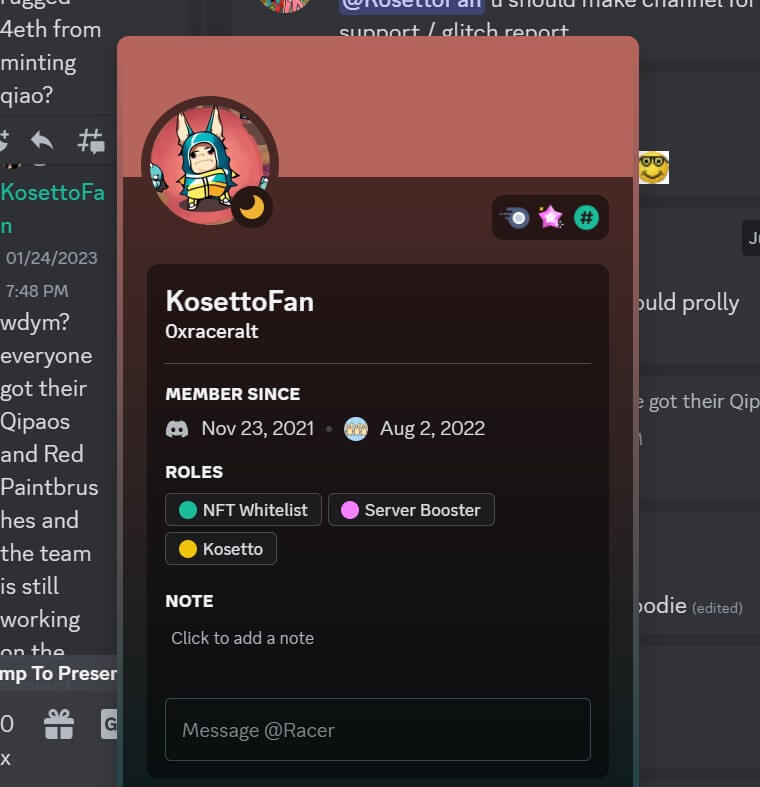 Kalland added:
"The most compelling evidence is their reuse of the Kosetto[.com] domain for the FT API. The original use of this website can be verified through the X profile, the Chrome Web Store, Discord, and other sources."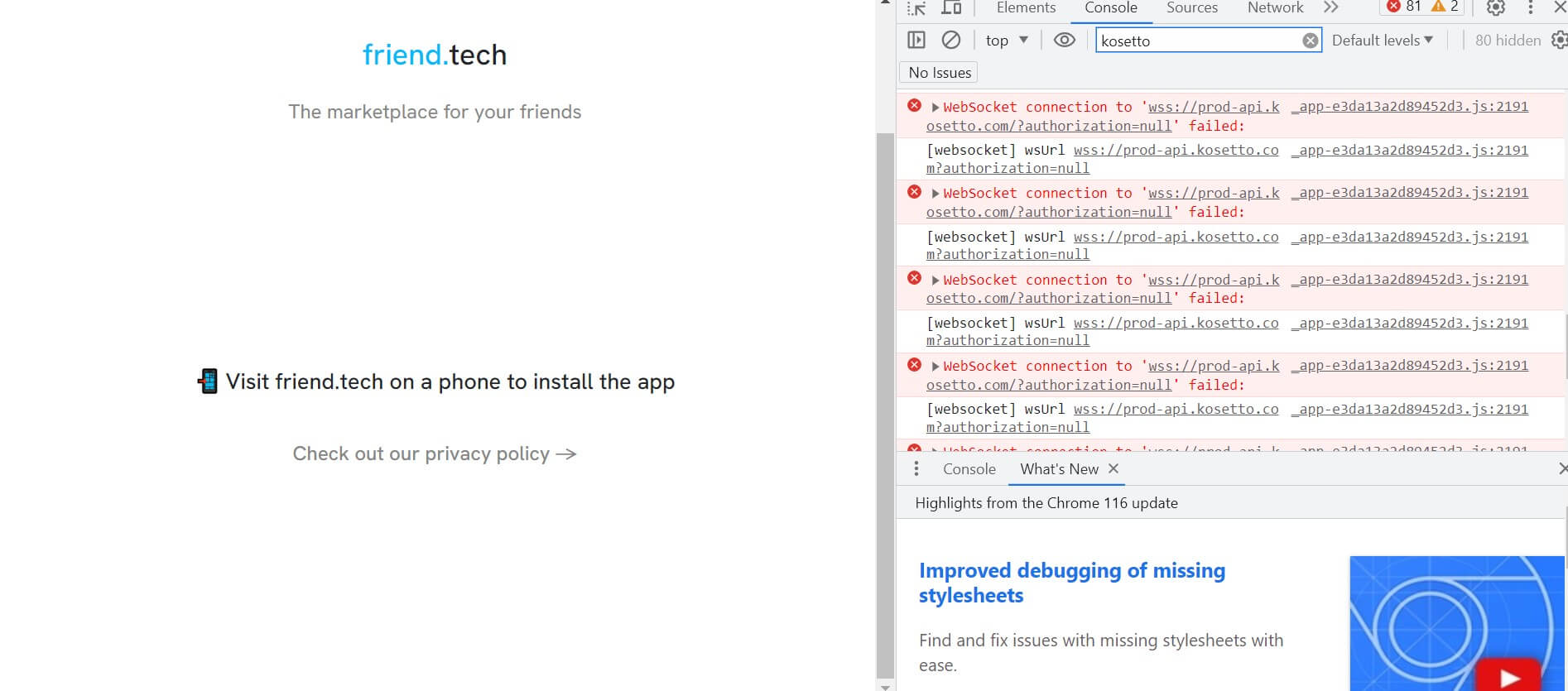 CryptoSlate was also able to confirm that Friend.Tech's website has links to Kosetto. As of press time, the projects founders had not responded to CryptoSlate's request for comment.
Friend.Tech gathering community interest
Friend.Tech has gathered much interest from the crypto community since its launch on Aug. 10. The decentralized social platform allows personalities to issue shares, granting access to exclusive content and chat groups.
Yearn Finance developer Banteg tweeted that over 100,000 people have been given access to the platform since its launch.
This has resulted in high transaction fees. Data from DeFiLlama show that it made $1.42 million in fees during the last 24 hours, placing it behind only liquid staking protocol Lido (LDO) and Ethereum (ETH). The platform saw nearly $3 million in fees during the last seven days.
Over the weekend, the protocol stated that it would distribute 100 million points to users during the six-month beta period. The platform also revealed that venture capital firm Paradigm invested an undisclosed sum to "build tools for new online social interactions."