The Mint Square NFT marketplace will shut down on June 3. The team has yet to explain the decision, but it could be due to poor traction.
The Mint Square NFT marketplace will stop trading services from June 30, the team announced over Twitter on June 6. The team explained that buying and selling would continue until that date, after which trading would no longer be possible.
Mint Square NFT Marketplace Shuts Down
Mint Square did not offer an explanation for why it was shutting the marketplace down. It could possibly be because of poor performance. There have been several NFT marketplaces that have shut down in recent times.
In February, WazirX shut down its NFT marketplace because of poor traction. Around the same time, the Solana NFT marketplace Formfunction also shuttered. Then there's CNN, the broadcaster which abandoned its NFT project late last year.
Mint Square is an NFT marketplace that runs on Ethereum layer-2 ZK-rollups-based networks like StarkNet and zkSync Era.
Being on a layer-2 network, NFTs on Mint Square were cheaper and were confirmed faster. Top collections on Mint Square include Stark Agents, Starkpunks, and StarkRock.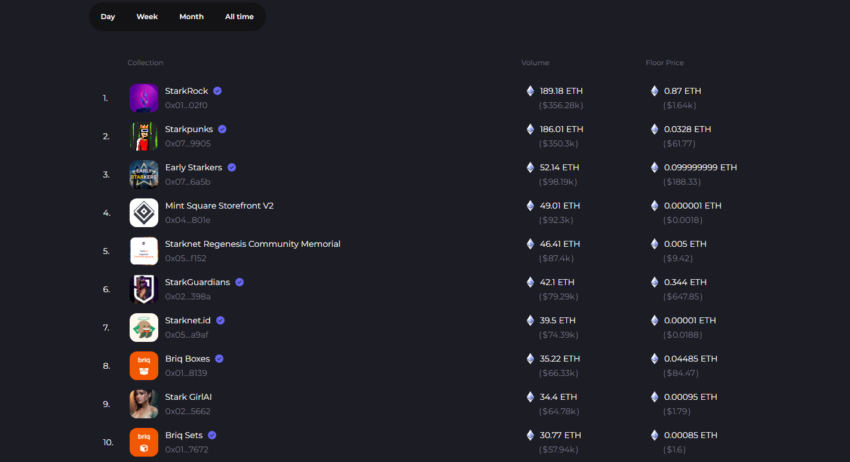 All-Time Top NFT Collections. Source: Mint Square
The Argent wallet team earlier stated that the NFT marketplace had disabled minting because of bot activity.
NFT Market Rebounds Slightly
Besides the Mint Square NFT marketplace, the NFT market has been doing a bit better in the past few months. It's nowhere near its peak volume, but a few developments have improved matters. The Blur marketplace is currently leading the market with 7-day volumes reaching over 38,000 ETH
Among those developments is Japan's largest airline, ANA, deciding to launch an NFT marketplace. Louis Vuitton has also decided to release $42,000 worth of NFTs that are physically backed.