Even though NFTs are a relatively new phenomenon, there's thousands of different NFT collections available on the market. In such an environment, it can be difficult to decide which NFTs are worth your attention and which ones should be ignored.
In this article, we'll be highlighting the 10 best NFTs to buy right now. We mostly focused on well established NFT collections instead of smaller collections that have a lot more uncertainty.
Bored Ape Yacht Club - The most popular PFP NFT collection
CryptoPunks - A hugely influential collection of NFT avatars
Azuki - PFP NFT collection with a distinctive anime style
Otherdeeds for Otherside - Land plots for the Otherside metaverse
Fidenza - One of the most renowned generative art NFT collections
Ringers - An iconic generative art NFT collection
The Doge NFT - Fractional ownership of the Doge meme
Nouns - An NFT collection with a unique issuance mechanism and DAO
CLONE X - A collaboration between RTFKT and Takashi Murakami
Invisible Friends - A popular animated NFT collection
If you have any questions about the basics of NFTs, we recommend that you check out our NFT crash course which will explain all you need to start collecting NFTs. Otherwise, let's get started with our list of the 10 best NFT collections to buy right now.
1. Bored Ape Yacht Club - The most popular PFP NFT collection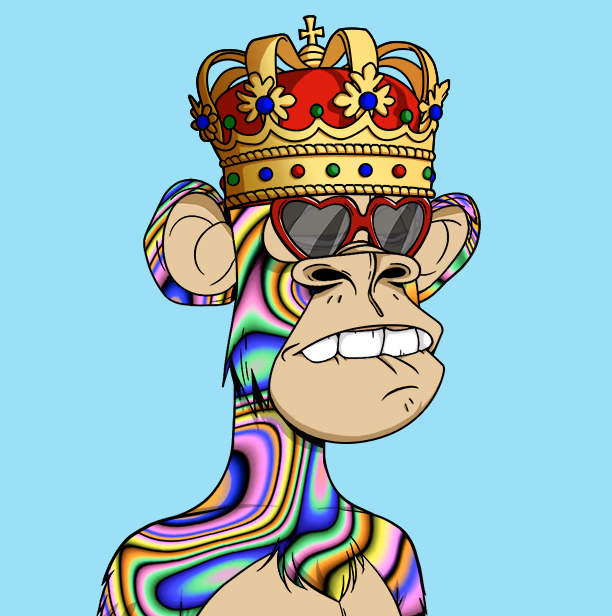 Bored Ape Yacht Club (BAYC) is an NFT project that was launched in April of 2021 by Yuga Labs. The BAYC NFT collection uses the Ethereum blockchain, and contains 10,000 unique ape avatars with properties of varying rarities. At launch, users could mint BAYC NFTs at a price of 0.08 ETH each, which was around $190 at the time.
BAYC distinguished itself from many other NFT projects at the time by creating products and experiences that could only be accessed by holders of BAYC NFTs, and giving them free NFTs from other collections in the BAYC universe (Mutant Ape Yacht Club and Bored Ape Kennel Club). In addition, owners of BAYC NFTs have commercial rights to the artwork. These concepts popularized by BAYC have since been adopted by many other NFT projects.
Bored Ape Yacht Club has been hugely successful, and the floor price of the collection is currently 60 ETH. This means that users who got a BAYC NFT at the mint price of 0.08 ETH have seen the value of their NFT increase by 750x in terms of ETH and about 568x in terms of USD. The most expensive Bored Ape NFT has sold for more than $3 million dollars.
Yuga Labs, the company behind BAYC, raised a $450 million funding round in 2022 at a valuation of $4 billion. They are currently working on a project called Otherside, which is a 3D metaverse where users will be able to use their NFTs as avatars. In addition, a token called ApeCoin has been launched to serve as the currency in the BAYC ecosystem. At launch, APE tokens were airdropped to holders of NFTs from the BAYC universe.
2. CryptoPunks - A hugely influential collection of NFT avatars

CryptoPunks is an NFT collection that pioneered the genre of profile picture (PFP) NFTs, which includes projects like Bored Ape Yacht Club, Azuki, Nouns and countless others.
CryptoPunks was launched in June 2017 by a U.S. company called Larva Labs. The collection includes 10,000 unique avatars that have traits of different rarities. When CryptoPunks were introduced, Ethereum users could mint their own CryptoPunks NFTs for free, with the only cost being the gas fee required for the transaction. Today, CryptoPunks is a highly sought after NFT collection, with a floor price of about 64 ETH ($115,000).
In collections that have traits of different rarities, the rarest NFTs can fetch a very high price. CryptoPunks with very rare traits have achieved truly staggering valuations. CryptoPunk #5822, which sports the extremely rare "Alien" trait, was sold for the equivalent of $23.7 million in February 2022. This made it one of the most expensive NFTs ever sold.
Larva Labs, the creators of CryptoPunks, had a mostly hands-off approach to the CryptoPunks collection, besides airdropping Meebits NFTs to CryptoPunks owners. This could change in the future, as the CryptoPunks intellectual property was acquired by Yuga Labs in 2022.
3. Azuki - PFP NFT collection with a distinctive anime style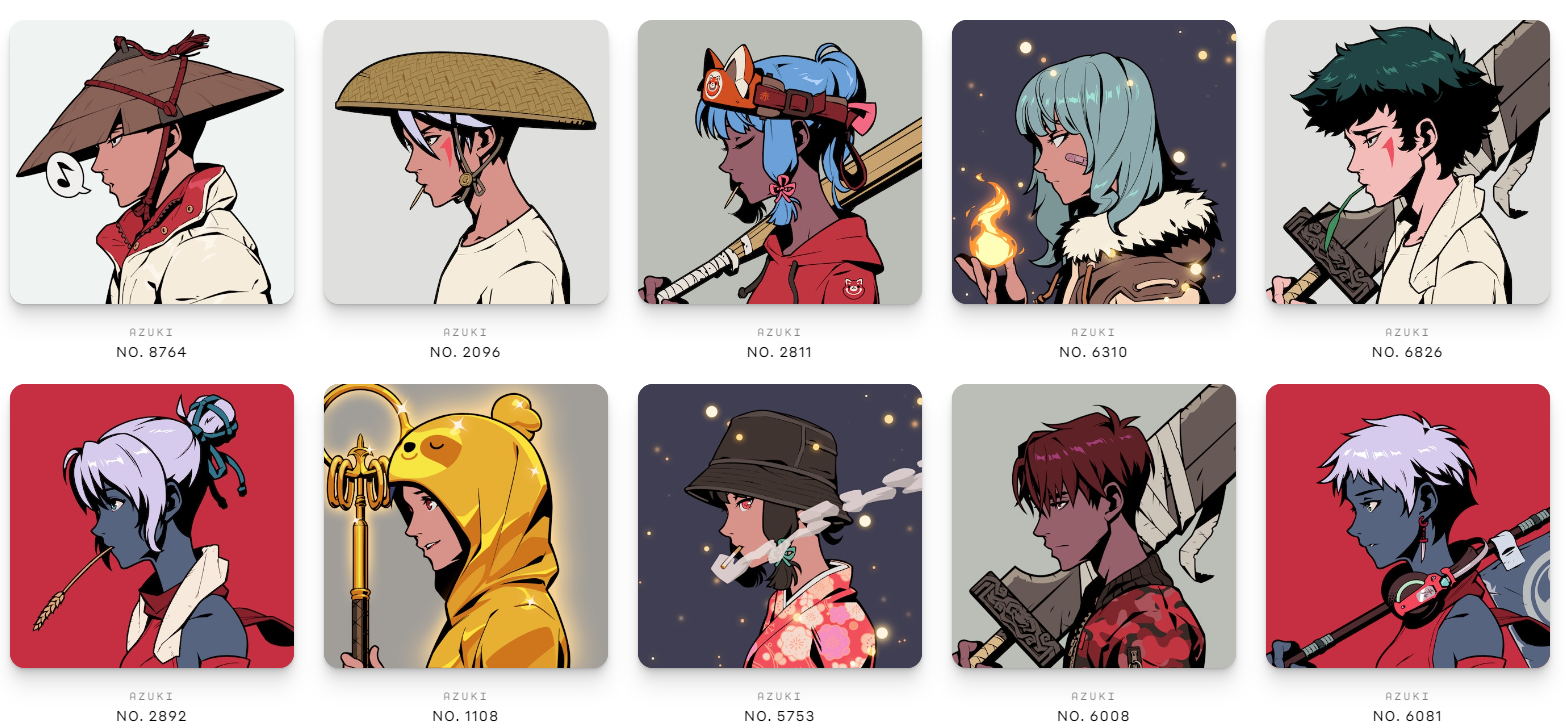 Azuki is a popular PFP NFT collection featuring a distinct art style inspired by anime. The Azuki project describes itself as a brand for the metaverse that also aims to create real-world projects like collaborations with streetwear brands and live events. The world in which Azuki NFTs exist is called The Garden.
The Azuki collection follows the basic concept outlined by CryptoPunks. There are 10,000 Azuki NFTs, which have randomly selected traits of various rarities. An Azuki NFT with very rare traits sold for approximately $1.4 million in March 2022. However, the Azuki collection is more accessible than the likes of BAYC and CryptoPunks, as its floor price is currently at around 13.2 ETH.
There's another NFT collection related to Azuki called BEANZ. These characters have the form of small beans and are designed to function as sidekicks to Azuki characters. Holders of Azuki NFTs received an airdrop containing a BEANZ NFT, but the BEANZ collection contains a greater number of NFTs than Azuki.
4. Otherdeeds for Otherside - Land plots for the Otherside metaverse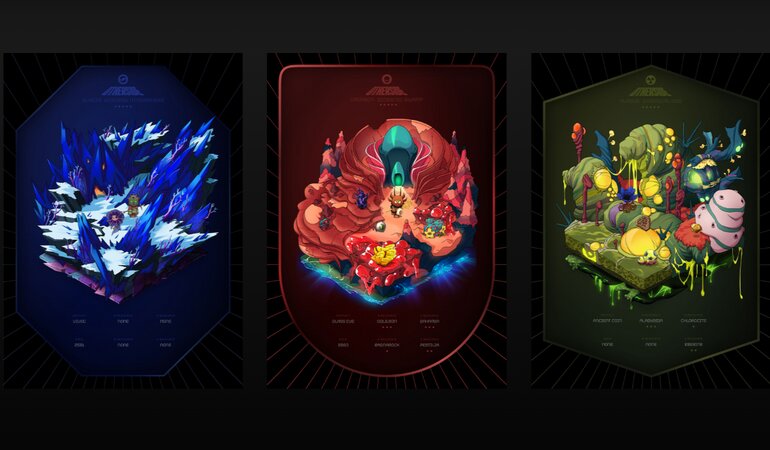 Otherdeeds are NFTs that will allow holders to claim a plot of land in the Otherside metaverse, which is currently being developed by Yuga Labs. This collection of NFTs was launched in April 2022 and contains 100,000 NFTs in total, with plans to expand it to 200,000 in the future. 55,000 Otherdeeds NFTs were sold through a public sale, while the remaining 45,000 was reserved for holders of Bored Ape Yacht Club NFTs and partners and employees of Yuga Labs.
Some Otherdeeds NFTs also include Kodas, which are strange creatures inhabiting the Otherside metaverse. Otherdeeds that contain a Koda tend to fetch a much higher price than regular Otherdeeds. At the time of writing, the floor price for an Otherdeed is about 1.8 ETH, while Otherdeeds with a Koda start at about 14 ETH.
Currently, it's unclear exactly what the Otherside metaverse will look like, so Otherdeeds are definitely a very speculative purchase. However, that hasn't stopped NFT collectors and traders, as Otherdeeds is regularly among the most actively traded NFT collections and is definitely among the hottest metaverse NFTs on the market.
5. Fidenza - One of the most renowned generative art NFT collections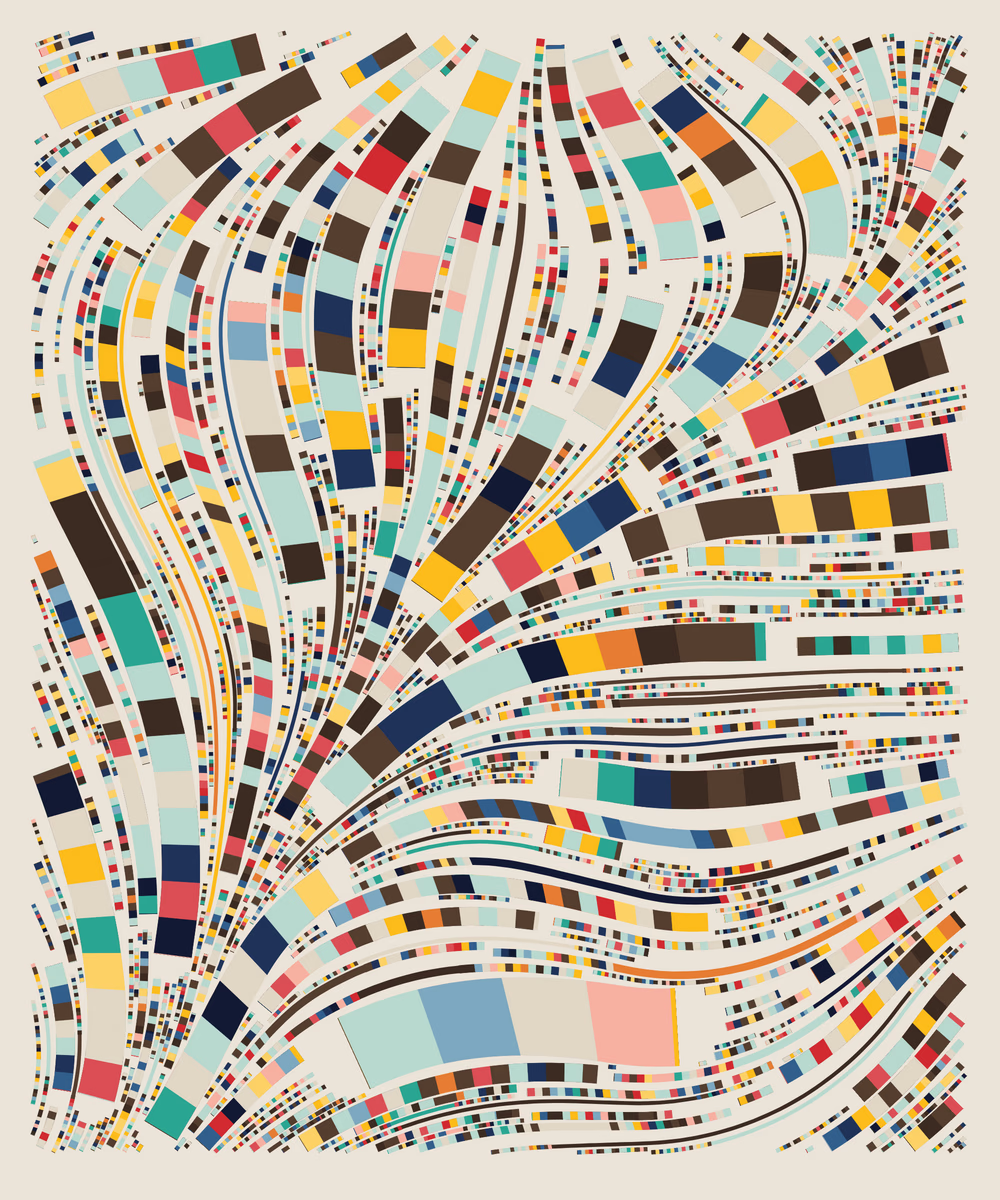 Fidenza is an NFT collection by United States-based artist Tyler Hobbs that was launched in June 2021. Fidenza is an example of generative art, in which artworks are produced through code written by the artist, typically incorporating randomness to achieve unpredictable results. Fidenza was released through Art Blocks, a leading platform for generative art NFTs.
In total, 999 Fidenza NFTs were created. The collection's striking visuals have made it one of the most renowned collections of generative art NFTs. Currently, the "cheapest" Fidenza available on the market is listed for 69 ETH, which translates to about $124,000.
The Fidenza collection is known for its variety, as it was generated with many different parameters that were selected randomly during the generation of each artwork. This means that there's plenty of variety across the Fidenza collection when it comes to composition and color palettes. Some Fidenza NFTs have lively color palettes, while others can consist of just two colors. Some include a handful of large elements, while others consist of hundreds of smaller elements.
Regardless of the rapidly shifting trends in the world of NFTs, Fidenza is likely to remain one of the most valuable NFT collections moving forward and could be among the best NFTs to invest in over the long term.
6. Ringers - An iconic generative art NFT collection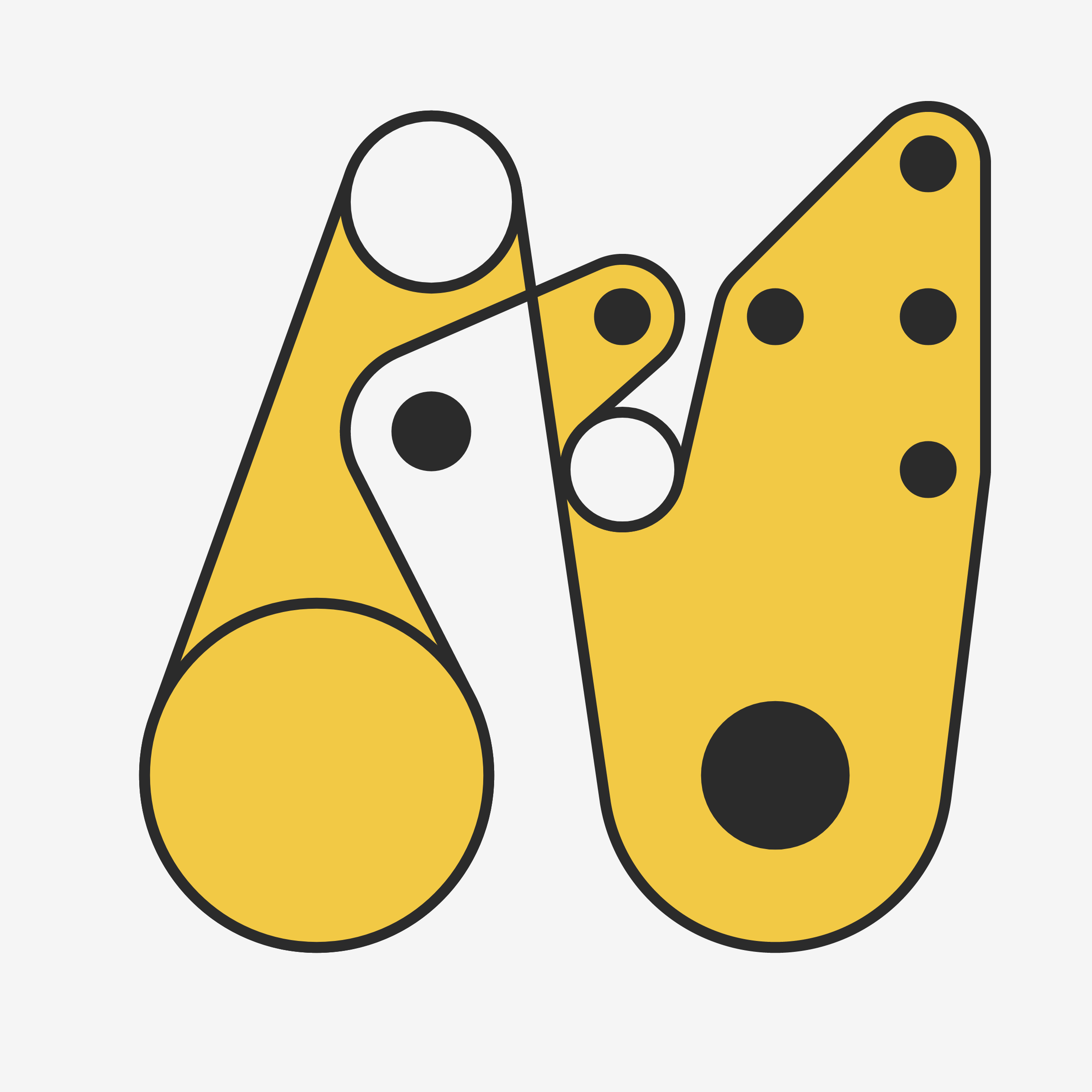 Ringers is another example of a generative art NFT collection that was released through the Art Blocks platform. Ringers was created by Canadian artist Dmitri Cherniak, and consists of 1,000 unique artworks. The abstract artworks are based around the concept of a string being wrapped around a set of pegs in various ways.
Artworks from the Ringers collection consist of geometric shapes with a simple color palette of white, black and yellow. However, some examples also have an extra color (red, blue or green). Coincidentally, some artworks from the Ringers collection resemble real-world objects—for example, the Ringers NFT you can see above is affectionately referred to as "The Goose".
Alongside Fidenza, Ringers is one of the most iconic generative art NFT collections and is considered a "blue chip" collection. At the time of writing, the floor price of the Ringers collection is at about 42 ETH ($75,400).
7. The Doge NFT - Fractional ownership of the Doge meme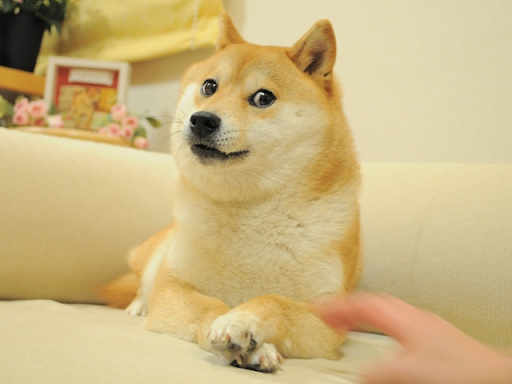 The Doge NFT represents the iconic "Doge" photo, which has been used as the basis for countless memes (including Dogecoin). The NFT was minted by Atsuko Sato, who is the owner of the Shiba Inu dog in the picture and took the original photograph that went viral later.
The NFT was purchased by a decentralized autonomous organization called PleasrDAO for about $4 million. Instead of just holding the NFT, PleasrDAO decided to make it accessible to a community of users.
The Doge NFT is unique compared to other NFTs featured in this article because its ownership is split across thousands of different people. The ownership of the Doge NFT is fractionalized into 16.9 billion DOG tokens on the Ethereum blockchain. Anyone can buy DOG tokens on a decentralized and become a partial owner of the Doge NFT. Of course, your ownership share depends on the amount of tokens you own.
8. Nouns - An NFT collection with a unique issuance mechanism and DAO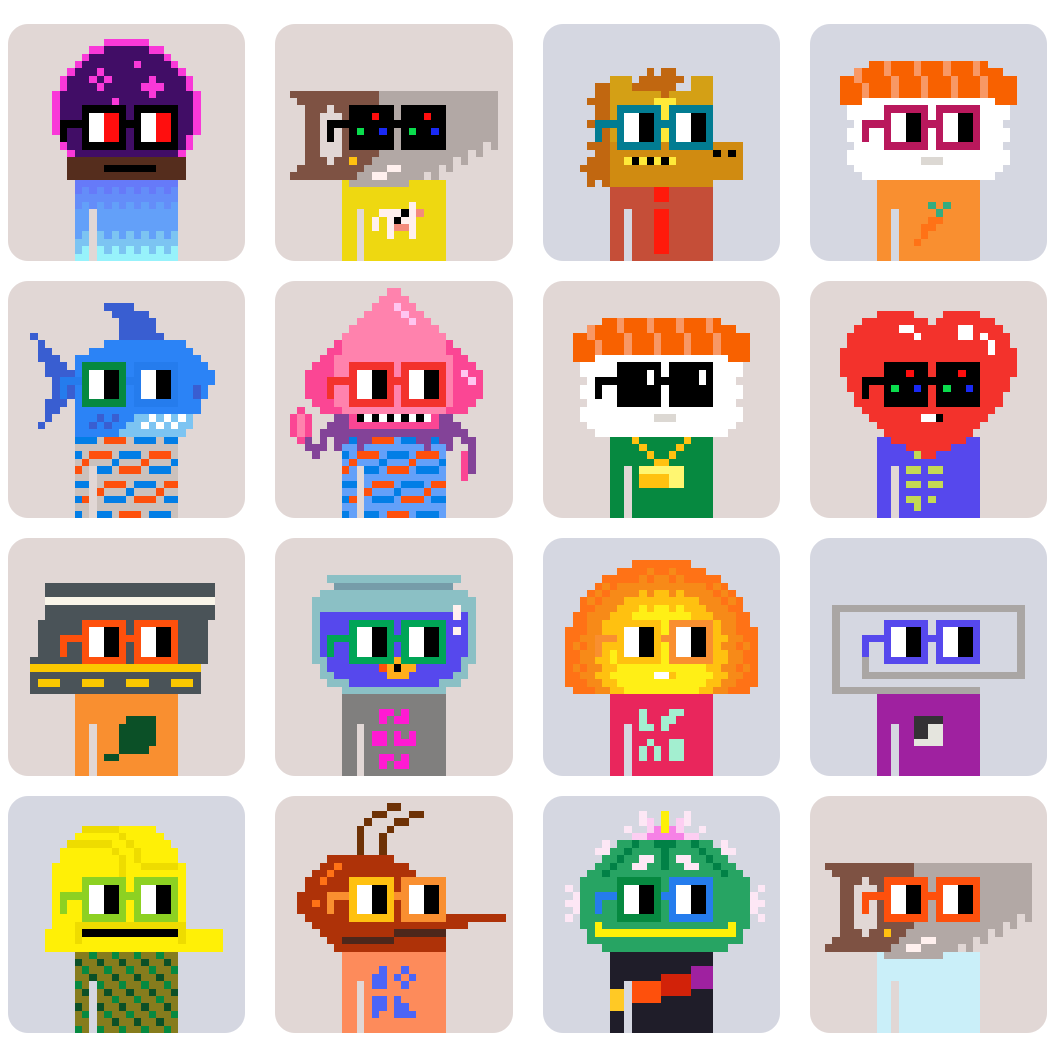 Nouns are a collection of NFTs depicting pixel art characters with randomly selected traits. The characters are instantly recognizable thanks to their glasses, which are at the core of the Nouns project's branding.
Unlike most other NFT collections, which usually have a one-time minting process, new Nouns NFTs are generated continuously. Each day, one Noun NFT is generated and auctioned off on the Ethereum blockchain. This process will continue forever, or at least for as long as the Ethereum blockchain is operational.
All of the proceeds from each Noun NFT auction is sent to the Nouns DAO treasury. The Nouns DAO is a decentralized autonomous organization that consists of Nouns NFT holders. When it comes to voting decisions, one Noun NFT equals one vote.
The Nouns DAO funds various initiatives that promote the Nouns project. For example, Nouns Esports sponsors a variety of esports teams in games like Dota 2 and Counter-Strike: Global Offensive.
9. CLONE X - A collaboration between RTFKT and Takashi Murakami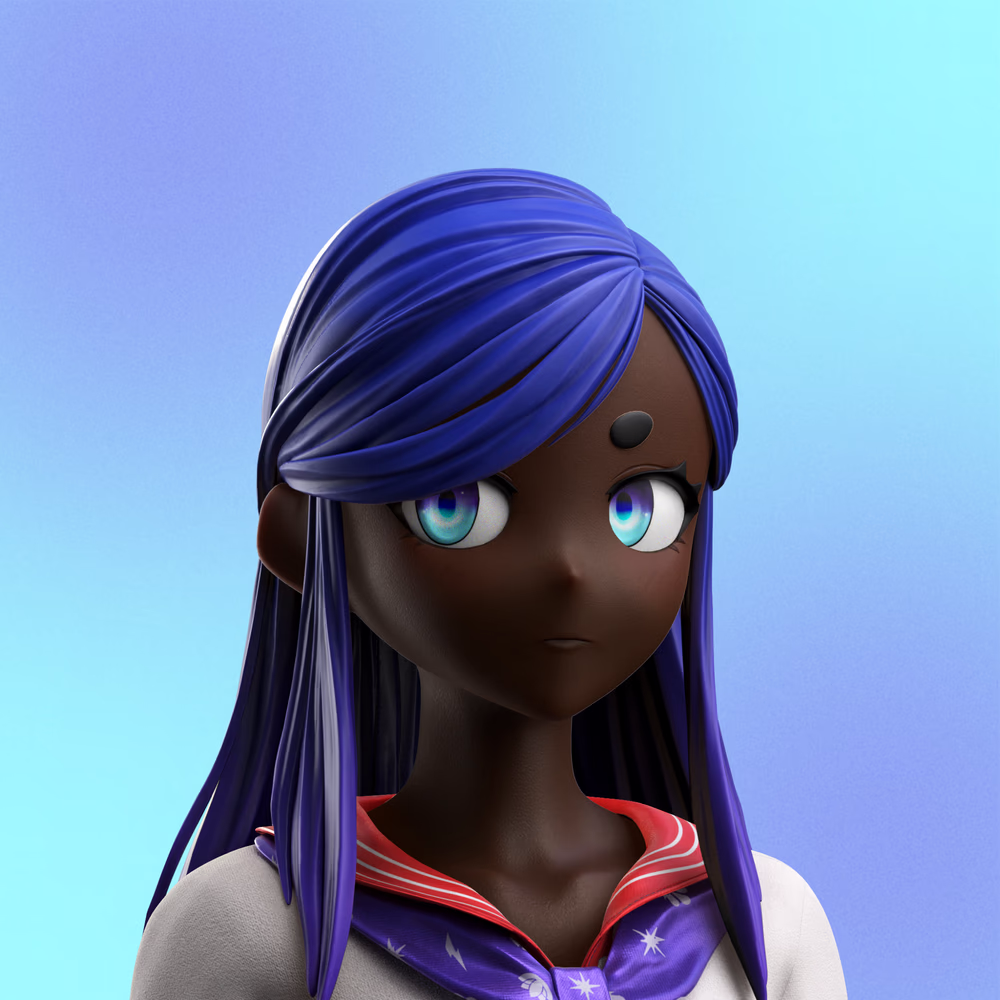 CLONE X is an NFT collection launched by RTFKT in collaboration with notable Japanese artist Takashi Murakami in November 2021. The collection consists of 20,000 "Clones", which are represented with 3D avatars. Each clone can have one of eight different DNA types, which determine its basic appearance.
CLONE X is among the most popular collections in the PFP NFT genre, and is regularly among the most traded collections on marketplaces like OpenSea. The CLONEX X avatars are fully 3D rigged models, which means that they could be potentially used in virtual reality platforms or in video games. The avatars can be customized, which is a relatively unique feature among NFT projects.
10. Invisible Friends - A popular animated NFT collection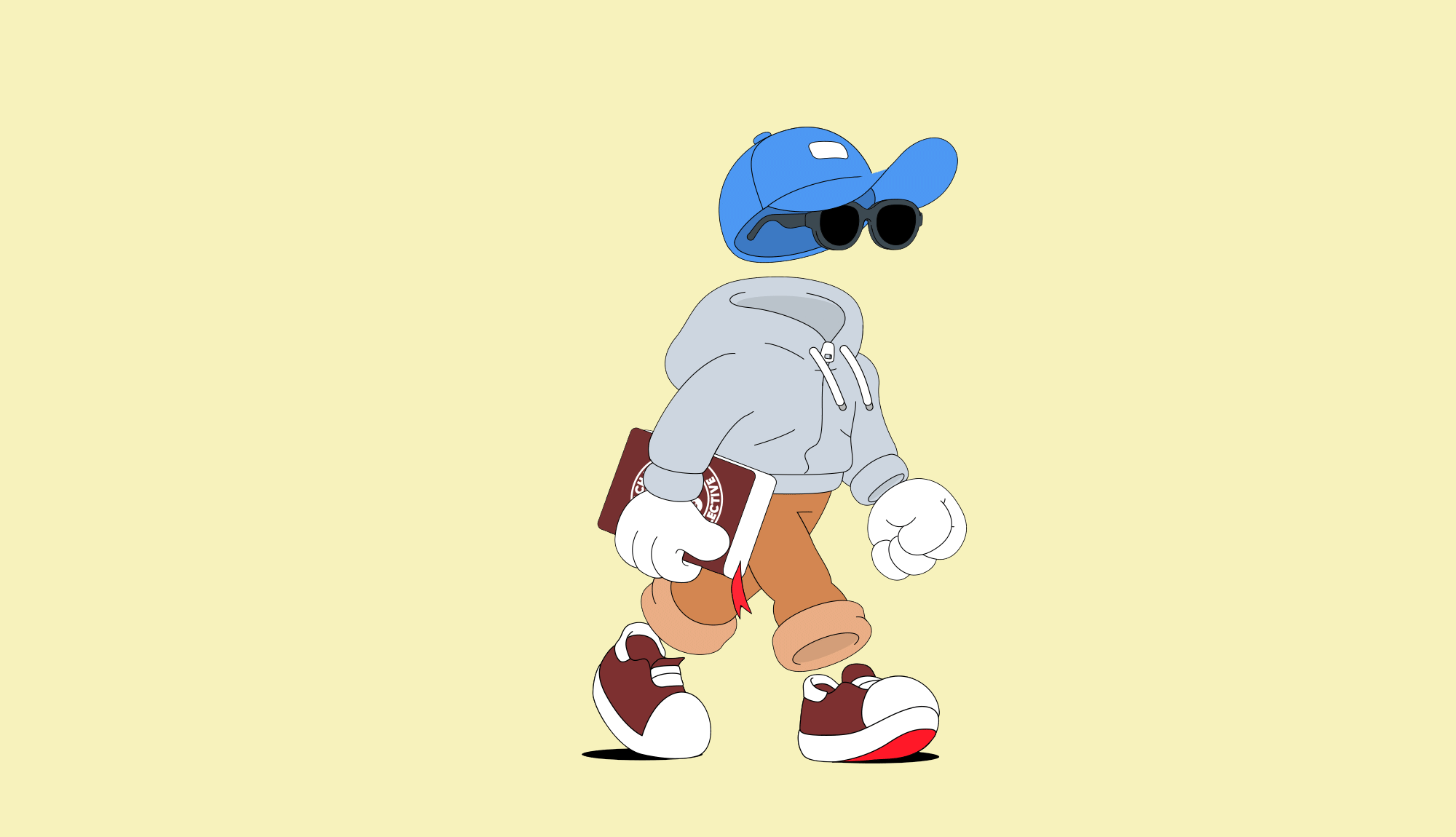 Invisible Friends is an NFT collection created by Swedish animator Markus Magnusson. It was launched in February 2022, and contains 5,000 animated characters. As the name of the collection implies, the bodies of Invisible Friends avatars are invisible, and you can only see their clothes and accessories.
The Invisible Friends project has partnered with the apparel brand Kith to feature some of the company's products on Invisible Friends avatars. The project has also launched 3D versions of Invisible Friends which could be minted by holders of the original 2D Invisible Friend NFTs.
Invisible Friends NFTs are among the most popular animated NFTs and are relatively accessible in terms of floor price. At the time of writing, the cheapest Invisible Friend NFT available on the market is going for about 1.7 ETH.
The bottom line - There's a lot of high quality NFT collections, but the barrier to entry can be steep
Hopefully, our roundup of the top NFTs has given you some ideas of which NFT collections are worth considering if you're looking to invest in NFTs. If you think NFTs are a good investment, these collections are certainly a good starting point to explore.
However, it's worth noting that many prominent NFT collections have a steep barrier to entry, as floor prices can be quite high. If you're looking to perhaps score some free NFTs, check out our list of the best free NFT drops.