Back to the list
Ordinals Gain Momentum With 76,000 NFTs Minted to Bitcoin
decrypt.co
14 February 2023 00:45, UTC
Reading time: ~2 m
---
Despite pushback from Bitcoin purists, Ordinals—the NFT-like project on the Bitcoin blockchain—shows no signs of slowing, as over 76,400 inscriptions have been created to date. The number of Ordinals spiked on February 9, 2023, exceeding 20,800 inscriptions for the day, according to data from Dune.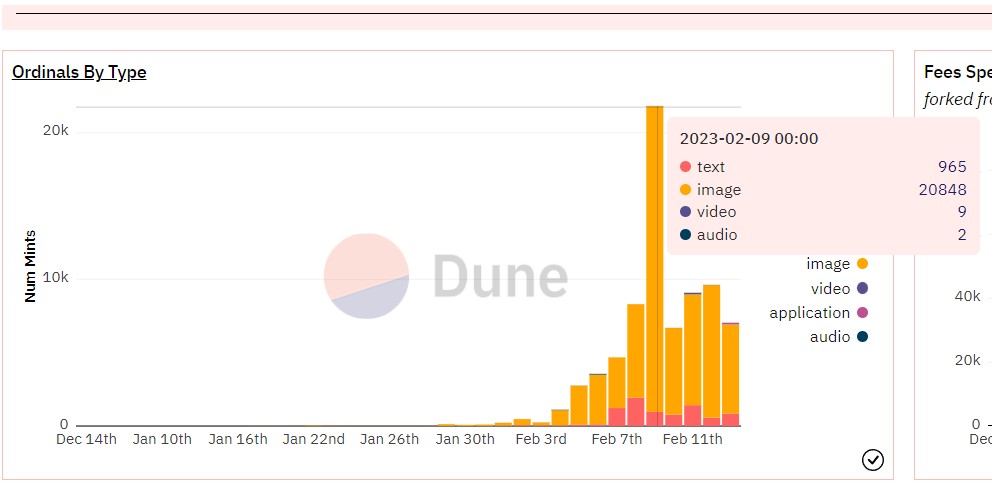 Launched last month, Ordinals is the latest project aiming to bring NFTs into the Bitcoin ecosystem. Counterparty, launched in 2014, was the first project that introduced non-fungible tokens to Bitcoin with the Rare Pepes collection, followed by the 2017 launch of Stacks.
What distinguishes Ordinals from earlier projects is that the digital assets are inscribed directly onto satoshis, the lowest denomination of a Bitcoin, without needing a sidechain or token.
Developers have inscribed JPEGs, audio files, videos, and even video games to test the limits of what can go on the Bitcoin blockchain. While the total number of Bitcoin NFTs is unknown, the Ordinals website and Gamma, a Bitcoin NFT marketplace on Stacks, appear to point to several thousand minted on the network.
Bitcoin NFTs may be having a moment, but the technology is still in its infancy, especially when compared to Ethereum and Solana, which have had several years to perfect the minting, trading, and viewing of digital collectibles.
"Ordinals have been live for a few months now, but it's only really a week old in terms of mass adoption," Satoshibles developer Brian Laughlan told Decrypt on Discord. "It's going to take a while before we see general wallet support." Launched in 2021, Satoshibles is the first NFT Collection to bridge Ethereum NFTs with Bitcoin using Stacks.
Many Bitcoiners, no matter what they say, are scrambling to mint a pre 100k inscription.

Hilarious how people have 2 faces.

Y'all would all be served better to just maintain 1 face and be honest. It's a better life.

— ck (going to Bitcoin 2023) (@ck_SNARKs) February 13, 2023
As Bitcoin Twitter continues to argue the merits of filling blocks with pictures and videos, Bitcoin miners are raking in a tidal wave in fees that topped $92,220 on February 12, 2023, for Ordinal transactions alone.
Unsurprisingly, clones of popular NFT projects like CryptoPunks and Bored Ape Yacht Club NFTs have made their way to the Bitcoin Blockchain. On February 8, a single Ordinal Punk sold for 9.5 BTC, or nearly $215,000.
---
Source
---
Back to the list
Similar news