CMC spoke with Mo Patel, investor from Sfermion to provide a detailed overview of the performance of NFT market and growth during a challenging 2022. As well as what Sfermion considers the market's prospects for 2023.
Q1: How to measure the success of the NFT market in 2022?
The NFT market in 2022 has faced such a decrease in volume due to the bear market and overall downturn that there was widespread concern that NFTs are dead. However, if you exclude bull market-driven 2021 as an anomaly in terms of volume and traction, the NFT market in 2022 is in fact thriving in many areas. The drop-off in NFT market trading volume as compared to the smaller drop-off in NFT transactions shows that people are still using NFTs and that the downturn is just a broader market trend.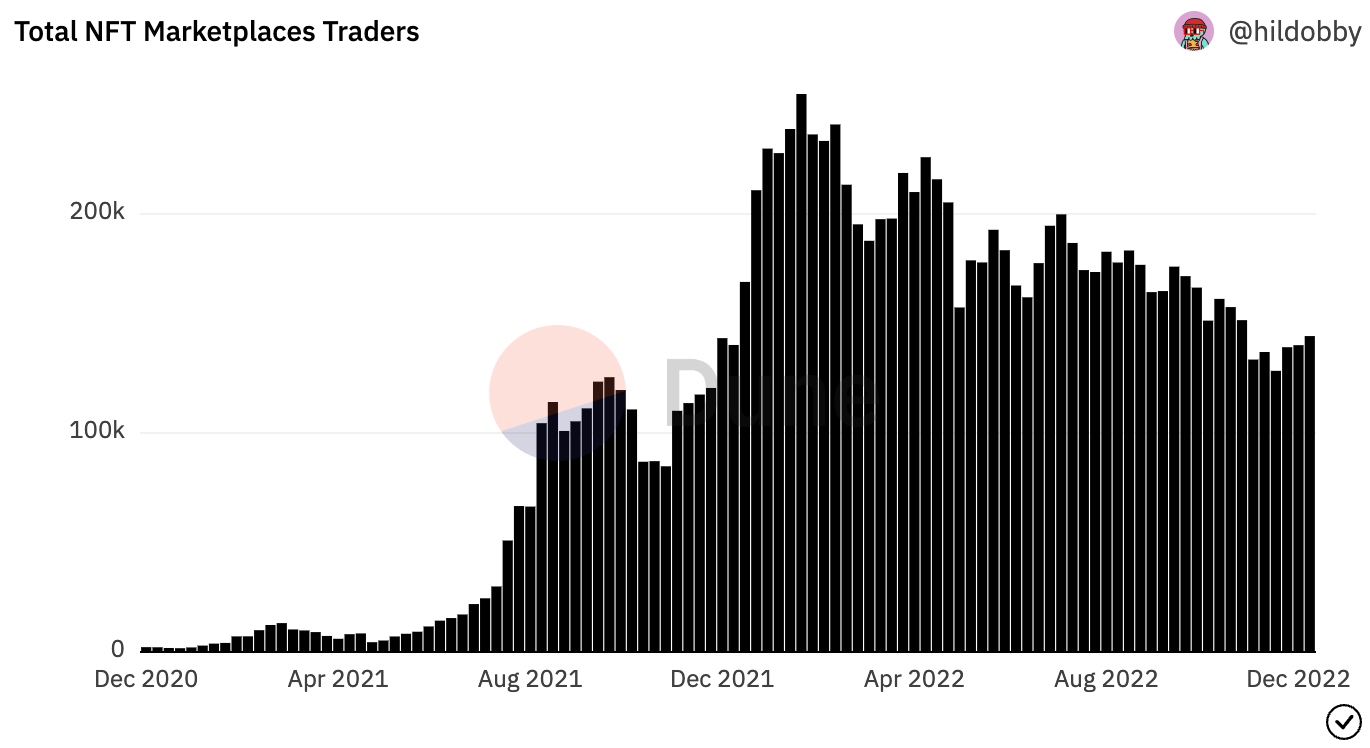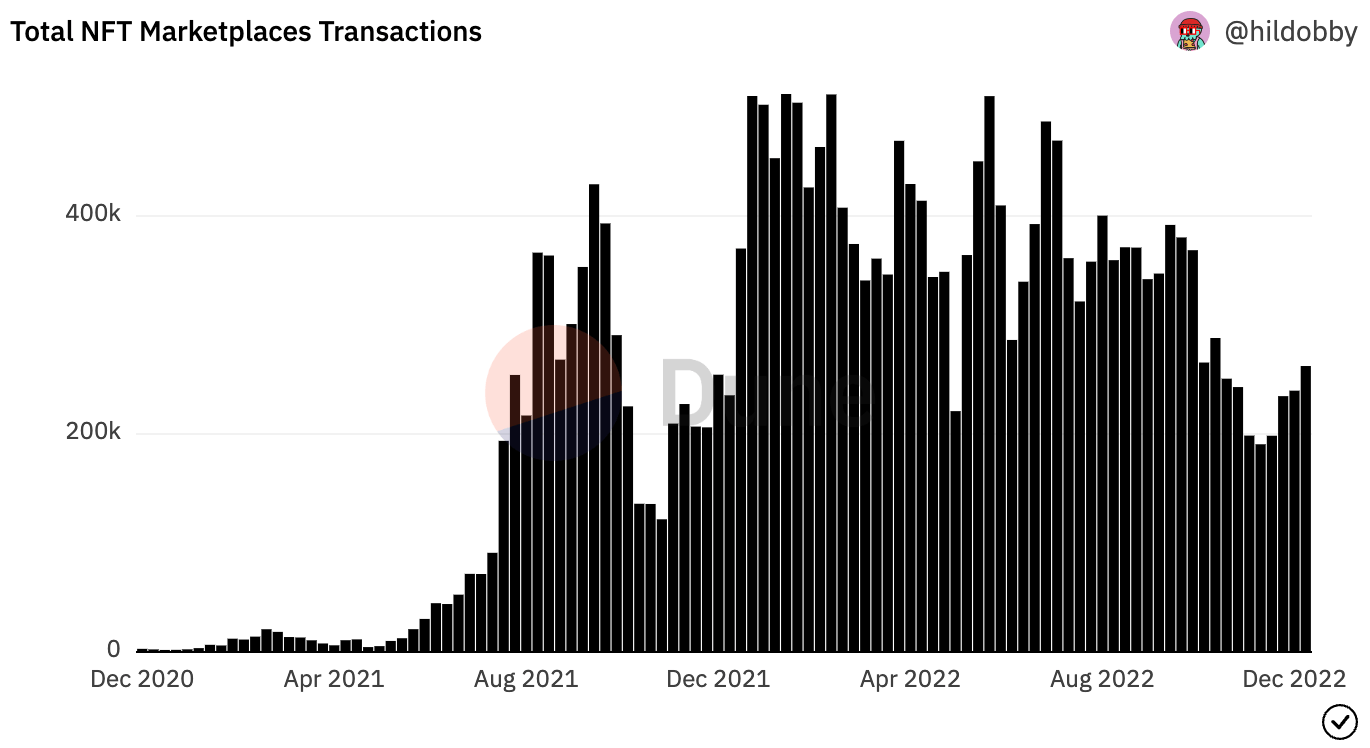 For example, the rapid adoption of layer-2 solutions like Arbitrum and Optimism meant growth in unique addresses holding NFTs, which showcases the amount of building activities supporting the L2 space. Meanwhile, Polygon is also active in NFT business development and continues to draw stellar Web2 talent and clients to blockchain.
Music NFTs are also seeing success on various platforms, with high sales volumes and increased minting.
Web3 social platforms using NFTs in various ways are also gaining traction, such as Aave's Lens Protocol that already boasts nearly 100,000 users since its May 2022 launch. In addition to a plethora of quantitative data to consider, there's also ample qualitative data available that indicates that the recent NFT craze has led to an influx of strong Web2 builders entering the Web3 space to build with NFTs. This underscores the success of the NFT market and the global attention it has garnered in a very short time.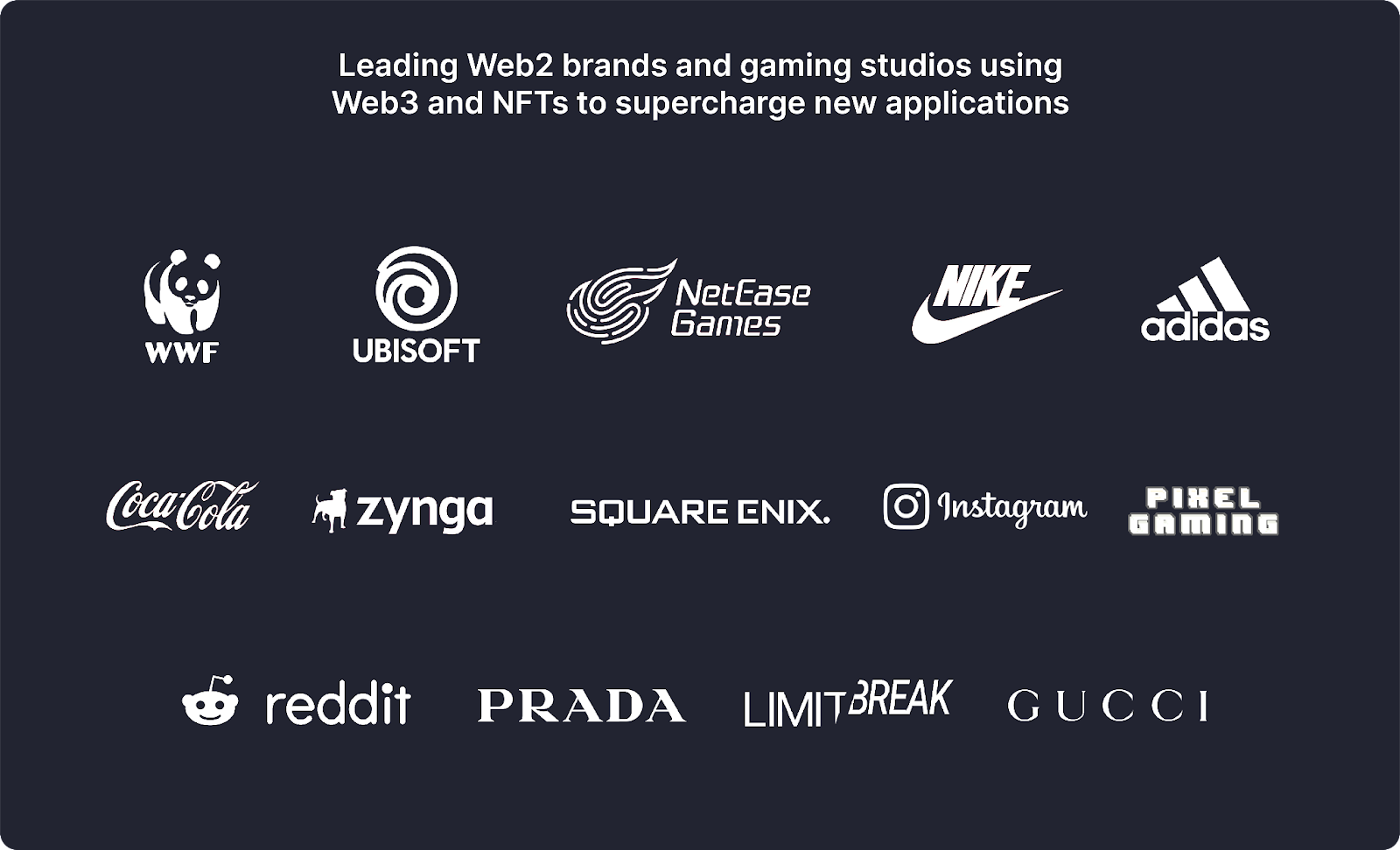 These new entrants include leading Web2 founders and gaming studios who have built established and enduring products in the Web2 space and are now using Web3 and NFTs to supercharge new applications, such as NetEase, Pixel Gaming, Wildlife, Square Enix, Ubisoft and Zynga. Top-tier brands such as Gucci, Nike, Adidas and Prada are all onboarding NFTs in their marketing to connect better with their customers. Instagram, with its over half a billion daily active users (DAU), is now effectively an NFT marketplace.
Reddit has come out of nowhere this year with its sudden implementation of NFTs (although they refuse to use the term) as a core technology in its digital collectible avatar program, bringing in a vast number of new users and wallet owners in the process.
Web2 giants are also using the world's biggest sporting and entertainment events, such as the World Cup and Super Bowl, to enhance In-Real-Life (IRL) experiences by leveraging NFT drops, as we saw with Coca Cola's NFT drop at this year's World Cup. Limit Break is planning a Super Bowl freemint for next year where you can scan a QR code and get a free NFT mint during the US' flagship annual sports event.
The above applications of NFTs allow for the seamless transaction of digital property rights and interoperable assets. Despite current market fluctuations, the continued involvement and innovation of top builders and brands in the NFT space are laying the foundation for strong growth in the future, as these projects come alive and, ideally, coincide with a market uptick.
While there's currently not much joy to be found in the crypto space in general, there's cause to be bullish on NFT adoption and many web consumer applications. Whether it's a bear market or bull market, the truth is that gamers are going to game and consumers are going to consume.
If NFTs keep unlocking these digital property rights to allow owners to transact within these games with interoperable assets, it's just a matter of time for quantitative data to pick back up. Viewed with this lens, 2022 can therefore be seen as quite successful for NFTs.
Q2: Which NFT verticals and use cases have been a key focus in 2022?
The main focus for 2022 has remained on Web3 gaming and related consumer services, such as loyalty and ticketing, while metaverse experiences and Web3 social applications have also garnered attention. NFT data analysis to track assets on-chain has also been a continuous trend which is somewhat well built out.
We also saw a drop-off in the DAO and Guild tooling narrative, as play-to-earn (P2E) models crashed in 2022 due to the bear market, poor tokenomics and a general failure to deliver a compelling gaming experience to retain gamers. It's clear that the industry is beginning to understand that Web3 gaming and metaverses will take time to go mainstream; therefore, the focus is shifting to building the right experiences and infrastructure around that.
This change in focus will boost the following sectors: gaming infrastructure aimed at building better gaming applications, infrastructure on wallets and marketplaces, and NFT creations that can service more complex incoming metaverses as well as Web3 social applications and products that will help unlock Web3 intellectual property (IP).
In 2021, the incredible popularity of PFP NFTs led to the creation of a significant amount of new IP, mainly consisting of pictures and images to interact with. The goal for 2023 will be to create more advanced gaming products and applications that can help unlock and enhance this IP through the potential application of AI-based utility or in-game utility.
Q3: Why did NFT theses like NFTFi and SocialFi fall short of expectations in 2022?
A few 2022 NFT theses failed to deliver on the massive hype they carried over from last year.
Let's start with direct virtual world investing. While "metaverse" was a major buzzword for 2022, the industry now understands that the hype was premature and that fully immersive digital experiences will take time to develop. It's not even clear yet whether metaverses will be PC-based, AR-based, VR-based or a mix thereof — the market will ultimately decide. As previously explained, there is therefore an emphasis now on creating the infrastructure and experiences that will make up this overarching metaverse experience, such as catering for small games.
DAO tooling (a set of software, apps and smart contracts that a decentralized autonomous organization uses to operate) was also massively hyped during late 2021 and early 2022, but lost its luster this year as the market realized it was building a product to service needs that weren't effectively there yet. DAOs are still in their infancy— while still scaling very rapidly — and we are definitely seeing a clear use case for them. As they continue to take shape and operate, especially in this bear market, there's a better understanding now of what tools can support DAOs and service their needs.
Guild tooling has suffered a similar fate in 2022, with investors and users realizing that they latched on to this gaming-driven niche a little prematurely. In hindsight, it is now clear that it was wrong to assume that the first generation of games such as the V1 Axie Infinity model provided a blueprint for all future gaming. It will be important to remain flexible and adaptable as more games enter the market and utilize guilds in different ways.
NFTFi also fell short, largely due to the market downturn and the drop in liquidity, which will take time to flush out. Still, it has clearly demonstrated the immense potential of NFTs to offer strong financial applications, such as issuing tokens and representing bonds, as we can see with projects like Solv Protocol.
Direct NFT market financial services such as lending will improve in line with pricing over time, and remains a focus thanks to better liquidity and more users than before. While there is a lot of user hesitation around the risks tied to NFT-based lending applications, it is important to note that the long-term narrative for NFTs in financial services remains strong and is also expected to take a few years to play out in full.
Q4: What are the NFT development trends to expect in 2023?
Sfermion will continue to invest in Web3 gaming in 2023, but we are now looking for more advanced use cases within games. Companies are building entirely new NFT standards to function within their games, using new economic models like free-to-own, and attacking new verticals like fully on-chain experiences. These companies are innovating at a rapid pace and include both strong Web2 founders and studios building lasting Web2 games, even porting Web2 IP to Web3. These companies are bringing what works in the Web2 world, such as casual, mobile and PC console games, and using NFTs as a technology to enhance these experiences.
We're also tracking how Web2 brands and intellectual property (IP) entering the space are using NFTs, and the birth of new Web3-native IP will remain a core focus in the NFT space.
The intersection of NFT and AI, such as art and gaming asset creation, gameplay design, using AI-based NPCs and the overall creation of transmedia content, remains another fascinating focal point. The evolution of wallets and marketplaces to better serve specific users is also exciting. We are seeing a focus on building wallets that are more Web2-friendly and adding elements like social factors and DeFi features for DeFi audiences. Standalone marketplaces for specific collections, such as gaming-focused marketplaces, are also emerging. Overall, there is a focus on looking at NFT verticals and where they can be advanced and improved going forward.
In addition, there is a strong buzz around general advancements in layer-2 chains, particularly in the zero-knowledge (ZK) rollup space, which is primed for a big year in 2023. ZK-rollups are expected to make NFT access and usage 10x to 100x easier, which should convert to an increase in builders building on these rails and using NFTs for social media experiences, with more users as a result.
Web2 social media platforms are also doing unique things with NFTs. Reddit allows you to integrate your avatar, Twitter allows you to showcase your avatar. However, avatars are really just version-0. Instagram goes further and enables you to post content as NFTs and mint them. These are version-1 applications that barely scratch the surface, and we're very excited to see where V2 and future iterations take NFT innovation. It's going to be fascinating to see NFTs used to supercharge the social media experience over time.
In 2022, we also saw the advent of a new generation of NFT marketplaces like LooksRare, X2Y2, Blur and Magic Eden that are challenging the supremacy of OpenSea and reshaping the NFT landscape.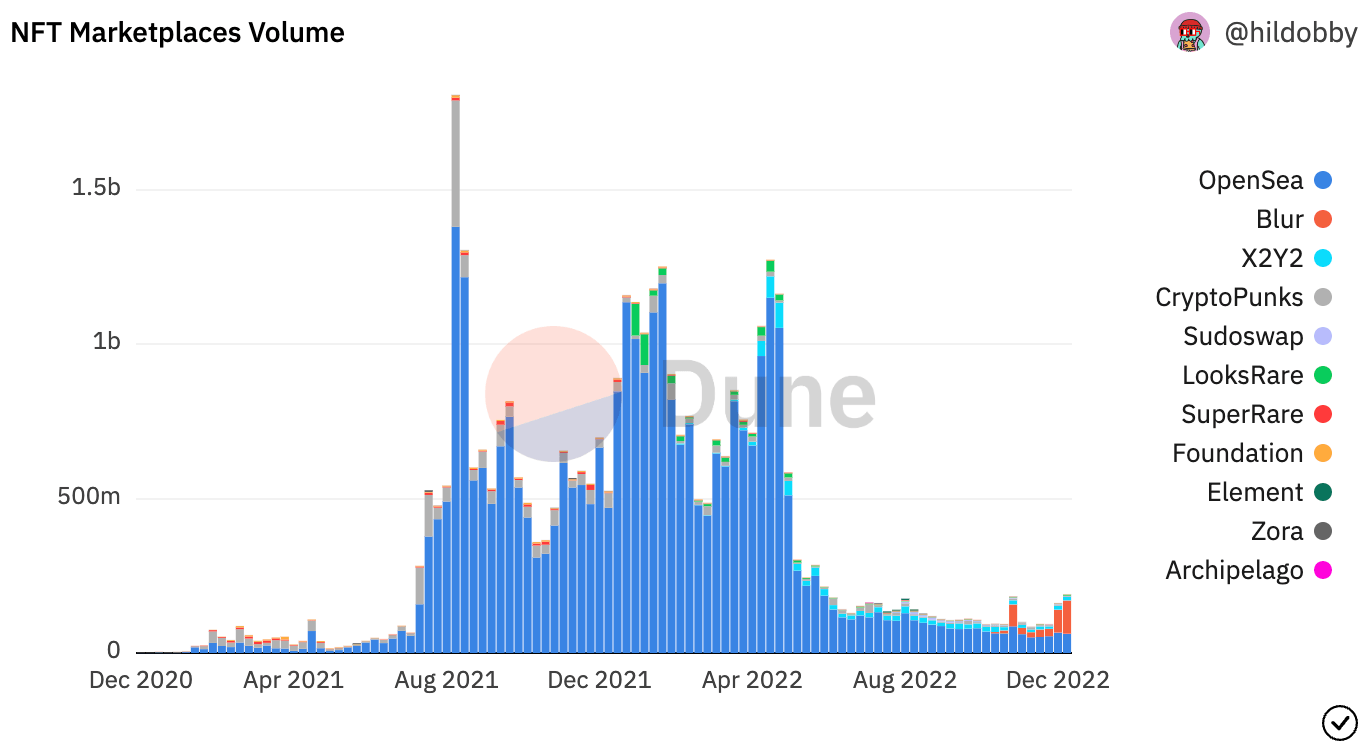 There are a number of strong players and well-founded marketplaces that are constantly innovating, with ideas like token-based airdrops, advanced social features, shared liquidity, focusing on certain markets like hardcore traders, having optional royalties, going multi-chain, or focusing on a specific genre, such as gaming, music or video. These products and apps are only just beginning to understand their user base in full and targeting them as such.
For example, Magic Eden and Fractal understand that they're getting a lot of traction on the launchpad side and so are effectively doubling down on that, alongside their added gaming focus. Meanwhile, OpenSea continues to defend and enforce NFT market royalties, and is being joined by others like X2Y2 that are choosing to respect creator fees. It'll be interesting to see how the royalty debate plays out over time, with both camps enjoying strong support.
What we are looking at is how these marketplaces cater to their users and enhance their experience through features like multi-chain, multi-wallet support, fraud detection and better discovery and recommendation tools. For example, with so many NFT collections out there, it is becoming increasingly important to help a user find the content they want more efficiently and create a more personalized marketplace experience.
Q5: Funding — where are VCs deploying their capital in 2023?
Within the current NFT verticals, VC firms remain most excited about Web3 gaming despite its dismal performance this year, as there is a shared sentiment that gaming will eventually onboard the masses into crypto Web3.
This extends not only to NFTs, but also involves crypto areas such as the use of hardware wallets, software wallets, interacting with decentralized exchanges (DEXes) and using on-chain lending sources. As users are onboarded through Web3 games, this adoption will eventually trickle down to other areas of crypto. Therefore, VCs are still looking for strong studios and builders in the Web2 gaming space, as well as strong infrastructure.
In addition, VCs are looking closely at NFT IP. Every year, there is likely to be a new IP coming out of the NFT space, as well as the unlocking of existing IP to supercharge the community experience, which has been lacking in the Web2 space.
Web3 social media is another exciting frontier. Which stands to benefit from the unrest on Web2 social platforms caused by user outrage over perceived censorship and the unsolicited monetization of personal data. However, it is still in its early days with only a handful of platforms actively building and gaining traction.
There are many games that aim to cater at the same time to both Web2 and Web3 audiences. It is possible to have a game that is considered "Web2.5" where Web2 players (who may not be interested in using NFTs or token) can still experience the game while being slowly onboarded into Web3. This gamer-first approach makes more sense in the long term, instead of trying to force NFTs and tokens on players from the start.
It's a New Year's Crypto resolution of sorts to actually be able to play all the games. That we're actively looking at and really see what works and what doesn't, since games take so long to build. With Web3 social media also projected to eventually take off, there's definitely some value for anyone to start creating their own on-chain credentials and social presence early.
The same applies for the L2 ecosystems and understanding which one(s) best serves an end user based on their interests and goals. As the UX of crypto improves with each calendar year. We anticipate more and more users to surface with crypto and NFT-based applications on a daily basis.
Disclaimer: The above overview and information contained there represents personal views of the Sfermion team and does not constitute investment advice