Back to the list
NFT Marketplace for 'Pro Traders' Could Unseat OpenSea – But Will It Last?
blockworks.co
25 January 2023 18:43, UTC
Reading time: ~3 m
---
NFT marketplace Blur has quickly become a primary trading venue since its October launch.
Rivaling OpenSea — the largest NFT marketplace by trading volume and daily active users — Blur currently commands around 32% market share, with OpenSea at nearly 49%.
While OpenSea is a singular venue, Blur also serves as an NFT market aggregator. It's now the largest by far with more than 70% of the market, per a Dune Analytics dashboard (aggregators allow NFT browsing across multiple platforms simultaneously).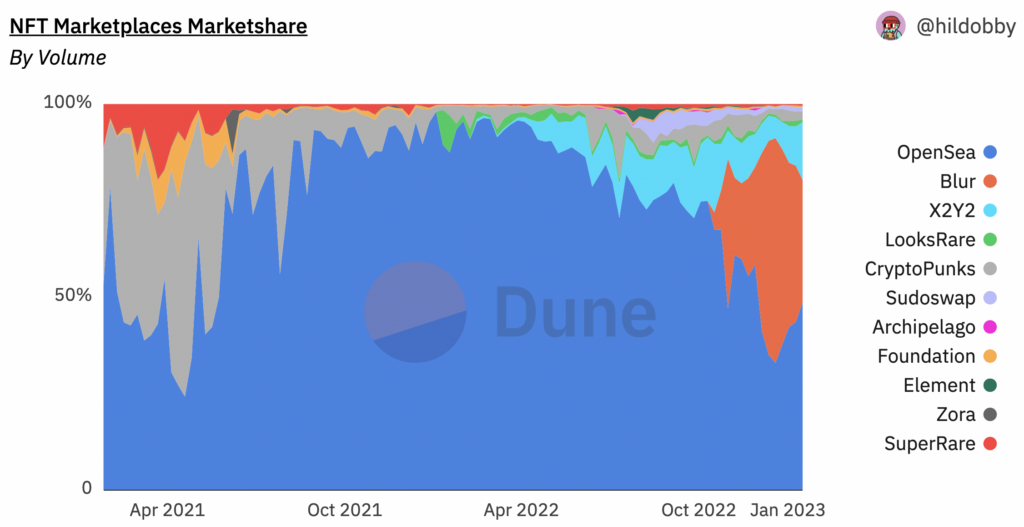 Sara Gherghelas, a researcher at blockchain analytics unit DappRadar, told Blockworks that the recent increase in trading volume on Blur is likely correlated to the upcoming launch of the BLUR token on Feb. 14 and its third and final airdrop.
Incentivizing NFT trading
Blur has planned for a total of three airdrops since its launch, recently inspiring regular weekly trading volumes around $98 million.
Its initial airdrop rewarded so-called "care packages" to users who actively traded NFTs during the bear market — to claim, traders simply had to list an NFT on its platform. Care packages are meant to be eventually exchanged for BLUR.
A similar approach was implemented for the second airdrop — where users were rewarded for listing NFT sales on its Blur.
Its final airdrop, which is planned to occur alongside its token release, will distribute more than twice the number of care packages. Users are also able to tally reward points based on their bidding activities.
"It's worth noting that bids do not have to be accepted to earn points towards Airdrop 3, which helps prevent wash trading and inflation of points," Gherghelas said.
Blur wants to be a platform for pro NFT traders
Airdrops are not the only reason for higher trading volumes on the Blur platform.
Blur is a space designed for seasoned traders. These folks already boast higher trading volumes than a typical retail trader, Oskari Tempakka of Token Terminal told Blockworks.
"If you look at the data available on Token Terminal, OpenSea has more daily active users than Blur, but Blur's volume is higher because it is mainly used by more advanced traders," Tempakka said.
The user experience of Blur is also extremely appealing to users and likely drawing attention from other NFT marketplaces with less complex features, Tempakka said.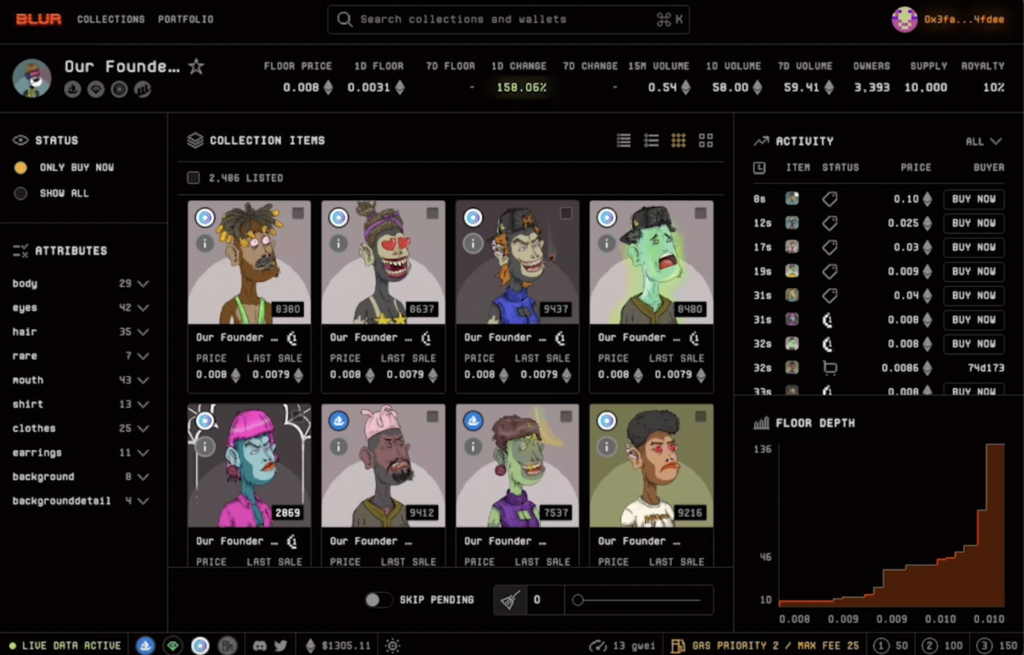 This sentiment is shared by an NFT trader who goes by the pseudonym drew.
"You're incentivized — three times, you have a fast user interface and 0% market fees or royalty fees — so the more you use it, the bigger your airdrop will be — that's why I think people gravitated towards Blur," drew said.
An unknown future
A question remains: whether trading volumes will persist after the final airdrop in February, after which traders have received all their gifted BLUR.
"If the airdrop is successful and people get a lot of money, it usually causes a mini bull market or at least a spike in volume and buying — but after that, if there are no incentives to bid at high prices — there is a chance it could all come crashing down," drew said.
Tempakka, on the other hand, remains cautiously optimistic about the NFT platform. He told Blockworks that Blur's founder previously estimated that more than 90% of the platform's trading volume was organic.
LooksRare, the NFT market's previous darling platform, also pushed to inspire traders with lucrative rewards paid out via a native token. Reports quickly surfaced attributing upwards of 95% of its volume with wash traders eager to maximize those payouts.
But if Blur maintains similar trading volumes following its final airdrop, Tempakka expects more NFT platforms to follow its airdrop-heavy approach to incentivize usage.
"Time will tell how this plays out post airdrop, but I'm excited to see how things develop," Tempakka said.
---
---
Source
---
Back to the list