Back to the list
Reddit Recap Turns Redditors Into Flashy Trading Cards; NFT Rumors Swirl
beincrypto.com
09 December 2022 08:55, UTC
Reading time: ~2 m
---
Reddit Recap transformed users' profiles into trading cards with all the tell-tale signs of an NFT. The cards have ratings, traits, and abilities, leading to speculation in the crypto community.
The crypto community is rife with speculation that Reddit may release more NFTs. The theory comes from the recent Reddit Recap release, which showcases trading cards for user profiles.
Reddit's Recap for the year shows users their use of the platform over the year and includes such personalized as their most upvoted comments. However, there is also a part where users see a trading card format of their profile and a rating based on the karma they have earned.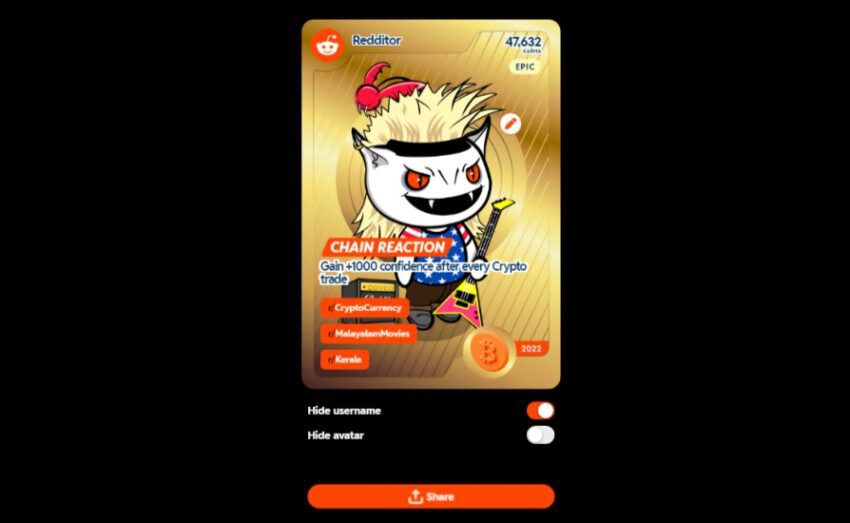 This trading card profile looks awfully a lot like an NFT, which is why the crypto community members have been abuzz with discussion. The trading card also gives them a superpower, such as giving them a boost to stats after certain actions.
The fact that there are traits, superpowers, ratings, and unique, flashy designs is a fairly strong sign that more NFTs may be on the way. The card can also be shared on and off of Reddit.
Crypto Community Begins to Investigate
Of course, the crypto community has dug into the whole matter with great enthusiasm, trying to find details of a potential NFT launch. One user discovered a contract that was made for the recap, so it seems likely.
There isn't much more information in the way of an NFT release, but all the signs point to it. It's possible that Reddit will announce a new initiative before the year ends, given the heavy speculation.
Reddit has shown enthusiasm for NFTs in the past, as well as cryptocurrencies. There's been a lot of growth in terms of its avatar NFTs, which is another positive sign.
Reddit's NFT Avatars Showing Great Growth
Reddit's NFTs have been substantially picking up pace in terms of adoption in 2022. Avatar minting hit an all-time high on Dec. 3, according to Dune. Over 255,000 of these were minted, and over 4 million avatar holders exist.
While avatars grew at a fast pace from September, they've experienced a particularly sharp rise in the past few months. These avatars' total cumulative sales volumes exceed $11.7 million across 95,000 sales. The highest-selling avatar sold for 30 ETH, worth about $40,000 at the time of press.
Pali Bhatt, Reddit's first Chief Product Officer, is a large reason behind the success of Reddit's NFTs. He has lauded the success of Reddit NFT avatars, which have stood out in a tough year for the niche.
---
Source
---
Back to the list
Similar news