Back to the list
Pokemon-Inspired Metaverse Pixelmon NFT Volume Is Pumping – Here's Why
beincrypto.com
18 October 2022 19:40, UTC
Reading time: ~3 m
---
Pixelmon NFTs are seeing a rise in popularity. What resulted in the revival of the pokemon-inspired Metaverse project?
The volume of Pixelmon NFT saw a rise of over 300% in the past week, according to DappRadar. The daily volume as of writing is nearly $20,000, and the floor price is at 0.575 ETH.
Pixelmon: What is it?
Pixelmon is an open-world role-playing NFT game. The players will be able to train, trade, fight and evolve their Pixelmon NFTs similar to pokemon once the metaverse is live. According to the roadmap on the official website, an alpha version of the game is set to release in Jan 2023. It will only be open for the holders of the Pixelmon NFTs.
The project launched its first NFTs on Feb 7. They raised $70 million from the launch. The starting price of each NFT was 3 ETH. The token and land release is expected in Jan 2023.
Pixelmon disappoints with initial launch
The NFT launch was a huge success, but the team didn't reveal the art at the time of minting. The team revealed the art on Feb 25, more than two weeks after the launch. The delay in the art reveal wasn't the only factor for the disappointment.
Before the launch, the Pixelmon team declared that the Pokemon-Inspired Metaverse is set to become "the largest, highest quality game NFT space has ever seen." However, the community was greatly shocked when the team revealed the art because it was nowhere near the "highest quality" promised.
The community believed that the project was scamming people. The community claims that the team straightaway bought stock models from MeshTint studio and upgraded them to voxel art. The team purchased Bored Ape Yacht Club, Azuki, and CloneX NFTs with the fund raised from NFT sales. However, Martin van Blerk, the 21-year-old founder who used the identity "Syber" earlier, explained that the NFT purchase was just the team buying the dip.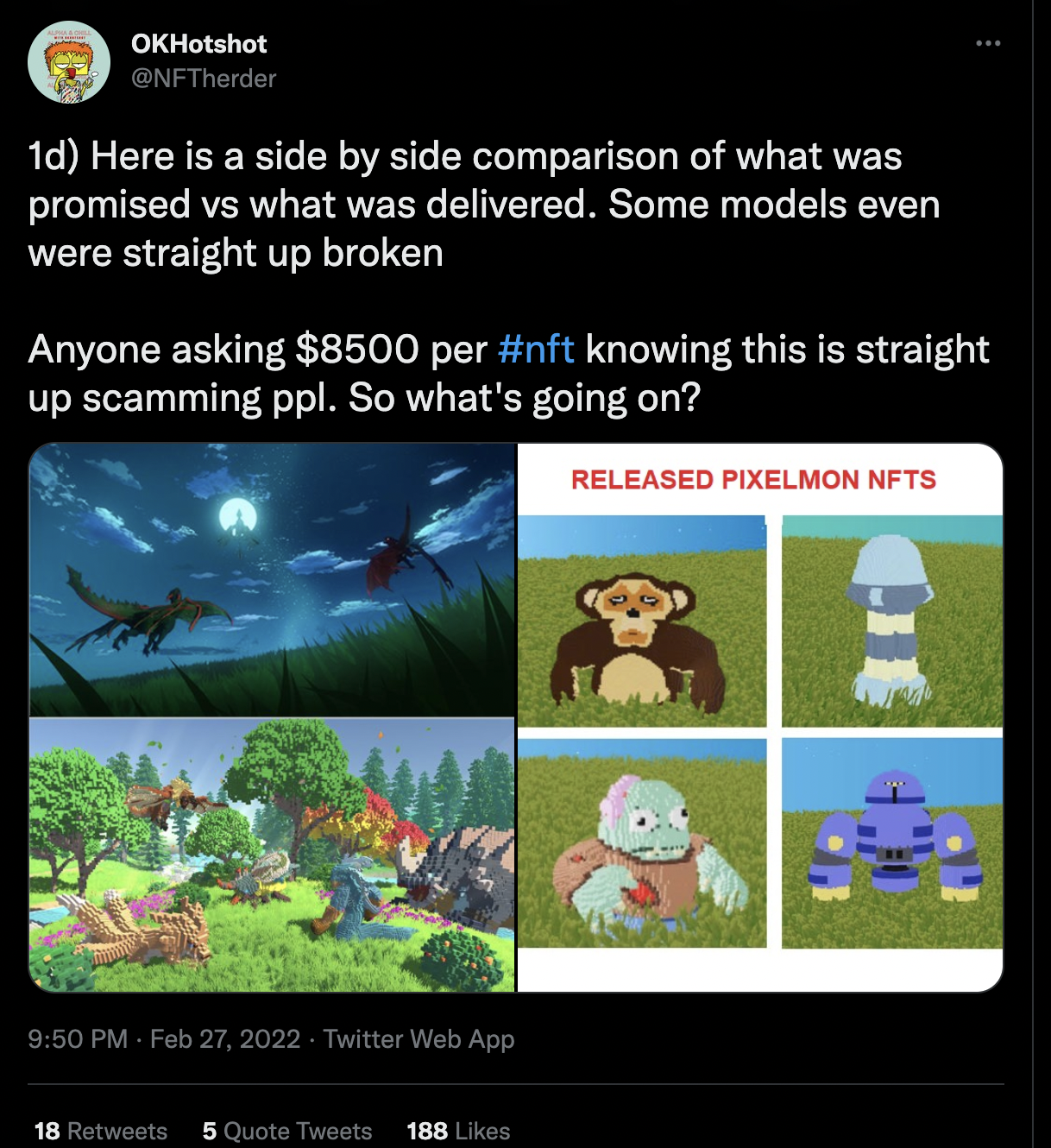 Source: Twitter
One of the specie, Kevin, became a popular meme. It was so ugly that it invited mockery and became a trending meme. Ironically people were spending 8-9 ETH on Kevin NFT, which is almost three times the mint price.
The Pixelmon comeback
The founder Syber assured that the team was working hard to rectify the shortcoming of the launch after the backlash. Web3 project aggregator LiquidX took over the project's development under the new CEO, Giulio Xiloyannis.
The new team upgraded the artwork to polished 3D pet monsters. However, the art of Kevin has remained almost the same for the sake of memes. The new team consists of lead game designers from RIOT, artists from BLIZZARD, and other industry veterans.
The community is betting hard ETH on the game and looks forward to the launch next year. However, some gamers refuse to touch the game.
---
Source
---
Back to the list