Back to the list
NFTs and Blockchain Projects' Trademark Applications Showed 200% Growth
www.thecoinrepublic.com
08 October 2022 00:33, UTC
Reading time: ~2 m
---
Citing the crypto winter within the market since the starting of this year, NFT space also witnessed the harsh blows. The market downturn made the heavily popular non-fungible tokens space to take a steep jump. However, despite the worse performance of by and large the whole crypto space, the trademark applications tell a different story.
Attorney at the United States Patent and Trademark Office, Mike Kondoudis shared some interesting insights given the numbers of these applications. 5th October Tweet of Kondoudis clarifies the picture which highlighted the approx 6,366 NFTs and blockchain products related trademark applications that were filed since the start of this year till September. 
These numbers are quite impressive and surprising at the same time. The number of trademark applications last year was 2,142 only. It is worth mentioning that the year 2021 is considered as the best performing year for digital assets—both cryptocurrencies and non-fungible tokens. On the contrary, the year 2022 has seen one of the worst crypto winters and still the performance of trademark applications is almost three times higher than the last year. 
Looking at the data provided by Kondoudis, it is evident that initially the number of trademark applications were increasing. But the growth lasted till March, whereas in upcoming months, these trademark applications dropped consistently. For instance, the lowest number of these registrations were 435, the lowest figure for this year.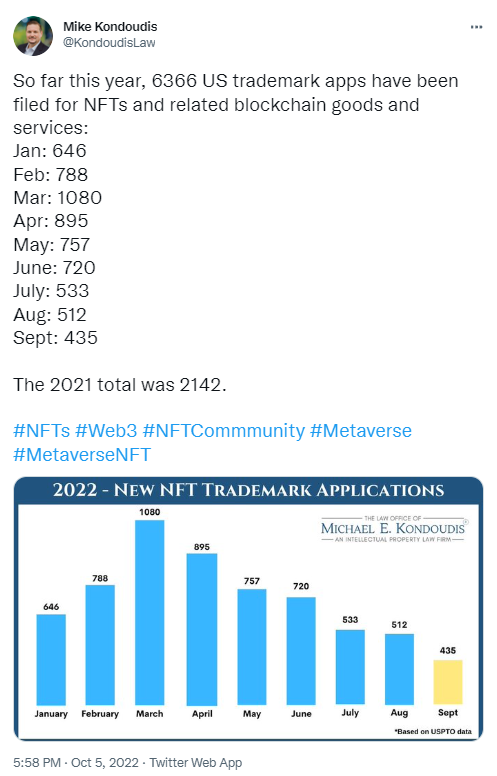 Source – Twitter
The low numbers during September month makes sense given the huge drop in trading volume. According to DappRadar, the NFT trading volume during the third quarter of this year remained only 713 million USD, this is a significant drop of 84% from its level during the previous quarter. 
However, while looking closely at the data, Solana based NFT projects and Ethereum Name Service showed notable performance. During September month, the former managed to reach 133 million USD in terms of monthly sales while the latter is at the top in the list of collections on DappRadar. 
---
Source
---
Back to the list