Back to the list
Bitfinex Expands Stablecoin Listings to Provide 'Agnostic Platform'
www.newsbtc.com
03 December 2018 08:00, UTC
Reading time: ~2 m
---
Stablecoins have been a point of contention in recent months especially for Bitfinex and its Tether auditing fiasco. In order to alleviate some of the concerns the crypto exchange has announced that it will list a further four stablecoins.
More Stablecoins in The Crypto Cauldron
Bitfinex still holds the reigns on Tether and that maybe what is holding it back. Tether has been losing its tether in recent months and fell as low as $0.95 during the November crypto slump. Bitfinex reacted earlier in October by pulling 630 million USDT out of circulation but that failed to prevent the stablecoin losing its grip. As a result a slew of competing coins entered the market and are now gaining traction.
Yesterday the US crypto exchange announced that it would be adding all major stablecoins 'in commitment to providing coin agnostic platform.' In addition to the DAI which it already lists Bitfinex and its sister exchange, Ethfinex, will be adding the Circle and Coinbase offering USDC, True USD, Paxos, and Gemini USD from the Winklevoss brothers.
"At Ethfinex and Bitfinex we are dedicated to providing a high quality, unbiased meeting place for every ecosystem and customer," the exchange reassured. The announcement went on to state that it would be offering an 'industry first';
"Plus, in an industry first, Ethfinex Trustless customers will be able to trade all six stable coins directly from their private wallet, as soon as sufficient liquidity has developed."
Launched in September, Ethfinex Trustless is the company's entrance into the decentralized exchange market. "It allows users to trade against the liquid order books of Ethfinex and Bitfinex without surrendering custody of their funds, sacrificing privacy or speed of execution," it added.
It is evident that Bitfinex realizes that Tether is in trouble, there is little use of a dollar pegged stablecoin that cannot hold its peg. At the time of writing USDT was trading at exactly $1 and holding it for the first time in over a month.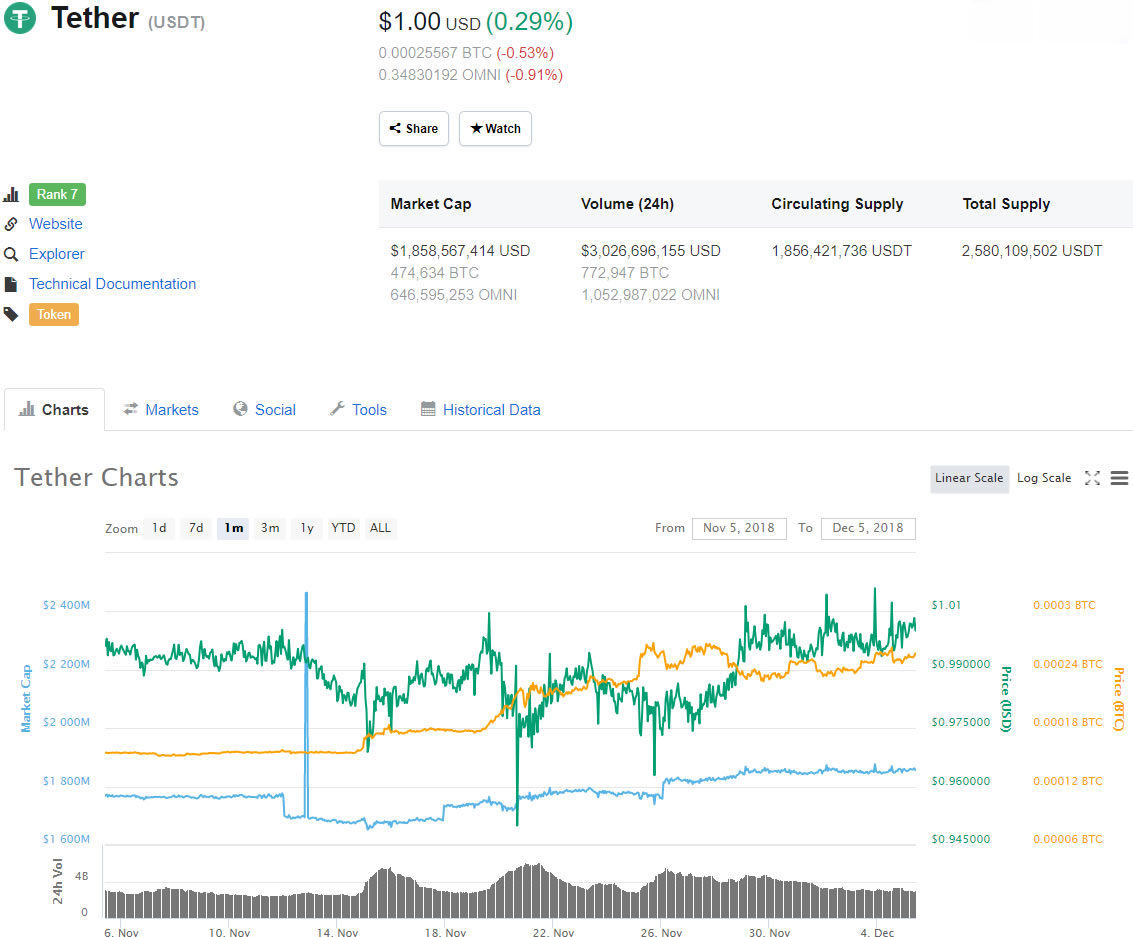 The rest of the stablecoins have been a lot more stable, with many of them trading above a dollar over the past few weeks during the crypto exodus.
Other crypto exchanges including Binance have also embraced the flock of stablecoins recently and upgraded its indexes to reflect them all as a collective instead of individual coins. Binance renamed all USDT markets to USDⓈ last week stating that it wanted to display a combined stablecoin market.
Image from Shutterstock
---
Source
---
Back to the list