Back to the list
Liquidations Pile Up: Nearly $1.7 Billion Rekt in 24 Hrs
beincrypto.com
07 April 2021 16:58, UTC
Reading time: ~2 m
---
Nearly $1.7 Billion worth of liquidation has hit the cryptocurrency market in the last 24 hours.
Cryptocurrency data analytics platform Bybt.com reported that, in that time period, over 295,817 traders were liquidated. The single largest liquidation was valued at $10 million, made on Bitmex-BTC.
It is not the first multi-billion-dollar mass liquidation on the market this year. The crypto market saw nearly $3 million liquidated in a 24-hour period back in January. In this instance, Bitcoin, in particular, showed nearly $38 million and $580 million, respectively.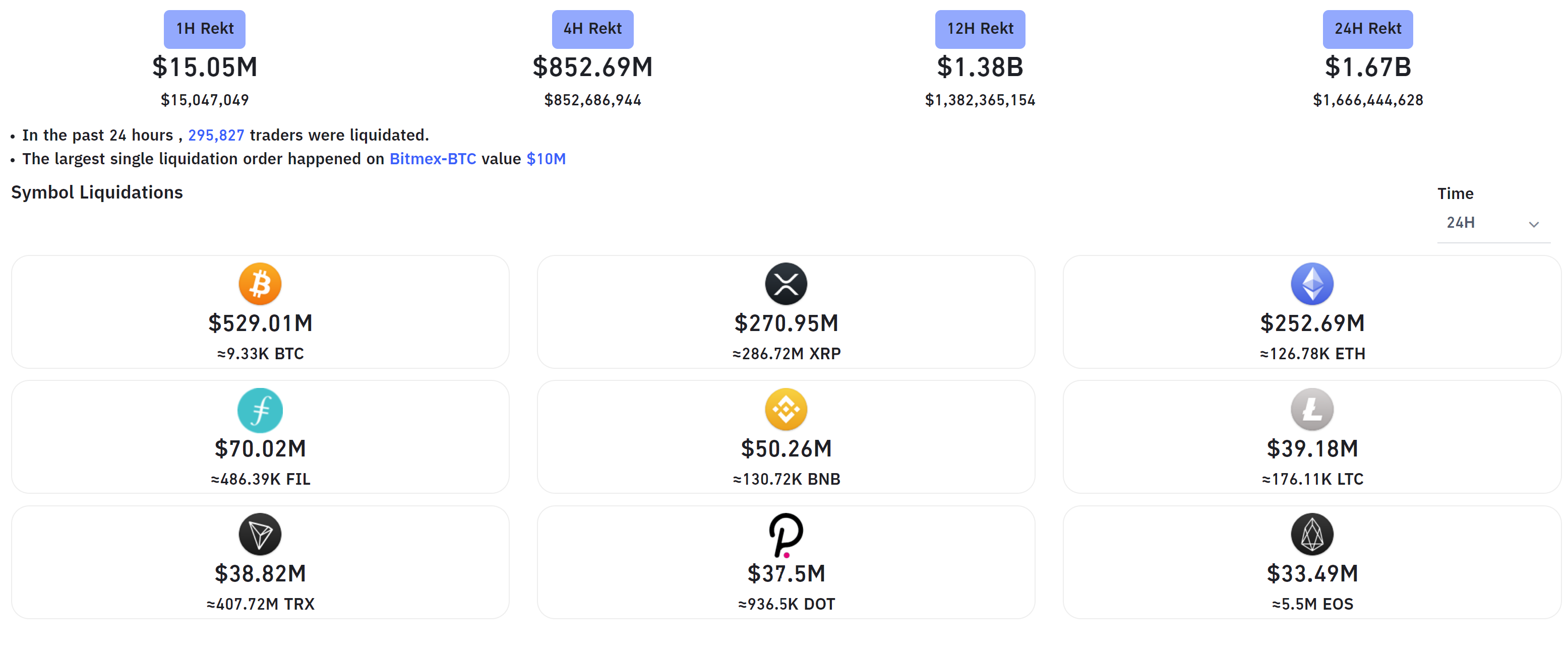 Leading the liquidation figures was Bitcoin (BTC), of which $529 million was sold. Ripple (XRP) was next, of which $270 million was liquidated in the last 24 hours. Over 60% of the liquidations took place on Binance, comprising a majority figure of over $10 million worth. Meanwhile, the second-most were on Huobi, accounting for nearly $4 million.
Closer Analysis
According to data, there was a significant dip in the BTC/USD pair's value earlier this morning. From a local high of over $58,500 at 2 AM ETD, bitcoin fell to $55,851 only six hours later.
Furthermore, in the last seven hours, it was reported that bitcoin had remained within 5% of its all-time highs. That being said, their futures closed slightly lower – almost 2%. This decrease brought the price of April's bitcoin futures to just under $59,000.
Meanwhile, ethereum (ETH) reached an all-time high on Tuesday. It increased by over 20% to reach a value of more than $2,100. At the time of reporting, ETH was the subject of the third-most liquidations. Apart from BTC, ETH, and XRP, the altcoins FIL, BNB, LTC, and DOT were also liquidated.
---
Source
---
Back to the list
Similar news