Back to the list
Crypto Derivatives Hit a 2020 Low in June: CryptoCompare Report
www.cryptoglobe.com
08 July 2020 10:32, UTC
Reading time: ~2 m
---
Cryptocurrency derivatives and options trading saw a double-digit decline, with the former reaching its lowest monthly volumes in 2020. 
According to the latest edition of the CryptoCompare Exchange Review, both cryptocurrency derivatives and options took a hit in June. 
Derivatives volume dropped a whopping 35.7% last month to $393 billion, reaching its lowest monthly volume in 2020. Despite the decline, total spot volumes witnessed a greater decrease of 49.3% to $642 billion. As a result, crypto derivatives gained market share during the month of June and represented 37% of the market compared to 32% in May.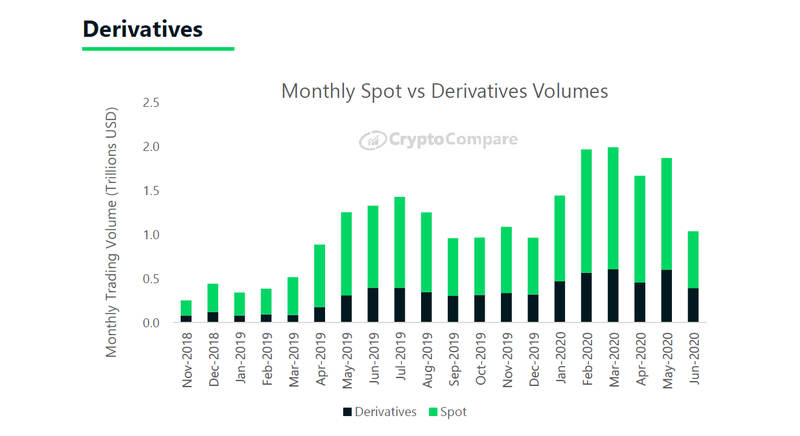 Derivatives Trading Volume vs Spot Market in June | Source: CryptoCompare
According to the CryptoCompare report, all derivatives exchanges saw "large decreases" in trading volume in June, with BitMEX undergoing the greatest proportional decline (-50.3% to $51.6 billion). 
Despite undergoing a 38.3% decline in trading since May, Huobi was able to maintain its status as the largest derivatives exchange by volume at $122.4 billion. OKEx ranked second with $106.9 billion in volume (down 30.4 percent from May), followed by Binance with $85.9 billion (down 34.2%). 
Maximum daily derivatives trading volume clocked in at $23.8 billion in June, occurring on the first day of the month. 
Options trading also witnessed a decline in June, although less severe than the derivatives market. The report found Deribit monthly options volume decreased by 17.8%, which was less of a decrease than seen on other derivatives exchanges only offering futures products.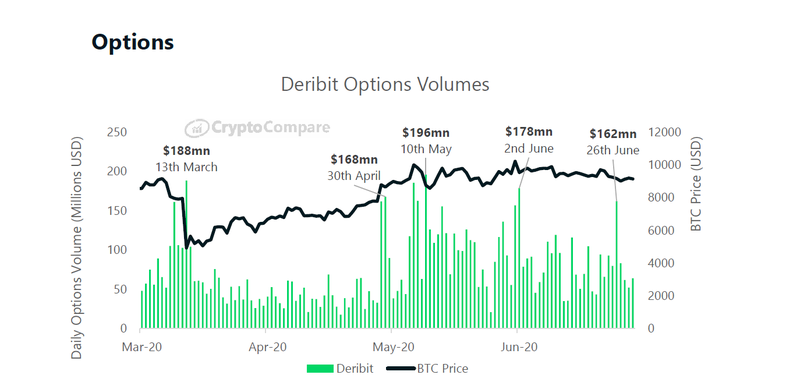 Deribit options trading June 2020 | Source: CryptoCompare
Daily options trading witnessed two major peaks in volume on the 2nd and 26th of June at $178 million and $162 million, respectively. The report claims these peaks were comparable to the daily records established in previous months. 
Featured Image Credit: Photo via Pixabay.com
---
Source
---
Back to the list