On September 27, 2023, statistics indicate that 13 cryptocurrency exchanges possess assets under management (AUM) exceeding $1 billion, collectively constituting 14.39% of the crypto economy's total value of $1.05 trillion. Among these 13 digital currency trading platforms, Binance stands out by maintaining a 42.81% share of the $151.08 billion in cryptocurrency reserves.
A Handful of Billion-Dollar Cryptocurrency Exchanges Command $151B in Net Value
Data indicates that 13 distinct cryptocurrency exchanges collectively manage a total value of $151.08 billion, with Binance, the leading cryptocurrency trading platform in terms of global volume, maintaining $64.68 billion in reserves, as reported by Arkham Intelligence's blockchain explorer.
Binance's holdings include 21.02 billion tether (USDT) and 671,981 BTC, with a combined value of $38.7 billion. Additionally, Binance held assets valued at $6.55 billion in ETH and $3.21 billion in BNB on September 27.
Binance's holdings represent 42.81% of the collective $151 billion in value held by these 13 exchanges. According to Arkham's data, Coinbase controlled approximately $28.91 billion as of September 27, 2023.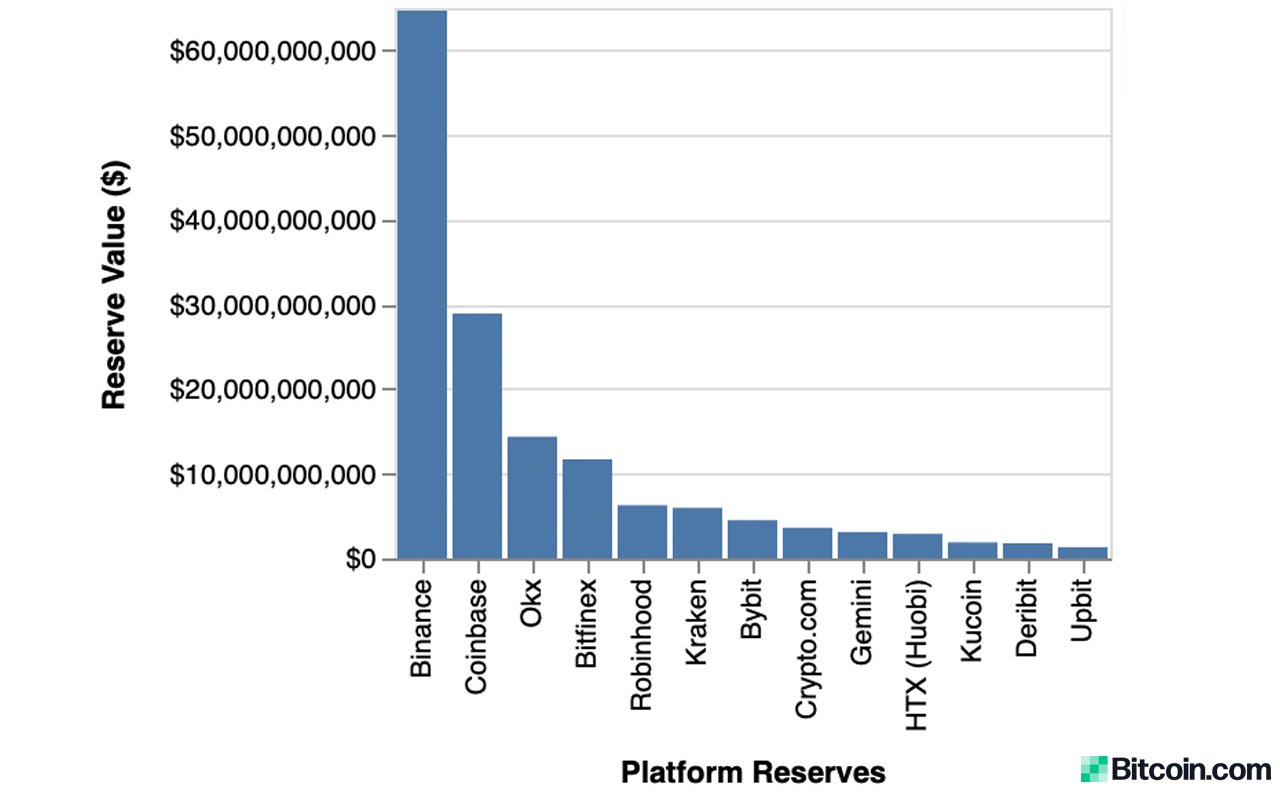 The exchange holds a significant 946,618 bitcoin (BTC) worth $24.88 billion. Another $2.69 billion in value is attributed to Coinbase's ETH holdings, and there is $530 million worth of LINK held by the San Francisco-based trading platform.
The digital currency exchange Okx manages a total of $14.37 billion, with $5 billion of that consisting of tether (USDT). Okx also holds $3.52 billion in BTC, $3.16 billion in OKB, and $1.64 billion worth of ETH.
On September 27, Bitfinex held $11.70 billion AUM with 225,231 BTC worth $5.92 billion. The exchange also holds another $3.22 billion in ether. Robinhood holds $6.27 billion total and $3.19 billion of that value is in bitcoin (BTC).
Around $2.74 billion of Robinhood's cache consists of ETH holdings. Robinhood also commands $251.55 million in SHIB and $35.70 million in LINK. Among the five aforementioned exchanges, the trading platforms collectively hold $125.93 billion of the $151 billion aggregate.
The total reserves among the top five out of 13 equate to 83.39%. There's also Kraken, with its treasure chest of $5.96 billion; Bybit, boasting a hefty $4.51 billion; Crypto.com, guarding a cool $3.61 billion; Gemini, with coffers holding $3.11 billion; HTX, formerly known as Huobi, possessing $2.89 billion; Kucoin, with a substantial $1.89 billion; Deribit, holding $1.79 billion; and Upbit, with a stash of $1.32 billion.
The latter eight exchanges command a slice of 16.61% of the $151 billion pie held by this select cadre of exchanges.
What do you think about the 13 crypto exchanges that hold more than 14% of the crypto economy's net worth? Share your thoughts and opinions about this subject in the comments section below.