Back to the list
A Better Price Discovery And Liquidity For Bitcoin As Bakkt Goes Live
zycrypto.com
23 September 2019 03:58, UTC
Reading time: ~3 m
---
Bakkt is a regulated platform that enables the purchase, sale and storage of cryptocurrency assets and it's mainly aimed at institutional investors and traders. Cryptocurrency enthusiasts, investors, and traders have been waiting a long time for the launch of Bakkt which just went live a few hours ago.
We're live!

The first Bakkt Bitcoin Futures trade was executed at 8:02pm ET at a price of $10,115

— Bakkt (@Bakkt) September 23, 2019
The Bakkt Futures exchange will provide a monthly and daily Bitcoin futures. The biggest difference between Bakkt and other similar platforms is the fact that clients will receive Bitcoin upon the expiration of contracts and not fiat.
Reminder, the hype is bakkt with substance.

Unlike other futures exchanges, this is settled in bitcoin. Actual bitcoin is paid out, not just the fiat equivalent to the price of bitcoin.

The result is better price discovery and liquidity for bitcoin.

— Rhythm (@Rhythmtrader) September 23, 2019
The sentiment behind the launch of Bakkt Futures is clearly positive, in fact, a lot of people believe that Bakkt is the ultimate solution to attract big institutional investors.
"Bakkt, with its deep ties to Wall Street's institutional investing titans, is pitching itself as the venture with an inside track at bringing Bitcoin mutual funds and ETFs to America's 401(k)s.'' Said Shawn Tully, author for fortune.com
Bakkt could play a very important role in the launch of new regulated markets and new trading instruments fit for professional and institutional traders.
How is Bitcoin reacting to it?
So far Bitcoin has shown bullish signs as the recent bear break had no continuation and the bulls were quick to buy the dip creating a long lower wick. Similarly, the 4-hour chart has also formed plenty of long lower-wick candlesticks, this indicates strength for the bulls.
Overall, Bitcoin has been quite stable for the last week, perhaps traders are waiting on Bakkt before making a move. It's important to note that Bitcoin is still really bullish on the weekly and monthly charts.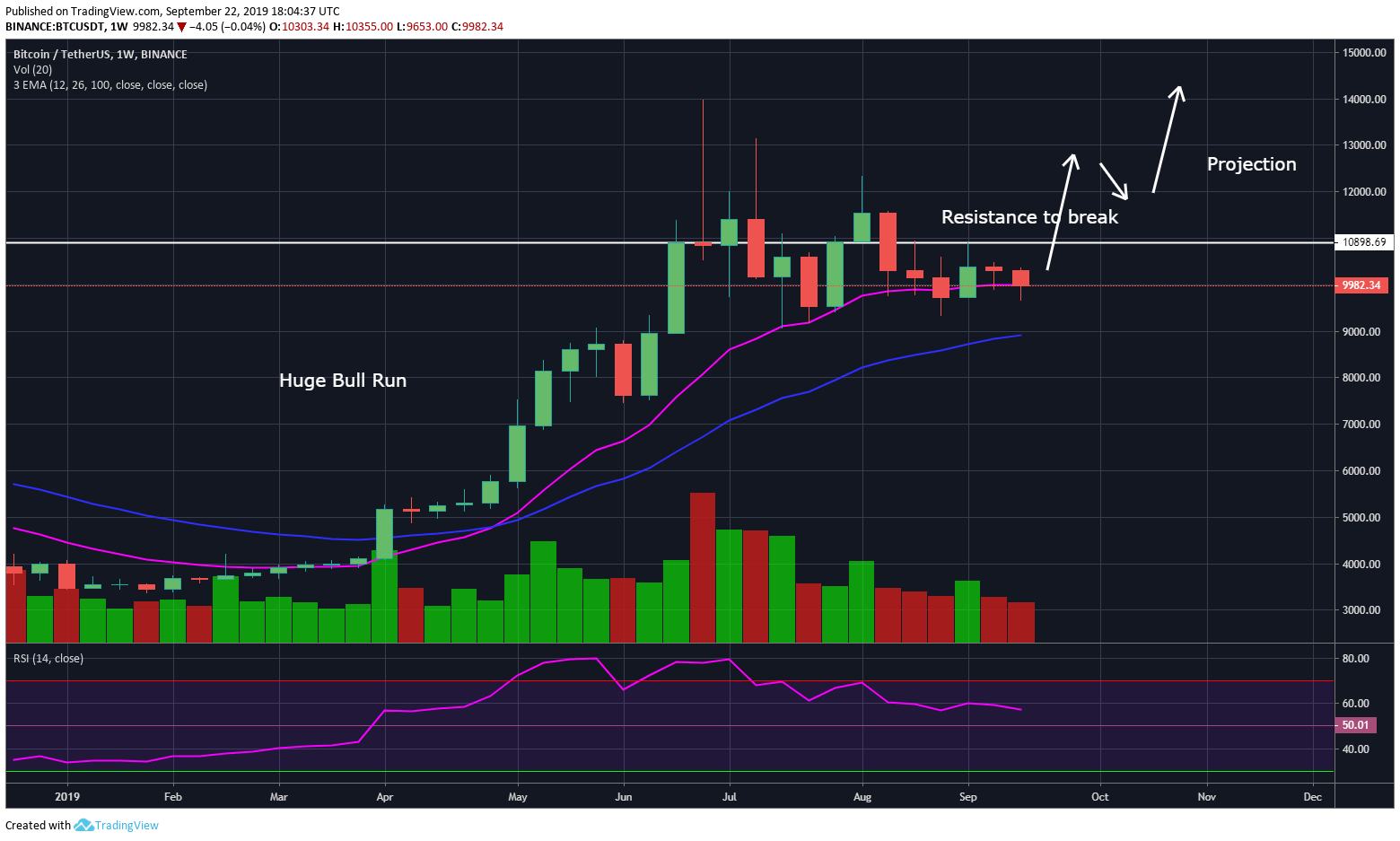 The weekly chart has been forming an Equilibrium Pattern for months now, a break of this pattern will easily take Bitcoin above the $14,000 resistance of 2019. If the Bakkt launch comes with a small bullish move, Bitcoin will be able to break above $10,905, the high of the weekly pattern, this will create a snowball effect and will push Bitcoin up more, possibly hitting $13,000 in just one move.
This would be a clear confirmation of the weekly uptrend as well as the monthly uptrend. At most, bears could try to set a lower high on the monthly chart, however, that would only create an Equilibrium pattern that will highly favor the bulls.
---
Source
---
Back to the list