The amount of digital assets being moved into centralized crypto exchanges has fallen to its lowest level for this market cycle.
On May 23, on-chain analytics platform Glassnode reported that major asset inflows to crypto exchanges are currently at a cyclical low. Furthermore, they are at the lowest value since the start of the last bull market at $1.65 billion.
Glassnode commented on the low liquidity at the moment, and its correlation to crypto exchange flows:
"With exchanges being the primary destination for market speculation, a large compression in inflows highlights the fact that structural market liquidity remains extremely low."
It added that this was compounded by the removal of major market makers. Earlier this month, global market makers Jane Street and Jump Crypto axed their U.S. trading plans due to the ongoing regulatory crackdown.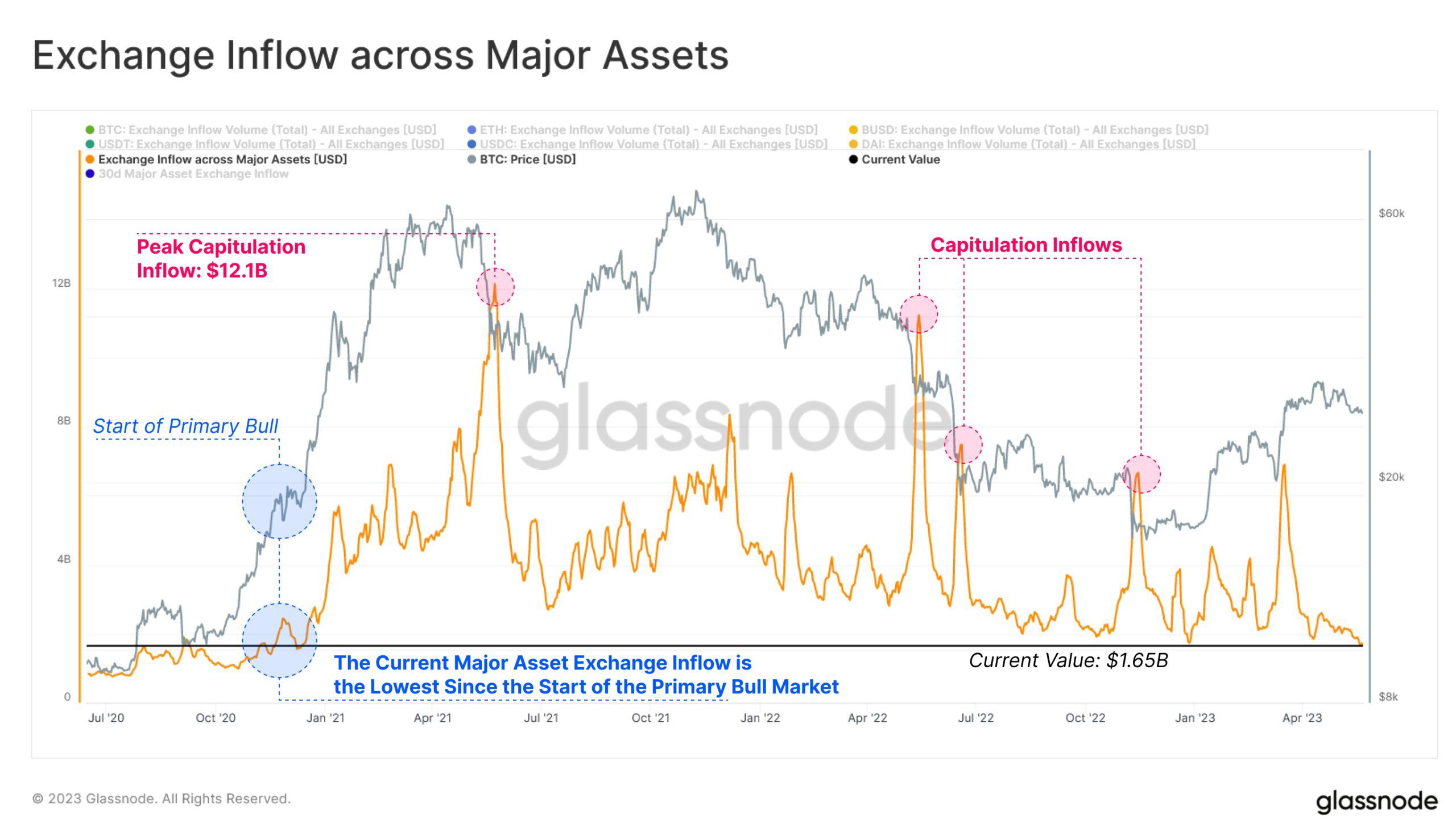 Crypto exchange flow across major assets – Glassnode
Crypto Exchange Liquidity Falling
The data suggests that low liquidity could induce higher market volatility. Earlier this week, BeInCrypto reported that higher volatility was on the horizon following a tightening of price ranges.
Moreover, Glassnode confirmed the findings stating that this could also be a catalyst for more volatility.
"With an increasingly illiquid market, with very thin order books, the likelihood of market volatility largely increases."
Exchange inflows spiked during capitulation periods when speculators sent assets to exchanges in order to cash out. Conversely, exchange outflows could be a sign of more hodling and lower sell-side pressure.
This week, BeInCrypto reported that the dormant supply of Bitcoin had increased to new highs. This suggests a reluctance to sell and a propensity to hold, as 'hodl wave' metrics suggest.
The weak hands and leveraged speculators have already been flushed out of markets. What remains are those with more conviction and day traders trying to eke out a profit from these minor market swings.
Crypto Market Outlook
The sideways crypto market chop has continued with a 2% dump to follow yesterday's 2% pump. Total capitalization is back down $1.17 following the minor slump during the early hours of May 24.
Bitcoin prices have dropped 2.4% on the day in a fall to $26,737 at the time of writing. However, the asset remains within its range-bound channel.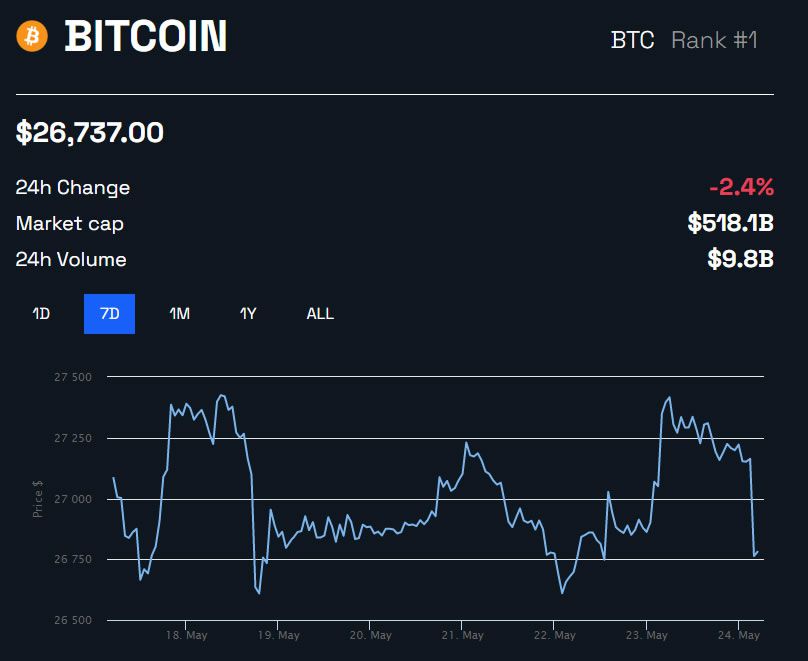 BTC/USD 1 week – BeInCrypto
Ethereum has lost 1.7% in a fall to $1,823 but also remains range-bound as the chop continues.
Overall, crypto markets remain down 62% from their peak levels of just over $3 trillion in November 2021.