Back to the list
DeFi TVL reached 3-month-high, top protocols in green
crypto.news
16 February 2023 09:54, UTC
Reading time: ~2 m
---
The total crypto market capitalization has surpassed $1.11 trillion as some of the top cryptocurrencies and decentralized finance (DeFi) protocols skyrocketed with the start of the new year. The DeFi total value locked (TVL) recently broke its three-month-high, according to DeFi Llama data.
Per the data aggregator, DeFi's TVL grew by almost 6% over the past 24 hours, reaching $50.59 billion at the time of writing. The last time this number touched higher than the $50 billion mark was on Nov. 8, 2022.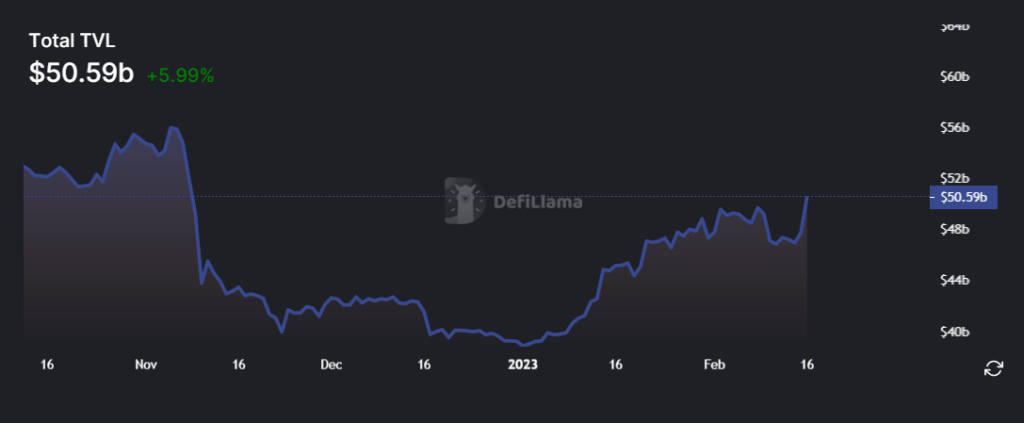 Total DeFi TVL – Source: DeFi Llama
The TVL hike comes after U.S. senator Elizabeth Warren started to push for an anti-money laundering (AML) bill on decentralized autonomous organizations (DAOs) and DeFi protocols. According to a crypto.news report on Feb. 15, Warren might bring a bill that was first introduced in Dec. 2022, the Digital Asset Anti-Money Laundering Act of 2022.
Moreover, the top seven DeFi protocols have been in the green zone over the past 30 days. The liquid staking platform Lido has been leading the decentralized leaderboard, per data provided by DeFi Llama, since early January — with a TVL of $8.87 billion, up by 9.72% in the last 24 hours.

Top 7 DeFi protocols – Source: DeFi Llama
Lido now has a 17.52% dominance over the total DeFi TVL and an almost 30% dominance on the Ethereum (ETH) blockchain.
Another lending platform, JustLend, has led the top seven protocols for the one-month change. JustLend grew by 17.7% over the past 30 days, with its TVL reaching $3.69 billion, according to DeFi Llama.
---
Source
---
Back to the list
Similar news