Back to the list
Number of DeFi users sustains growth in 2023 despite volatile sector
finbold.com
27 January 2023 13:20, UTC
Reading time: ~3 m
---
Despite the cryptocurrency industry going through some challenging and volatile times, the number of active users involved in the sector hasn't dropped off. Quite the opposite – it has continued to increase, although its growth has slowed down, as new data shows.
Indeed, between December 2017 and January 9, 2023, the daily number of unique addresses that either bought or sold a decentralized finance (DeFi) asset worldwide has grown, according to the results of the research published by the analytics platform Statista on January 9.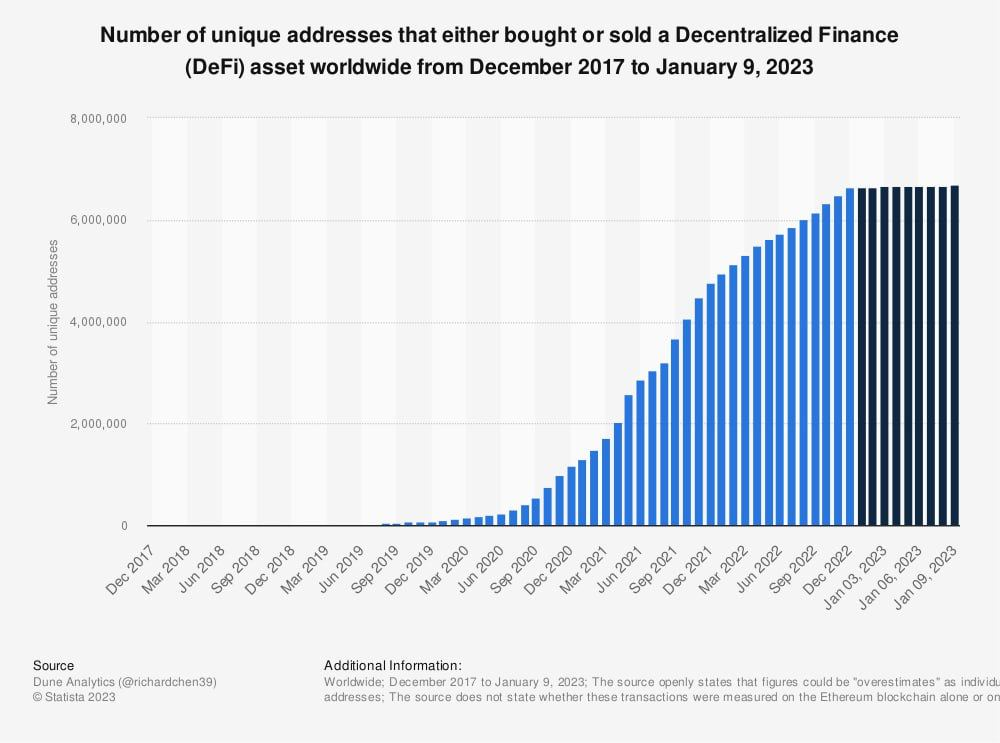 According to the rounded numbers for the end of each month, the number of DeFi users at the end of December 2017 stood at a mere 189, whereas on January 9, 2023, it amounted to 6,686,500, representing an increase of 3,537,730% over five years.
In 2023, this number has continued to increase, growing 0.54% – from 6,650,801 on January 1 to the number recorded on January 9. However, this growth has begun to slow down, as the number of active DeFi users has grown by 300,000 since early 2022, which represents less than half the increase during the same period in 2021.
Research methodology
The research methodology involved using a network crawling code that tries to measure the number of unique addresses involved in buying or selling specific projects associated with DeFi. For instance, the code lists data fetching commands associated with Uniswap (UNI) and Aave (AAVE) – two protocols with a market cap that was higher than one billion U.S. dollars in March 2022.
That said, the source admits that the figures could be 'overestimates' due to individuals using multiple unique addresses, and it doesn't specify whether the transactions were measured on the Ethereum (ETH) network alone or on other blockchains as well.
As explained by Statista's Raynor de Best, DeFi, "much like cryptocurrencies or [non-fungible tokens (NFTs)], are not being tracked by an official government," which is why the only source of information on the market size tends to be the "procedures to measure 'network activity' – activity on the Ethereum blockchain/network, the most used blockchain for DeFi, or elsewhere."
Crypto adoption continues
It is also important to note that the global management consulting firm Boston Consulting Group (BCG) said in July 2022 that crypto adoption was likely to accelerate further, driven by both retail and institutional investors and that the sector would likely accumulate one billion users by 2030.
Meanwhile, more recent data has indicated that crypto adoption had risen sharply over the entire year of 2022, as the total number of global crypto owners grew by 39%, increasing from 306 million in January to 425 million in December, with the World Economic Forum (WEF) official seeing more interest in investing in blockchain in 2023.
Elsewhere, crypto-related content is among the highest-growing topics with active English-speaking users of Twitter (NYSE: TWTR), reaching an all-time high (ATH) in late 2021, as indicated by the social network's internal research, the results of which were revealed in October 2022 and reported by Finbold.
---
Source
---
Back to the list