Back to the list
Syscoin Price Prediction 2021-2025: SYS Token Can Hit $0.45 by 2025
cryptoknowmics.com
21 June 2021 21:46, UTC
Reading time: ~10 m
---
Globally, the crypto market grew at an exponential rate between 2014 and 2021. Increased digitalization across industries can be credited for the market's rapid growth. Furthermore, the cryptocurrency's easy accessibility and increasing penetration of high-speed internet in our daily lives are facilitating its adoption. The legalization and regulation of the sale, purchasing, and trading of these digital currencies in various developed countries have also aided industry expansion. The level of transparency provided by blockchain technology eliminates the possibility of fraudulent or undesirable transactions resulting from human or machine mistakes or data manipulation.
The NFT sector is also not left far behind. The growth of digital assets brought popularity and acceptance of Non-Fungible Tokens all around the globe. The digital assets market has grown exponentially since the first NFT project was announced in 2017. The ERC-721 token standard, which was released in early 2018, fueled the meteoric rise of NFT technology by giving developers the tools they needed to create new products more quickly. The NFT market continues to outperform predictions in 2021, with estimates ranging from 1785% to 2100% growth in the first three months of the year, with over $2 billion spent on NFT collectibles.
Forecasts for 2021 remain quite optimistic for the emerging market, which is now worth $20 billion more than as compared to 2020. This asset class's hyper-growth pace is reminiscent of several important market events. Syscoin is one of the mainstream NFTs. The token is currently trading at $0.16, with a global market cap of $101 million. Syscoin Platform offers trustless interoperability, scalable token and asset microtransactions, and bitcoin-core security. It is said to be able to work with any Ethereum standard ERC-20 token right now, without the need for a second or third-party liquidity source.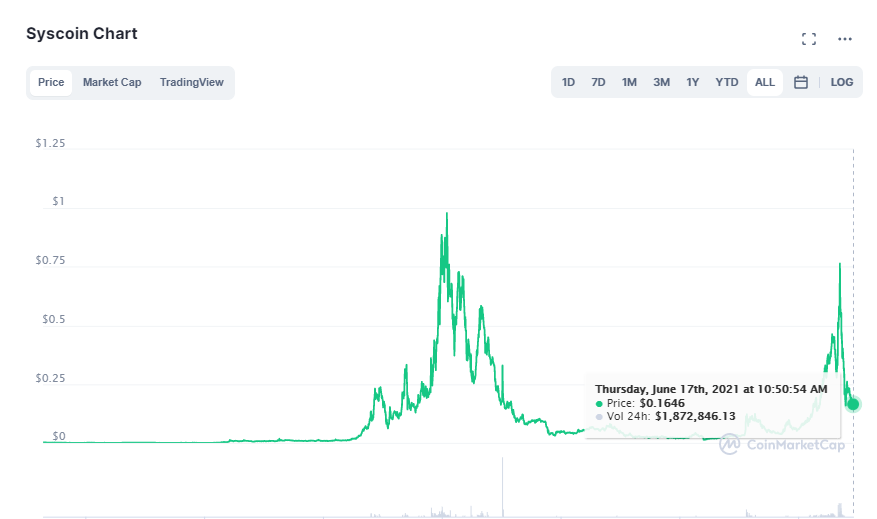 So, if you're thinking about investing in Syscoin Token, understanding what others have to say about it can be useful information. This article will give you a quick overview of the Syscoin Token price forecast for 2021 and beyond (up to 2025). The purpose is to help you decide whether Syscoin Token is a good investment.
What Is Syscoin?
Syscoin is a blockchain technology with advanced capabilities that make it simple to build secure and low-cost applications that have the same security and robustness as Bitcoin. Syscoin Core is an SHA-256 merge-mined proof-of-work blockchain that can be mined using the same energy as is used to mine Bitcoin. The platform is a scalable service layer that employs a network of master nodes and rewards master node owners with seniority incentives. It's also a digital currency, a cryptocurrency, and a tradable token. 
Syscoin is a ground-breaking cryptocurrency that delivers near-zero-cost financial transactions, lightning-fast transactions, and the infrastructure for businesses to securely trade products, assets, digital certificates, and data. Syscoin isn't just about money and trading; because of its built-in set of features aimed at business on the blockchain, it can attract a wide range of businesses. Syscoin's decentralized network serves everyone, from eBay traders and High Street stores to Medical applications, Insurance, and Gaming.
How Does Syscoin Work?
Syscoin is an uncensorable blockchain-based digital currency with a set of smart contracts that have been fully vetted and built on the Bitcoin scripting system using OP1 to OP16 standard script op-codes, portraying colored coin transfers, and are operated by a hardened layer of distributed consensus logic for each smart contract (Syscoin service) while retaining backward compatibility. These contracts can be merged to form the foundation of blockchain-based e-commerce remedies. Syscoin's hardened smart contracts differ from turing-complete smart contracts, which are not hardened by definition due to the open-ended nature of the underlying scripting language.
Some Key Features of Syscoin:
Unrestricted inventory on a decentralized marketplace.

Transactions with near-zero costs.

Aliases: Send coins to case-insensitive names instead of long wallet addresses.

Capability to resell other people's products in your store, or to allow others to resell your products for a commission.

To communicate with people on the Syscoin network, use encrypted messaging with an inbox/outbox similar to email.

Escrow service: escrows a buyer's tokens "until the terms of the sale are met and the buyer releases payment to the seller."

To issue, authorize, authenticate, and exchange digital assets containing private information, such as gift card codes or registration keys, using digital certificates.

No downtime: Unlike other platforms, which require users to leave their computers open for listings to remain active, the Blockmarket guarantees 100 percent uptime.

Integrated exchange: easy-to-use exchange of 32 cryptocurrencies with Changelly and Flypme in-wallet exchanges.
What Is the Syscoin Token (SYS)?
The SYS coin, also known as the Syscoin cryptocurrency, as already mentioned, is heavily based on Bitcoin. Or, to put it another way, it is a fork of the Bitcoin blockchain. Naturally, it has some similarities. It's a peer-to-peer payment system and a medium of exchange that enables near-zero-cost financial transactions. The SYS token can be mined alongside Bitcoin. The SYS coin's maximum supply is capped at 888,000,000 SYS. Syscoin mining is supported on the Syscoin platform, and it can be combined with Bitcoin mining. Trading SYS coins on a cryptocurrency exchange is another way to obtain it. 
The Syscoin cryptocurrency is traded on several cryptocurrency exchanges. Binance, Bittrex, Livecoin, Upbit, Poloniex, and other exchanges are among the options. SYS has been matched with BTC on the majority of exchanges.
Users can save time by using the services offered by CoinSwitch, the largest cryptocurrency trading platform. Users may compare and trade across all exchanges with CoinsSwitch. Moreover, users may compare SYS rates and exchange them all in one spot at CoinSwitch.
Technical Analysis for Syscoin Token
Price History of SYS Token
Syscoin, which was launched in 2014, was one of the first cryptocurrencies to jump on the blockchain bandwagon. However, it remained a low market cap altcoin with a price of one cent per token for nearly three years, until 2017. It, like other altcoins, experienced a sustained bull run from 2017 to 2018, nearly reaching the dollar mark, i.e, $0.979291 on January 13, 2018. Since then, the price of SYS has remained volatile in the cryptocurrency market. It settled around the $0.284967 price point in July 2018. Syscoin's all-time high is $1.14. This ATH was reached on May 5, 2021. The token is slowly gaining upward momentum, after the market-wide correction last month. 
Factors Affecting the Price of SYS Token
One of the prime advantages that SYS protocol holds is that of high security. Syscoin has been merged with Bitcoin, which means that Bitcoin miners can mine both currencies at the same time without incurring any additional fees. This provides Syscoin with a robust and secure network while also reducing network vulnerabilities that could allow exploits such as a 51% attack. This gives a lot of faith to the traders and miners of the token. 
Tokens or assets on the Syscoin platform have very low transaction costs, making them suitable for a wide range of use cases such as point-of-sale transactions. Indeed, the Z-DAG protocol is used for the transfer of funds or ownership of a token, allowing for near real-time transactions and making it an ideal choice for a retail environment. Factors like these help to lift the investments and price of the token. 
Price Prediction of SYS Token 2021
Price prediction requires thorough historical analysis and judicious projection of that analysis in the future. Past performance is indeed no guarantee of future success. However, if the promises are fulfilled, and the team delivers whatever is mentioned on the whitepaper, then the future of the SYS Token looks quite promising. This year, Syscoin will continue to grow and innovate. According to the forecast and algorithmic analysis, the price of one Syscoin token in 2021 could be around 0.181. The expected maximum price is $0.2706127.
Price Prediction of SYS Token 2022
Syscoin is likely to continue on its current path, with a new and enhanced UI and widespread adoption of blockchain throughout society. If no major bear trends hit the market in the future, and the bull run hits up straight, then the price of the token can reach $0.2628. This year, Syscoin will most likely hit a tipping point as more individuals begin to use it in their daily lives.
Price Prediction of SYS Token for the Next 5 Years
Investments are taking a turn towards the SYS token. Blockchain Foundry Inc. (CSE: BCFN), a prominent North American blockchain development corporation, recently announced the acquisition of 2,223,215 Syscoin tokens, which it expects to hold as a long-term asset. This investment brings BCF's total Syscoin treasury holdings to approximately 6,353,607 Syscoin. 
BCF is optimistic about Syscoin's future, its expanding market acceptability as a blockchain infrastructure ecosystem, and its potential worth. The company is a key contributor to the open-source Syscoin technology and has also developed private Syscoin-based applications. BCF plans to use Syscoin's infrastructure in the future to construct decentralized finance applications, such as NFT platforms. If this happens soon, then the price of the token will hit serious bulls. The price of the token can reach $0.309 by 2023, $0.346 by 2024, and $0.455 by 2025. 
SYS Token Price Prediction by the Market Sentiments
The Syscoin project has a solid crew behind it. They're constantly working to improve their protocol. It also has a fully functional product and has been in the sector since 2014, which is relatively long for a blockchain company. Moreover, with the launching of the web-based version, crypto acceptance may take another step forward. Therefore, most of the market predictions for the token are positive. 
Given below are some of them. We are putting them down for you so that you can have views from all sides. 
Wallet Investor
The site says that, if you're seeking a decent return on your virtual currency investment, SYS could be an excellent choice. On June 21, 2021, the price of Syscoin was $0.129. If you purchase Syscoin today for $100, you will receive a total of 777.315 SYS. According to projections, long-term growth is projected with a price forecast of $0.660 on June 13, 2026. The revenue is estimated to be around +411.63% after a 5-year investment. In 2026, your current $100 investment may be worth $511.63.
Digital Coin Price
Syscoin price will increase according to our predicted data in the future as per their prediction. The price of 1 Syscoin can roughly be up to $0.23509748 in 1-year, a 2X nearly from the current Syscoin price. Syscoin price will not be downward based on their estimated prediction. Syscoin is a profitable investment based on their forecasting. This means that this crypto token is perfect as a new addition to your portfolio, as trading bullish markets is always a lot easier.
Gov Capital
The current price of SYS is $0.138 as of June 21, 2021, and their data shows that the asset price has been in an uptrend for the past year (or since its inception). Because Syscoin has been on the rise, it is safe to believe that similar market segments were quite popular throughout the period in question. The website employs a unique Deep Learning-based algorithm to assist customers in determining whether SYS is a good future portfolio inclusion. These forecasts take into account various factors including volume changes, price changes, market cycles, and comparable currencies.
According to their projection method, the asset's future price will be $0.232479 (68.463%) after a year. This means that if you invested $100 now, your current investment may be worth $168.463 on June 21, 2022.
Conclusion
The world of digital art and collectibles is being swept by NFTs. Massive sales to a new crypto-audience are transforming the life of digital artists. Celebrities are leaping on board as well, seeing it as a fresh method to engage with their fans. And at this moment when you invest in tokens like SYS, then profitable returns are a promise. The Syscoin blockchain provides faster transaction speeds and lower transaction fees than Bitcoin's precursor. It can handle 750 tips, and with the master node release coming soon, it will be able to handle more than 300,000 tps. Therefore, if you are thinking of putting your money in this token, then it is the best time to utilize this opportunity.
---
Source
---
Back to the list