Back to the list
Mechanism Capital Co-Founder 'Originally Only Purchased $BTC To Buy $DOGE'
www.cryptoglobe.com
11 May 2021 08:18, UTC
Reading time: ~2 m
---
Last Sunday (May 9), Andrew Kang, Co-Founder and Partner at crypto-focused investment firm Mechanism Capital, talked about how the current popularity of Dogecoin ($DOGE) with retail investors is bullish for the whole of the crypto space.
This is Kang's bio:
"Andrew Kang is a cryptocurrency entrepreneur and investor. He is the Co-Founder of Mechanism Capital which invests in cryptocurrency through prop trading, mining, ventures, and secondary markets. Kang previously worked in portfolio management and venture capital at Digital Capital Management. In 2020, Kang was deeply involved in various DeFi related ventures, he is also very active in providing analysis on DeFi projects through Twitter."
On May 9, Kang wrote on Twitter:
"For many, Doge has been a gateway shitcoin into crypto kicking off a new wave of capital inflows… The first topic of discussion for these new investors is whether they should buy Doge… The second is usually what other coins to look at… Bullish"
Kang also believes that Dogecoin is "actually more bullish for crypto in terms of driving new inflows" than the recent direct listing of Coinbase stock (COIN) on Nasdaq.
Even more interestingly, the crypto investor said earlier today that his first exposure to crypto was when he bought Bitcoin seven years ago in order to use it to buy $DOGE.
Data by TradingView indicates that today (May 11), on crypto exchange Bittrex, the Dogecoin price hit $0.4943, which is the intraday high. Currently (as of 07:28 UTC on May 11), Dogecoin is trading around $0.4701, down 14.52% in the past 24-hour period.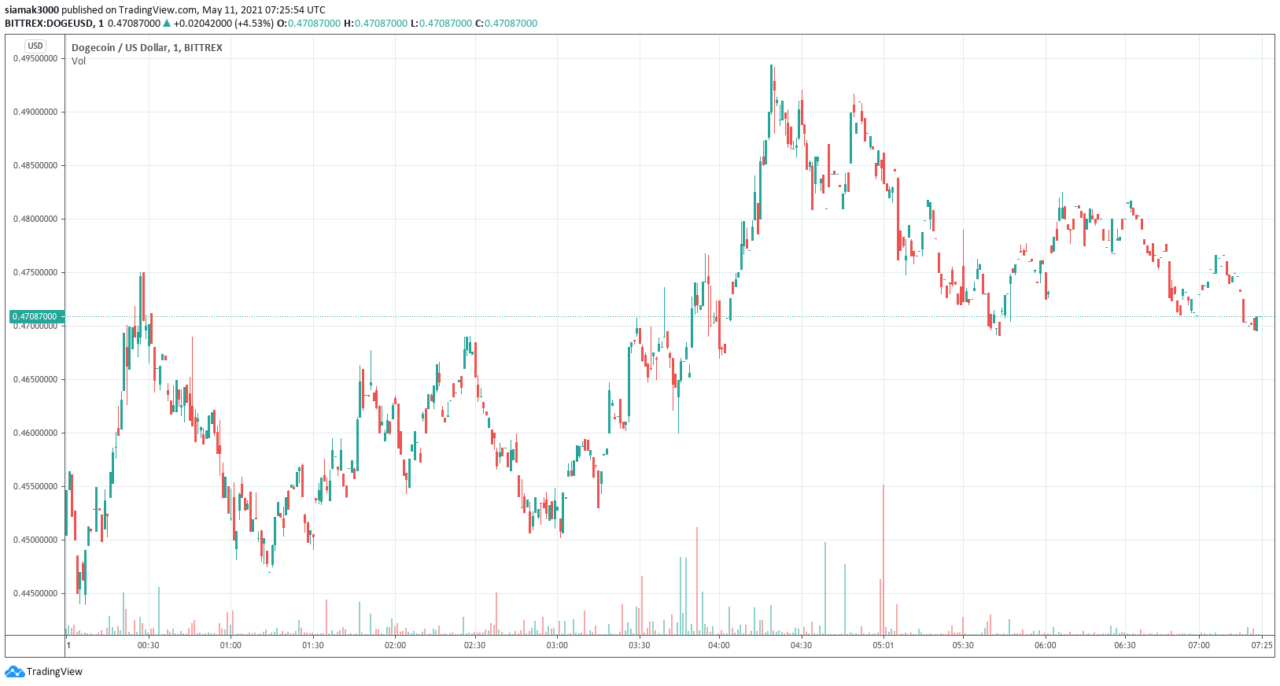 The insane popularity of Dogecoin with retail investors in 2021, which is mostly to due to support from billionaires Elon Musk and Mark Cuban, has inspired the creation of several other meme-based cryptoassets, most notably SHIB Token ($SHIB), which is up nearly 40,000% vs USD in the past 30-day period.
DISCLAIMER
The views and opinions expressed by the author, or any people mentioned in this article, are for informational purposes only, and they do not constitute financial, investment, or other advice. Investing in or trading cryptoassets comes with a risk of financial loss.
IMAGE CREDIT
Featured Photo via Pixabay.com
---
Source
---
Back to the list