Back to the list
XRP to $589 proponent and rumored Ripple insider Bearableguy123 resurfaces: Can 1635x growth occur in 28 days?
ambcrypto.com
03 December 2018 18:50, UTC
Reading time: ~4 m
---
Opinion: As the end of the year draws close, the XRP community seems to be gearing up for the prediction made by an individual known as Bearableguy123. Around 10 months ago, he posted a picture which predicted that XRP would reach a price of $589 by the end of this year, resulting in a predictable reaction in the community.
For those who had bought XRP at prices of less than $1, this seemed like an extreme pipe dream. However, BG123 disappeared after this prediction, leaving the community to run amok with this theory. With the price of the coin staying below $1 after its drop in February, many have taken up the opportunity to "accumulate" the coin.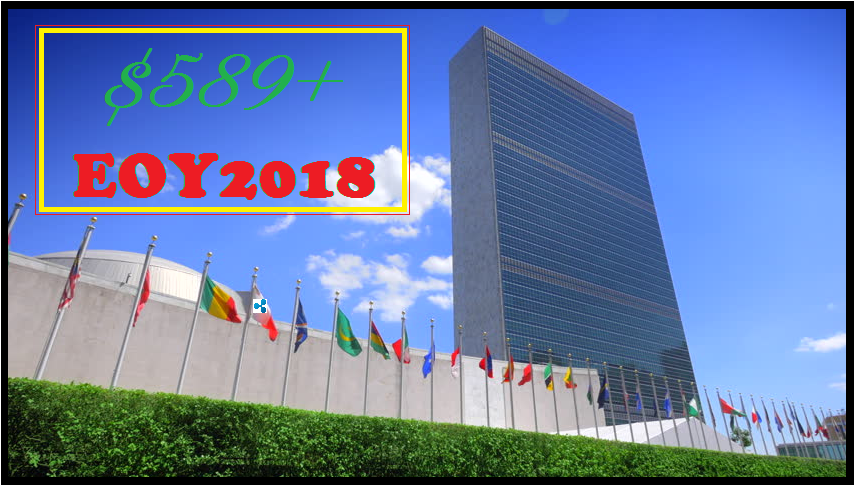 Image posted by BG123 | Source: Reddit
Many believe Bearableguy to be an insider from Ripple, as he has provided multiple clues in a cryptic fashion. Looking through the history of his posts on Reddit, an account which does not seem to be used since 10 months, it can be seen that he has made predictions on certain days regarding specific price movements. He is also an ardent supporter of XRP and Ripple, as seen by his posts. Some of his statements include:
"[In January] When XRP recently, to the dismay of the ETH and BTC heads, took over ETH's place, the crypto world was shaken to the core. Plans were set in motion to have CoinMarketCap "suddenly" not recognize Korean exchanges and XRP was taken out. Plans, within plans, within plans. And this is just the beginning. This year is the year that XRP's Ragnarok will shatter the cryptosphere into splinters and no one can do a damn thing about it."
In response to whether XRP would overtake Bitcoin in 2018, he stated:
"Yes, and the cryptosphere will shake accompanied by a great gnashing of teeth as they look to the heavens and scream "And how can this be?!"'
This also echoes comments made by the CTO of Ripple, David Schwartz, who stated in the past:
"Ripple [XRP] equaling bitcoin's current market cap sometime in the near future doesn't seem any more outrageous to me now than the idea of a bitcoin selling for over $1,000 seemed to me in 2012."
Another image that BG123 is famous for is a caricature of sorts which depicts multiple unknown figures, including a knight that resembles Brad Garlinghouse, a king without a mouth and a hand puppeting a model of a human. This image alone has led to many conspiracy theories, and is indicative of the "insider's" perceived role in the grander scheme of things.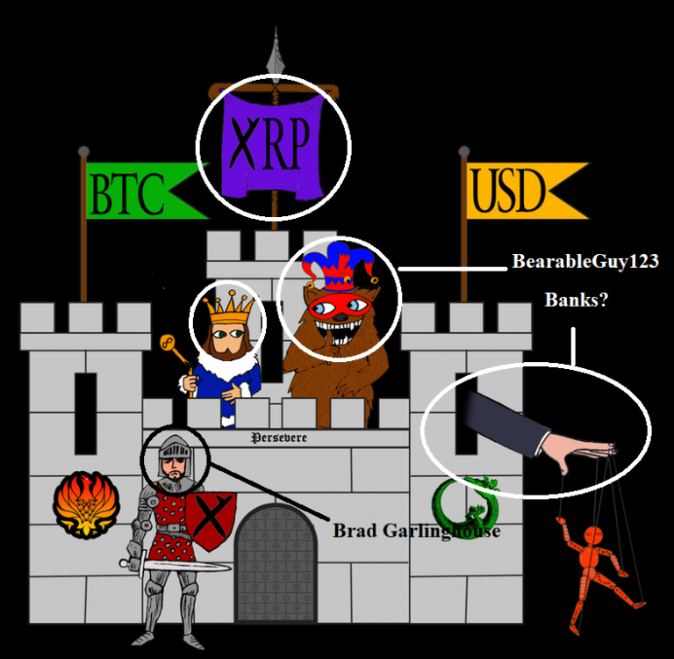 It is also revealed that he is a moderator of a community known as r/Rippled, which has since been made private. This occurred in late February, and is the focus on many of his activities.
Upon the subreddit being made private for the first time, he made a statement on the "private subreddit" page which said:
"The king is not happy that the jester is having fun! Very interesting situations abound. A couple of soldiers and pawns are trying to draw me out, track me down and ID me but have not succeeded. Thank God for VPNs! Will lay low for now. Coming back? Maybe, maybe not."
Post this statement, he went on to say:
"They are trying to dox me again so for now I will shut this subreddit down and "batten down the hatches." Everyone take a break. Step back from the cryptosphere, stop looking at the blockfolio app and checking XRPs' price. Go spend time with yourself, family, & friends. Beware of imposters. I won't post under any other name. /r/Rippled may be back up on June 1."
The subreddit seems to have not been reactivated as of yet. However, the message on the board has now changed, instead becoming a tinyurl link which redirects to the YouTube video of Queen performing Don't Stop Me Now.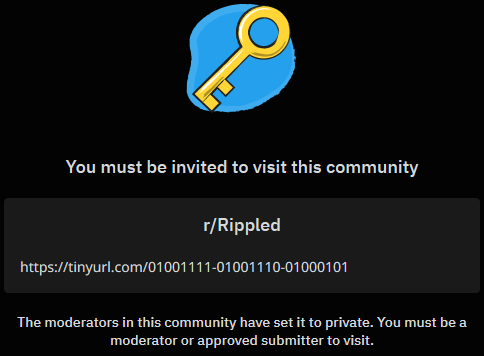 User beachexec on Reddit seems to have summed up the feelings of many of the XRP community, where he said:
"I think that /u/bearableguy123 is an immortal alien from the future that's taken on many different forms of famous people working behind the scenes. He was the soothsayer that warned Julius Caesar about his comeuppance. Then he was Nostradamus. Then he was Nikola Tesla. That's why his posts are so cryptic and offbeat. He doesn't wanna let on too much and piss off the powers that be, but he always wants to help."
With close to 4 weeks until the end of this year, it is worth noting that XRP is required to undergo a growth of 163,511% to get from its current price of $0.35 to a trading price of $589. Moreover, this has to occur in the space of 28 days. However, as BG123 stated:
"If you have no experience in trading cryptos, then I recommend you hold. You are going to try and time one of the most volatile markets against bots, veteran traders and whales. You got in at a good price. Dollar cost average by buying a little at a time each week/month. Good luck."
---
Source
---
Back to the list