Back to the list
SaltSwap Finance Tokens Surged 1000%+ on Sunday, Dropped 60% on Monday
www.financemagnates.com
03 May 2021 10:15, UTC
Reading time: ~2 m
---
A relatively little-known cryptocurrency, SaltSwap Finance (SALT), saw a price increase of more than 1000 percent over the weekend as the platform announced two new partnerships. SaltSwap Finance is a Binance Smart Chain (BSC)-based yield farm protocol. (Note: SaltSwap Finance shares a ticker symbol (SALT) with SALT Lending, but the two are not the same thing.)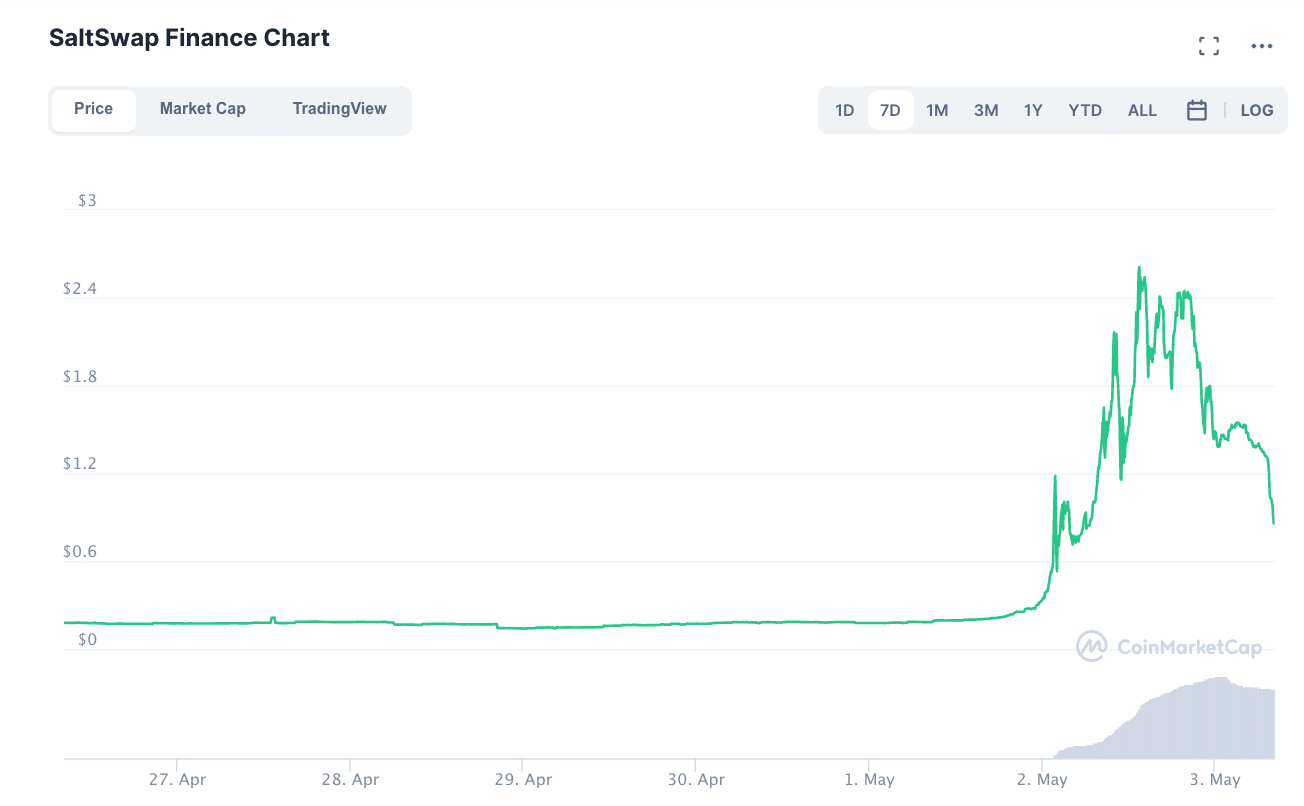 On Sunday, May 2nd, the price of SaltSwap Finance tokens was roughly $0.25; at its peak (6pm CET), the tokens were worth roughly $2.45. However, at press time, the price had fallen to $0.883, a decrease of roughly 60 percent.
The two partnerships were formed between Universal Binance Union (UBU) Finance (UBU) and Parthenon BSC (EPSILON). UBU Finance is described as a "platform that combines the most advanced DeFi I applications with special functions, such as deflation, [and] benefit-sharing," while Parthenon provides "regularly scheduled yield farms on the Binance Smart Chain."
Benzinga reported that through the partnerships, holders of SALT tokens will be able to lock in eye-poppingly high returns.
We just made a new partnership with the folks at @UBUfinance. Stake your SALT and earn UBU! Starts in 6hours pic.twitter.com/EFhxxfwoKj

— SaltSwap🧂#BSC (@SaltSwap) May 2, 2021
"SALT holders will be able to lock their tokens to earn an annual percentage rate of 7,416,291% of UBU, or an annual percentage yield of 1,443,504% of EPSILON," the report said. However, "There is no guarantee that the return rates will stay this high for any length of time."
We got a second partnership today with the folks at @Parthenon_bsc . Stake SALT and earn EPSILON! https://t.co/B5b9jC4y0K pic.twitter.com/D62GEaP6vg

— SaltSwap🧂#BSC (@SaltSwap) May 2, 2021
Yield Farming continues to proliferate
Yield Farming, also known as "liquidity mining," has become one of the most popular earning practices for savvy DeFi investors in today's world. The practice is somewhat similar to staking, in that yield farmers lock their tokens into a protocol for extended periods of time in exchange for financial rewards.
However, unlike staking, tokens that are used for yield farming are essentially deposited into a liquidity pool. The owner of the tokens then receives financial rewards in return.
In late 2020, OKEx chief executive Jay Hao told Finance Magnates that the growing popularity of Yield Farming was placing strain on the Ethereum network. However, since the rise of the BSC and Ethereum's progress toward the launch of Eth2.0, Yield Farming's popularity has even more room to grow.
---
Source
---
Back to the list