Back to the list
Polkadot (DOT) Price Prediction 2022 2023 2024 2025-2030
changelly.com
09 March 2022 17:42, UTC
Reading time: ~9 m
---
Being one of the most innovative crypto projects on the market, Polkadot solves one of the biggest hurdles of the crypto industry, which has a ton of interesting projects that are struggling to interact with each other in meaningful and effective ways.
Polkadot and its token DOT provide blockchain businesses across the globe with unparalleled interoperability. This project has firmly established its place in the crypto market and is only gaining popularity. As a result, it attracts the interest of a lot of investors. Here's our Polkadot price prediction for 2022-2030.
What Is Polkadot (DOT)?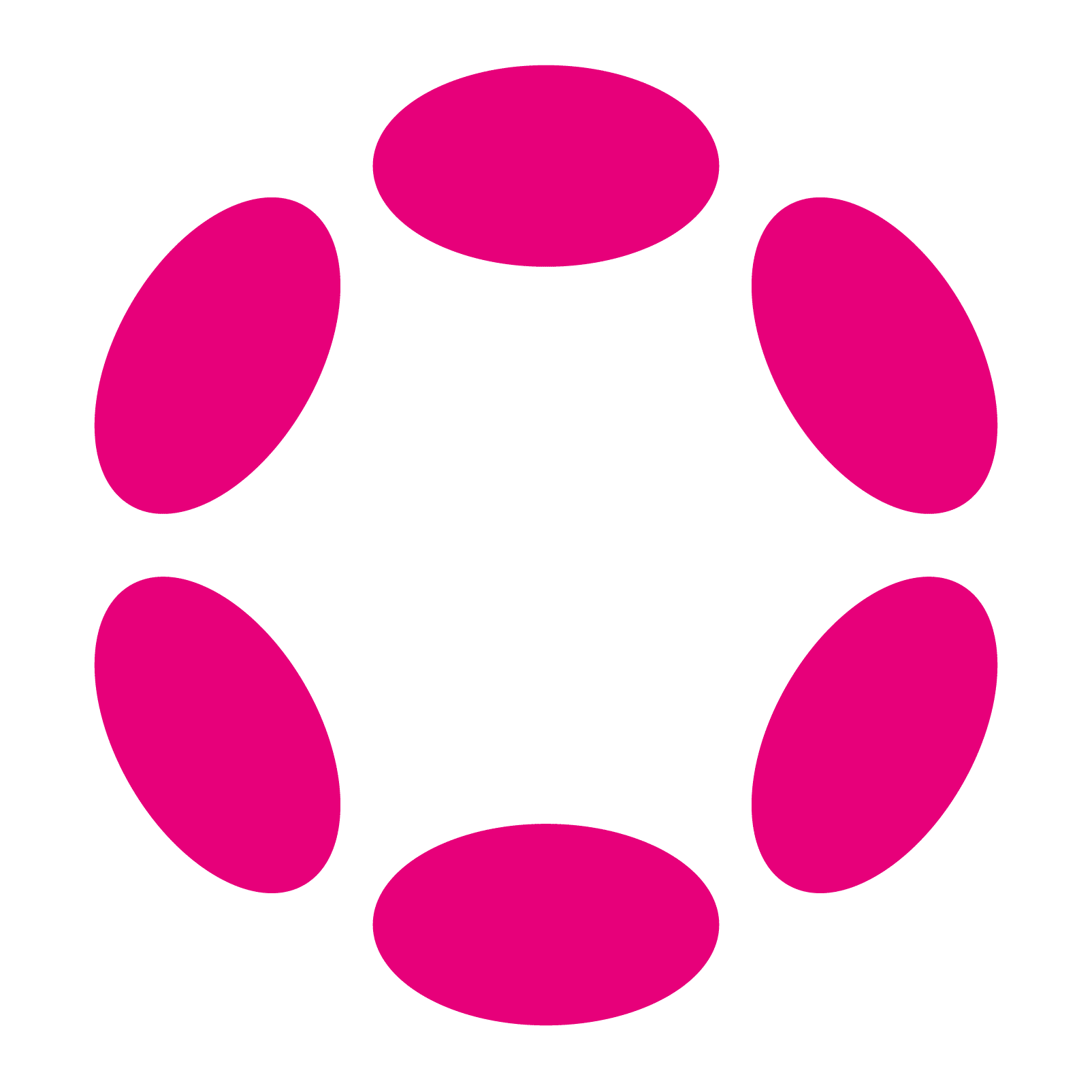 Polkadot appeared in 2016 when Gavin Wood published a whitepaper describing the technical features of the project. Although Wood thought that blockchain technology had a bright future, he could also see that it had a lot of issues. Polkadot was designed to overcome those challenges.
The main challenge Polkadot aims to address is the lack of interoperability between different blockchains. The project seeks to create a scalable blockchain architecture that can grow infinitely in accordance with demand. This is achieved through the use of the relay chain and parachains.
Although the project's main goal is to create a platform that allows different blockchains to interact with each other, its developers do not intend to stop there. They are aiming to create a fully decentralized Internet 3.0 based on Web3.
Parachains
Parachains are custom blockchains that are all connected to the Polkadot relay chain. They are the technology that allows different blockchain projects to swiftly and efficiently interact with each other. You can read more about them here.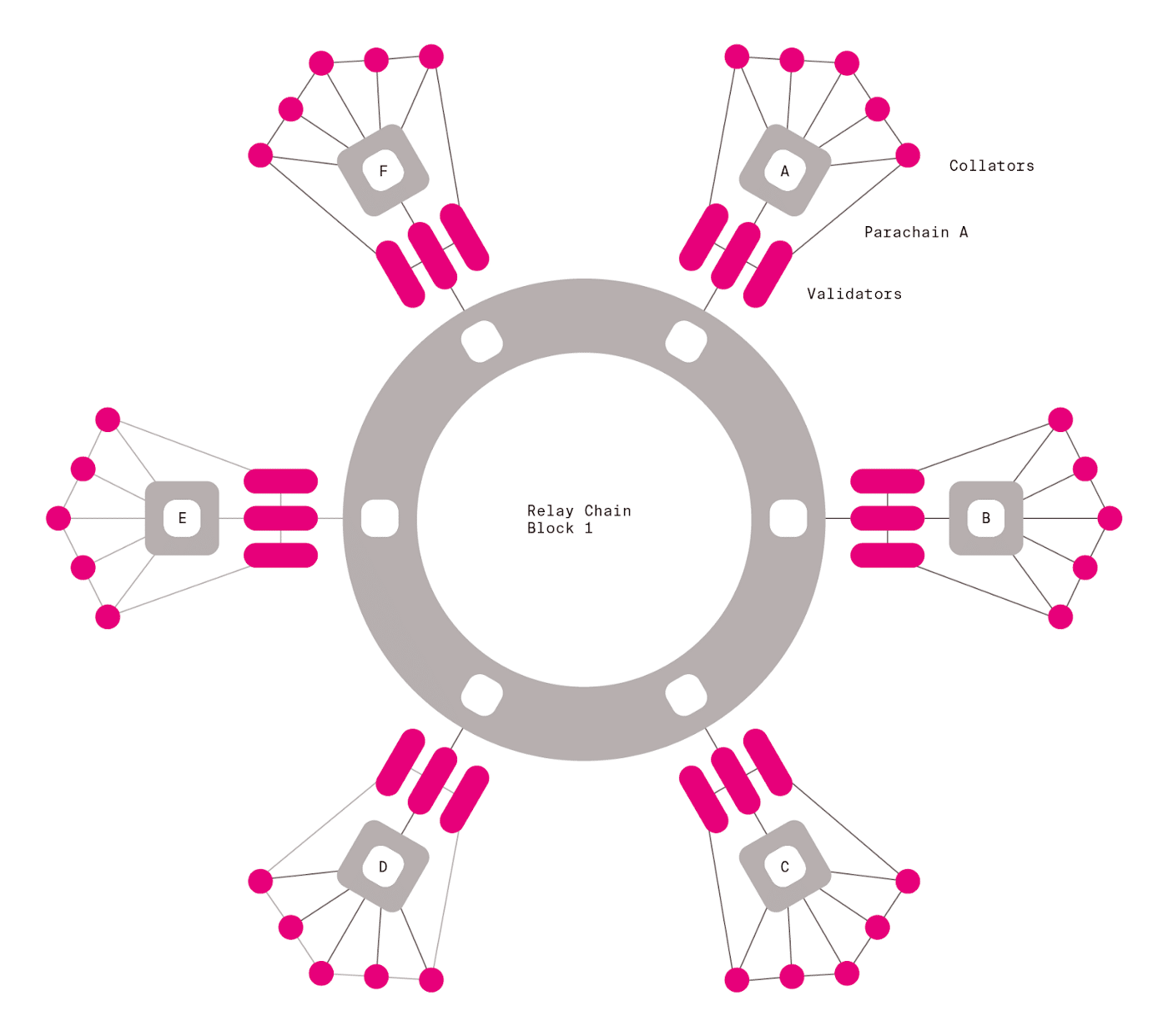 DOT
The DOT token is the native cryptocurrency of the Polkadot blockchain. Polkadot has a complex governance system where all DOT holders have voting rights. Proposals can be made either by the DOT owners or by the Board. In both cases, the proposal must be agreed upon in a referendum based on the voted stake.
All DOT holders control the use of the Treasure through referendums. A part of the validator's rewards and part of the transaction fees and slashing (a penalty paid by a validator that acts maliciously or incorrectly) are channeled into the treasury for its replenishment. These funds are used to pay for the system's smooth running and support the entire ecosystem (marketing, public events, and outreach).
The DOT token has three main purposes:
Governance. Polkadot token holders have complete control over the ecosystem. This also includes resolving questions about updating or fixing protocols.
Staking. Token holders will be rewarded for good behavior and lose tokens for bad behavior. Such a mechanism will ensure that all network participants are interested in only performing transactions that meet consensus requirements.
Bonding. In order to add new parachains, it will be necessary to bind tokens, remove old and unnecessary ones, and remove bound tokens. This mechanism is a form of a proof-of-stake algorithm.
Polkadot Live Price Chart
Here's the current price of Polkadot.
DOTUSD Rates
by TradingView
Polkadot Price Analysis
DOT is currently (as of March 2021) ranked 12th by market capitalization on CoinMarketCap. It has been steadily gaining popularity for the last two years as its team expanded its functionality, partnered with new innovative projects, and dedicated a lot of resources to promoting the project.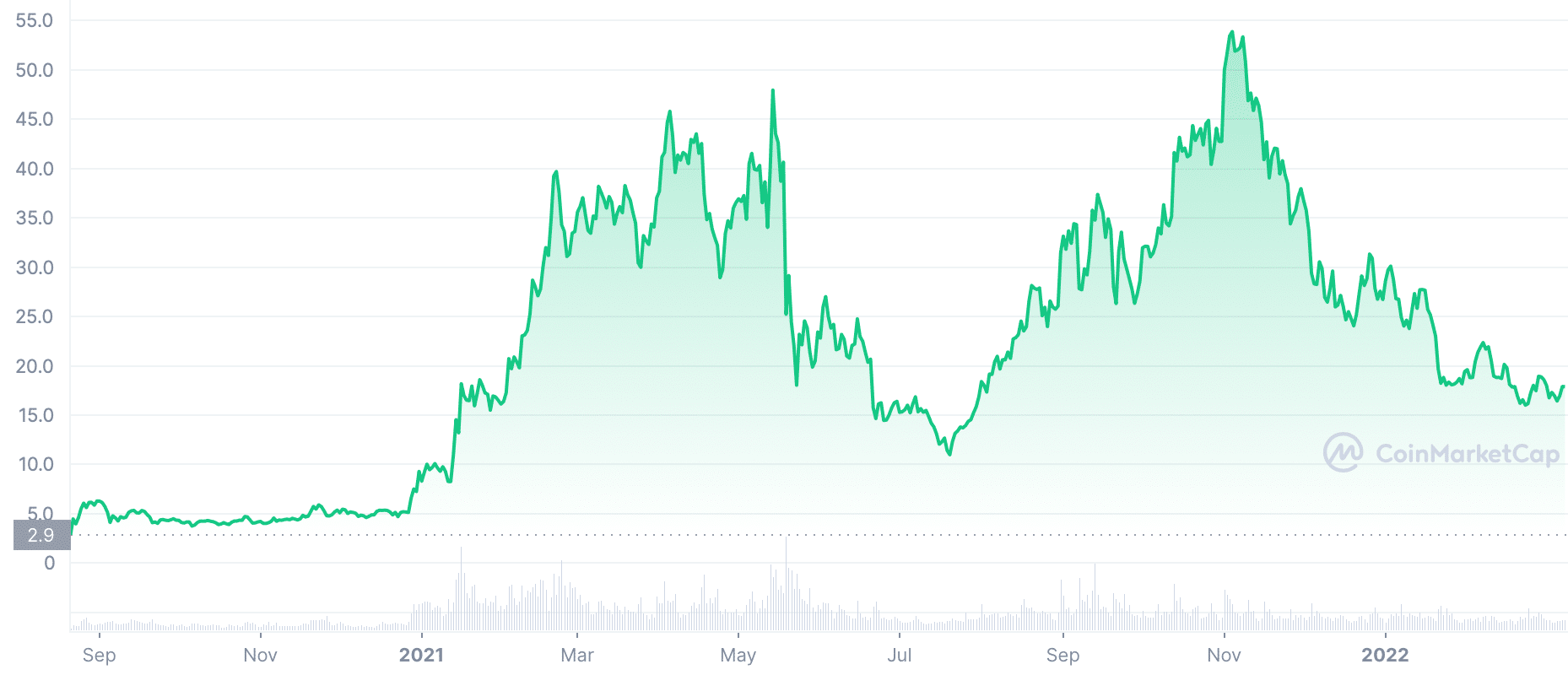 Just like Bitcoin and many other coins and tokens, DOT hit its latest ATH in November 2021. Overall, this token is great at following the market and responds well to the hype in the industry and positive market sentiment. Additionally, it should be noted that Polkadot never "crashed" in the same way many other cryptocurrencies did and still do — its lowest price in summer 2021 still stayed above $10.
Polkadot's true value, however, lies in its functionality and a solid technical foundation. Unlike many other crypto projects, Polkadot has a real shot at becoming widely used by businesses across the world. As companies start looking into safer ways to store and interact with data, blockchain technology is going to prosper, and with it, projects that can facilitate interoperability like Polkadot will also thrive.
Polkadot Forecast by Experts
Polkadot has proven itself as a reliable and innovative crypto project, and many investors are following it quite closely. Here are some Polkadot predictions made by leading crypto experts.
Over a year ago, a lot of investors were bearish on Polkadot, expecting it to fall in both the short and long term. However, the DOT price has proven them all wrong. Nowadays, most experts are bullish on Polkadot and think that the project has much potential.
Wallet Investor and its AI algorithm are still bearish on the token in the short term and expect it to stay in the $13-15 range in March 2022. However, their Polkadot cryptocurrency price prediction also states that DOT will see an almost 50% price increase in under a year.
The experts from Crowd Wisdom are bullish on Polkadot. They think it has the potential to rise to $25 and above in 2022. They also point out how the token is currently popular on social media, and its trading volume has been steadily rising in the past few days. All these things create great opportunities for short-term growth.
DigitalCoin's Polkadot price prediction is also bullish: like many others, they are expecting the DOT price to come close to $25 by the end of 2022.
At the time of writing this article, the result of the Polkadot technical analysis performed by TradingView was bullish — the website is currently giving DOT a "buy" signal. The widget below shows the result of TradingView's technical analysis of Polkadot in real time.
Technical Analysis for DOTUSD
by TradingView
Polkadot (DOT) Price Prediction
| | |
| --- | --- |
| 2022 | $24 |
| 2023 | $26 |
| 2024 | $30 |
| 2025 | $50 |
| 2030 | $100 |
Polkadot (DOT) Price Prediction for 2022
Polkadot is currently auctioning off its parachains, with ten already having been claimed. As more companies join the Polkadot ecosystem, the project is likely to strengthen its positions, which will cause the DOT price to either go up or at least stay firmly above its support levels.
According to our current DOT price prediction, the token may reach $24 by the end of 2022. Please note that this is the average price: Polkadot's price is likely to experience some extreme highs and lows throughout the year due to the typical crypto price volatility.
Is Polkadot a Good Investment in 2022?
Our Polkadot price analysis shows that DOT is likely to rise in 2022. However, please note that we cannot give you investment advice, and you should do your own research before investing in any crypto coins or tokens.
Polkadot (DOT) March 2022
Unlike most other cryptocurrencies, Polkadot's price hasn't gone up in the last week of February and at the beginning of March. In fact, most experts are currently bullish on this token: most Polkadot price predictions expect DOT to struggle in March 2022.
Our Polkadot price prediction for the first month of spring is also rather conservative: we expect the token to stay in the $16-17 range. At the moment, we don't think the DOT price will see high volatility in March.
Polkadot (DOT) April 2022
The bulls may keep their hold on the DOT price in April, too. However, we think that the token will still rise, albeit not significantly. Currently, we predict that Polkadot's price may be equal to $18 in April 2022. 
Polkadot (DOT) May 2022
Polkadot's price is likely to continue rising slowly in May 2022. As the global economy struggles to adjust to the new circumstances caused by Russia's invasion of Ukraine, cryptocurrencies are likely to start receiving more attention from both experienced and new investors. 
A lot will depend on how cryptocurrency exchanges and crypto projects act in these coming weeks and months: for now, it seems like their response and actions only promise them profits and wider adoption in the near future. We think that all these things combined may cause the DOT price to skyrocket by the end of spring 2022, potentially hitting even $30.
Polkadot (DOT) June 2022
The market boom caused by the reordering of the global economy and the potential desire of people to store their assets in non-centralized assets can lead to a massive influx of funds to the crypto market. It is possible that we will see another huge market boom at the beginning of summer 2022, with Polkadot's price potentially retaking its ATH. However, just like all booms, it will likely lead to a massive correction.
We think that if a correction does occur, DOT will not go back to the $15-16 range and will stay in the $20 range instead.
Polkadot Price Prediction for 2023
Our Polkadot (DOT) price prediction for 2023 is cautiously optimistic. There's no way to accurately predict how the world economy will react to the current events, and what place crypto will take in the near future. One thing's for sure: as long as businesses continue to invest in blockchain technology, the Polkadot network will thrive. We expect DOT to see some typical ups and downs in 2023 and think that its average price will rise to $26.
Polkadot Price Prediction for 2024
2024 might be a really good year for Polkadot and the blockchain industry. It usually takes a few years for a new technology to become widely adopted, and we assume that it's likely that more and more companies will look into investing in blockchain solutions. Polkadot and its interoperability will most likely gain popularity as a result.
Our Polkadot price prediction for 2024 is very optimistic. We are bullish on DOT in the long run and think that the token will start gaining momentum in 2024. DOT tokens might be worth $30 each on average in 2 years.
Polkadot Price Prediction for 2025
As mentioned above, we are bullish on Polkadot. Our Polkadot price prediction for 2025 is an average of $50 — a relatively massive increase from 2024. We suppose that the spike in average price will be caused by wider acceptance of the Polkadot protocol and its parachains.
Polkadot Price Prediction for 2030
Although we assume that the bullish trend will continue for Polkadot in 2030 and beyond, it is a fool's errand to predict crypto prices that far into the future. DOT may reach $100 or even $500, or it can crash and burn due to overwhelming government regulation and restrictions. Although the latter is highly unlikely: after all, as a token, DOT is more than just a (speculative) store of value. It has a distinct role in the Polkadot ecosystem. Because of this, we think that Polkadot's price will probably weather any storm and at the very least retain its average of $20-30 over the years.
What Will Polkadot Be Worth in 5 Years?
Our Polkadot prediction for 2027 is an average price of $70.
Does Polkadot Have a Future?
Polkadot is a great project that has much potential. It has an innovative, dedicated team and a solid technical foundation, so we think it has a bright future.
Can Polkadot Reach $100?
Polkadot has already reached $50 in the past, so getting to $100 is possible. However, it would take a significant market boom for the DOT price to rise that sharply.
Can Polkadot Reach $500?
Polkadot is currently unlikely to reach $500. However, the DOT price may rise that high in the future if the token's team continues to promote and upgrade the project.
Can Polkadot Reach $1,000?
At the moment, we don't think that Polkadot's price is capable of reaching $1,000. It could happen if it gains unprecedented support from the public and/or some major companies, but currently, it does not seem very likely.
Where Can I Buy Polkadot?
DOT is supported by all major crypto exchanges. You can also buy Polkadot on our instant exchange platform Changelly benefiting from our great rates and low fees.
---
Source
---
Back to the list