Key takeaways
Enjin (ENJ) has revealed a new strategic partnership with Crypto APIs, set to empower the network's users with comprehensive real-time data
ENJ token has suffered a decline in value during 2023 despite the rest of the crypto markets being up YTD
CoinCodex price prediction algorithm forecasts key trend reversal for ENJ before the end of the year
Crypto APIs will bring infrastructure improvements to Enjin Blockchain
Enjin (ENJ) has partnered with Crypto APIs to improve the accessibility of users' on-chain data. Enjin Wallet, which is now used by more than 3.6 million users, will gain "important infrastructural support" through the new collaboration with Crypto APIs.
We're happy to work with @CryptoApis as one of our technology partners! ??

?Read the full article:https://t.co/rvx1YqZKSN pic.twitter.com/UgLq2K3MPa
— Enjin (@enjin) September 27, 2023
Crypto APIs will provide DevOps servers and real-time notifications to Enjin Wallet users, in addition to collecting and collating important blockchain data. The partnership will also involve Crypto APIs setting up a node for the Enjin blockchain, which will help to secure the network infrastructure over the long term.
Nashwan Khatib, the Chief Executive Officer at Crypto APIs, has stated, "We are very excited to provide infrastructure solutions to one of the leading NFT solutions on the market. Together, we are committed to delivering added value for Enjin's customers through sophisticated and versatile blockchain data, accessible from over 3.6 million users."
Crypto APIs are trusted by a host of leading companies in the blockchain industry, including Chainlink, PayPal, Nexo, and Ledger. The addition of Enjin to this list will help to expand one of Web3's leading ecosystems for NFT technology, as Enjin aims to continue supporting developers who seek to launch their own non-fungible tokens in virtual gaming worlds.
ENJ underperforms the rest of the crypto markets during 2023, the algorithm predicts a major trend reversal over the next three months
ENJ is 8.37% down year-to-date, underperforming the rest of the crypto markets to a significant degree. To demonstrate, the total crypto market cap (TCAP) is 36.65% up in the same timeframe, which shows that ENJ has struggled to gain traction during a positive year overall for cryptocurrencies.
ENJ has been in a consistent downtrend since forming its yearly high in February 2023. Since then, the token has dropped more than 60% at the current market price and is now trading towards the bottom of a range that was formed when ENJ retraced its yearly low of $0.2143 on 17th August.
One positive for ENJ is that it has so far held its previous low as strong support. The current $0.221 price level follows two prior re-tests of the annual low — on the first occasion, ENJ bounced more than 10% in a short-term recovery, and recently, it has remained "https://coincodex.com/crypto/enjin-coin/price-prediction/" href="https://coincodex.com/crypto/enjin-coin/price-prediction/">CoinCodex algorithm expects ENJ to be feeling its way towards a new market bottom before a significant reversal takes place. The algorithm expects this to unfold over a 3-month time horizon, with the price prediction for 26th December 2023 being $0.6179 — a 180% jump from the current price level.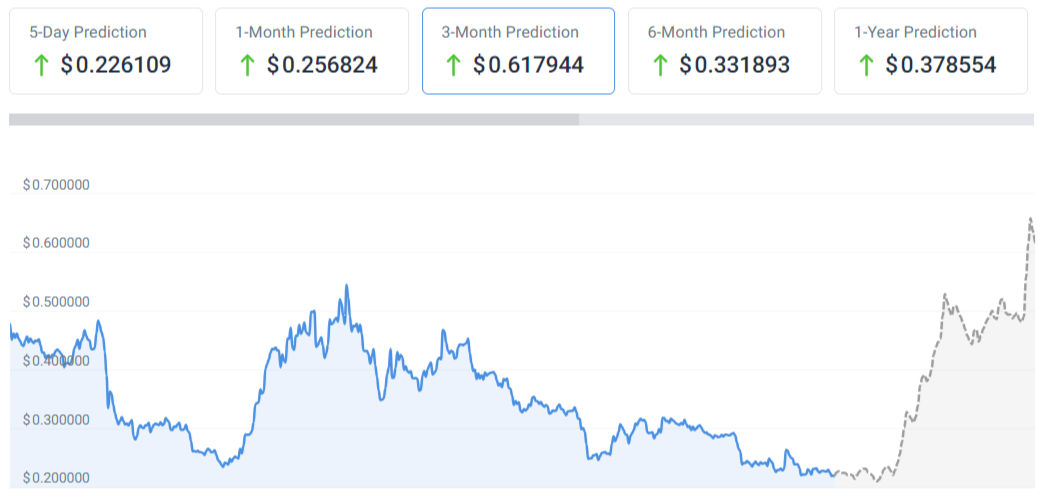 3-Month price prediction, via CoinCodex
Bottom line: Enjin Network set for key trend reversal after exciting project developments in recent weeks
Enjin has continued to optimize its network during the crypto winter, recently announcing that it will migrate to a new purpose-built gaming ecosystem called Enjin Blockchain. Part of the migration to Enjin Blockchain included the consolidation of EFI tokens into ENJ, with ENJ now the sole native token of the new-look ecosystem.
Enjin remains a favored choice among game developers seeking to launch NFT-compatible titles. The ecosystem offers support for the seamless creation of in-game assets, as well as custom NFT marketplaces that can be seamlessly integrated with play-to-earn gaming platforms.
With more than 3.6 million Enjin Wallet users at the present moment and a suite of developer tools that make launching blockchain games more easily accessible, Enjin looks set to continue its progress on its new, purpose-built blockchain. The CoinCodex algorithm predicts an end to the ongoing downtrend, with more positive price action now possible before the end of the year.