Key takeaways
Soroban Smart Contracts set to go live on Stellar testnet on 20 September
The algorithm predicts breakout for XLM in the 6-month timeframe
Stellar's new brand identity could shed light on the project's long-term aims
Stellar's recent changes introduce greater versatility for the ecosystem as well as a new identity
Stellar has announced that the Soroban Smart Contracts upgrade is set to go live on testnet on 20 September. Until now, Stellar has not had a virtual machine that can execute custom code like other leading layer-1 blockchains, such as Ethereum, Solana, Aptos, and others. The Sorobon upgrade, therefore, will introduce a competitive smart contract language that could encourage more decentralization and innovation in the Stellar ecosystem.
Prepare for #Stellar's Protocol 20 upgrade! It's the biggest one yet, introducing Soroban smart contracts.

Things to know:
1. Testnet upgrade on Sep 20, 1500 UTC
2. Update Stellar-related software
3. Stay updated in the (#protocol-20) discord channel
4. Go here for more info…
— Stellar (@StellarOrg) September 18, 2023
Previously, the Stellar network could only support simple smart contracts known as Stellar Smart Contracts (SSCs). SSCs can track multiple on-chain transactions at once; however, the breadth of customization is limited when compared to other leading chains.
Stellar's move to incorporate a more advanced smart contract language has been dubbed "by far the biggest" protocol upgrade yet. Soroban Smart Contracts will unlock greater versatility for developers on the Stellar blockchain, which could lead to a growing number of decentralized applications (dApps) being launched within the ecosystem.
The major Sorobon milestone follows a recent announcement from Stellar that unveiled a new look for the brand, intended to better connect the blockchain to the real world. Stellar's new identity was initially met with disappointment from investors, but the price of XLM has since recovered after news broke about Soroban's testnet launch.
XLM price rises 2% after Sorobon announcement, algorithm predicts 6-month breakout
The price of XLM crashed in the aftermath of a recent announcement that it had changed its brand identity. It seems as though investors may have been disappointed that Stellar has moved away from its core follower base, and has instead targeted a different market entirely.
XLM fell 7.5% on the day the rebrand was announced and had been in a downtrend since 10 September, just before the rebrand was unveiled. Since yesterday, however, XLM has recaptured a key level of support at ~$0.117 and may be ready for further upside on low timeframes if it can hold this level.
Zooming out, XLM's Soroban upgrade could spark new life into the market. It's certainly a major development for the ecosystem, and investors will be watching keenly during the testnet phase hoping that it goes off without a hitch. The CoinCodex algorithm forecasts a slow reversal for XLM, highlighting a possible breakout in March 2024 that would mark the beginning of more bullish price action if it unfolds.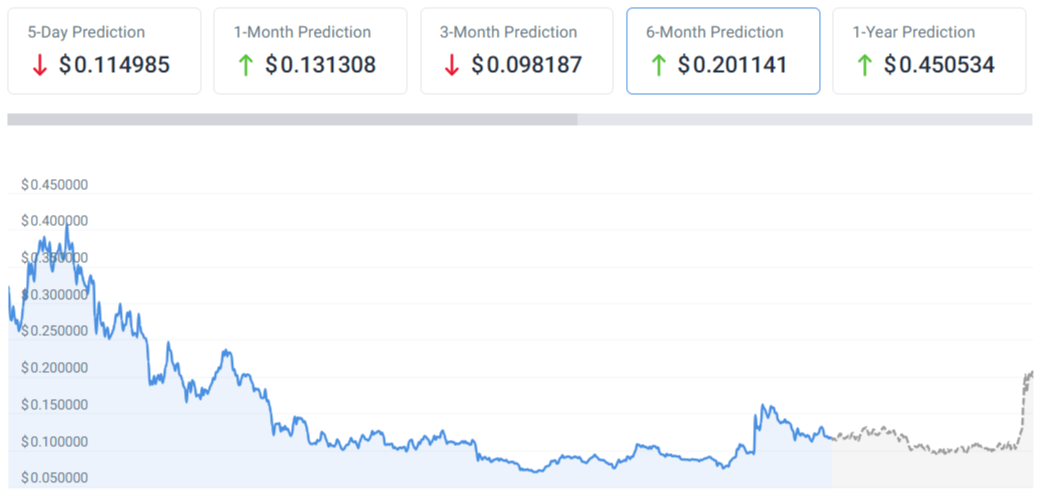 XLM 6-Month price prediction, via CoinCodex
Bottom line: Could XLM compete with EVM chains, or is it targeting a different market entirely?
Ethereum (ETH) combined the ability to create complex smart contracts with distributed ledger technology to great effect when it first launched back in 2015. The widespread popularity of Ethereum's transparency, accessibility, and immutability has made ETH the second most valuable cryptocurrency by market capitalization and the largest ecosystem of dApps by TVL.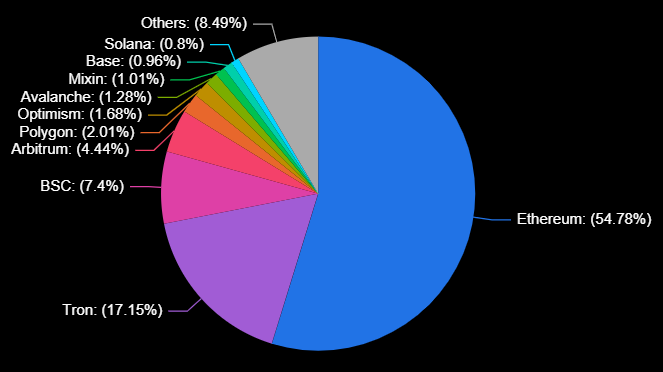 Ethereum's dominant TVL compared to all other Turing complete chains, via DeFi Llama
Until now, Stellar (XLM) has not attempted to compete with Ethereum. The blockchain serves a different function and has different kinds of users — primarily, Stellar aims for more equitable access to DeFi by creating real-world infrastructure that brings people on-chain, serving legacy financial institutions and other enterprise clients.
The move for Stellar to introduce a complex smart contracts language means that it will now support many of the same functions as other leading layer-1 networks, including Ethereum, but with greater connectivity to traditional finance systems.
Whether Stellar can compete with Web3's largest ecosystem remains to be seen, but the recent rebrand — which included a "helpful" tone and a partnership with actor Idris Elba — may indicate that it has plans to conquer mainstream markets instead.