Back to the list
Shiba Inu Wallet That Turned $8K to $5 Billion is Active Again, Here's How Much $SHIB Was Cashed Out
coingape.com
03 November 2021 12:31, UTC
Reading time: ~2 m
---
A Shiba Inu ($SHIB) wallet that purchased $8,000 worth of $SHIB tokens last year saw its valuation rise to nearly $5.4 billion after the meme currency hit a new all-time-high (ATH) in October. Many claimed that the owner might have forgotten or lost the private keys to the wallet given it doesn't seem plausible that someone would hold a meme currency for that long. However, to everyone's surprise, the wallet was activated yesterday as the owner started moving out the funds.
The meme currency has risen over two million percent since the $SHIB wallet in question made its first purchase. While people talk about how meme currencies have made many millionaires, this would be the first public case where Shiba Inu has made someone a billionaire in just over a year.
Shiba Inu Billionaire Cash Out $2.9 Billion
The $SHIB wallet owner has moved out nearly $2.9 billion worth of Shiba Inu token from the original wallet. While there have been several similar cases of people forgetting their Bitcoin wallet address containing million worth of $BTC they purchased 7-8 years ago, however, in most of those cases, the owner never gets the private key to access the funds.
$SHIB price has taken a hit with the start of November as it fell below the key support level of $0.000070 after consolidating above it for nearly a week. Shiba Inu is currently trading at $0.000065 with a 10% decline over the past 24-hours.  It also lost its 9th position to arch-rival Dogecoin ($DOGE) as its market cap slumped below $37 billion.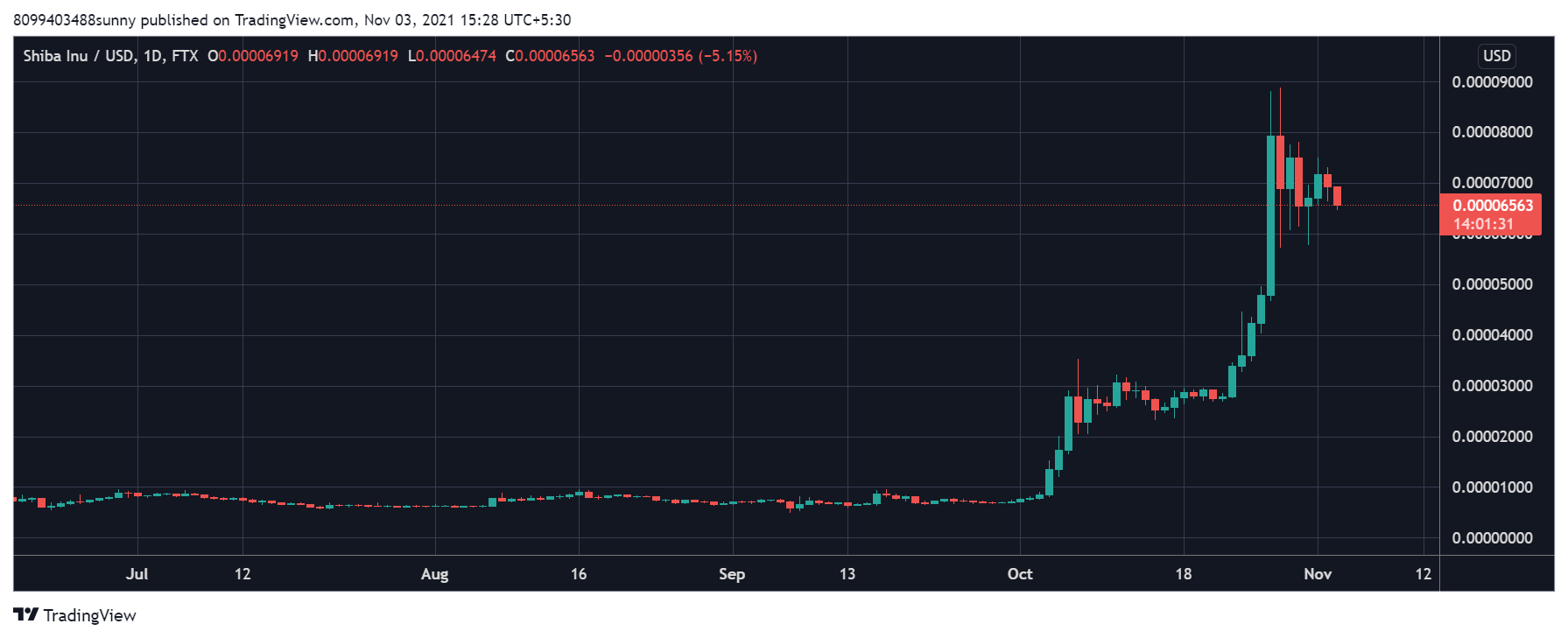 $SHIB price needs an external catalyst to bring back the bulls before the price correction sets in. Many believed the Robinhood listing would be that catalyst, however, there has been no signs of approval from the Robinhood platform itself. The hype around its listing on Kraken also seems to be bluff now, as the crypto exchange is yet to list the meme currency after making an announcement yesterday.
Bitcoin Price Analysis: BTC Closes Above $60K For The Third Week Running
Bitcoin Price Keeps Rewarding Investors; Here Are The Levels To Watch Targeting $70,000
Bitcoin Price Pullback To $60,000 Is An Opportunity To Buy The Dip
Shiba Inu Wallet That Turned $8K to $5 Billion is Active Again, Here's How Much $SHIB Was Cashed Out
Singapore Central Bank Says the Country Aims to Be A Leader In Global Crypto Economy
BTC Price Prediction: BTC Price Stalls at $63K, Pull Back to $57k Or New All time Highs?
---
Source
---
Back to the list