Meme2Earn has launched version 3.0 of its meme-posting platform built on Neo N3. The recent release includes a new promotion feature, offers support for USDT on Ethereum and Binance Smart Chain, and provides additional benefits for OG NFT holders.
Promote Center
The Promote Center module was created with the aim of providing businesses and projects with tools to advertise their products and services. It presents two different methods for promotion: user-driven meme campaigns and more traditional advertisements.
To initiate a self-run meme campaign, a user must provide basic information such as name, topic, and prize pool, and submit it for M2E admin approval. Campaign creators can also designate the contest length, though there is a three-day minimum. If approved, the new campaign will be listed under the Contests section of the M2E website, and community members can begin participating.
Alongside user-launched campaigns, the Promote Center offers leasable advertisement space displayed throughout the Meme2Earn website.
Ethereum and Binance Smart Chain Support
M2E v3 now supports a new in-platform currency, CREDITS, which can be purchased using NEP-17 TIPS tokens or USDT on the Ethereum or Binance Smart Chain networks.
CREDITS are used when launching a self-hosted meme campaign or purchasing ad space. They can only be spent on the M2E platform and can't be withdrawn or refunded.
Each CREDITS in-platform token will be equivalent to US $1. Therefore, one CREDITS can be purchased with one ERC-20 or BSC-20 USDT or an equivalent of $1 In TIPS tokens.
The user-initiated meme campaigns will carry a cost of 1 CREDITS per hour. Meme campaigns are priced on an hourly basis. For example, user-initiated campaigns cost a minimum of 72 CREDITS because of the three-day threshold.
For ads, 1 CREDITS will yield 1,000 impressions on the M2E website.
New OG NFT Benefits
The Meme2Earn OG NFT collection dropped in May 2022, as a limited edition release offering future benefits for token holders. In the latest update, the team has announced two new benefits – bonuses on CREDITS purchases and revenue sharing.
When OG NFT holders purchase CREDITS, they'll receive a 20% bonus. For every 5 CREDITS purchased, the OG NFT holder gets an additional 1 CREDITS. The OG NFTs are not stackable for this benefit.
Also, OG NFT holders will earn 10% of all revenue from user-created meme campaigns and advertisements. The revenue will be pooled and split between all OG NFT holders, distributed quarterly in TIPS. OG NFTs are stackable for this benefit.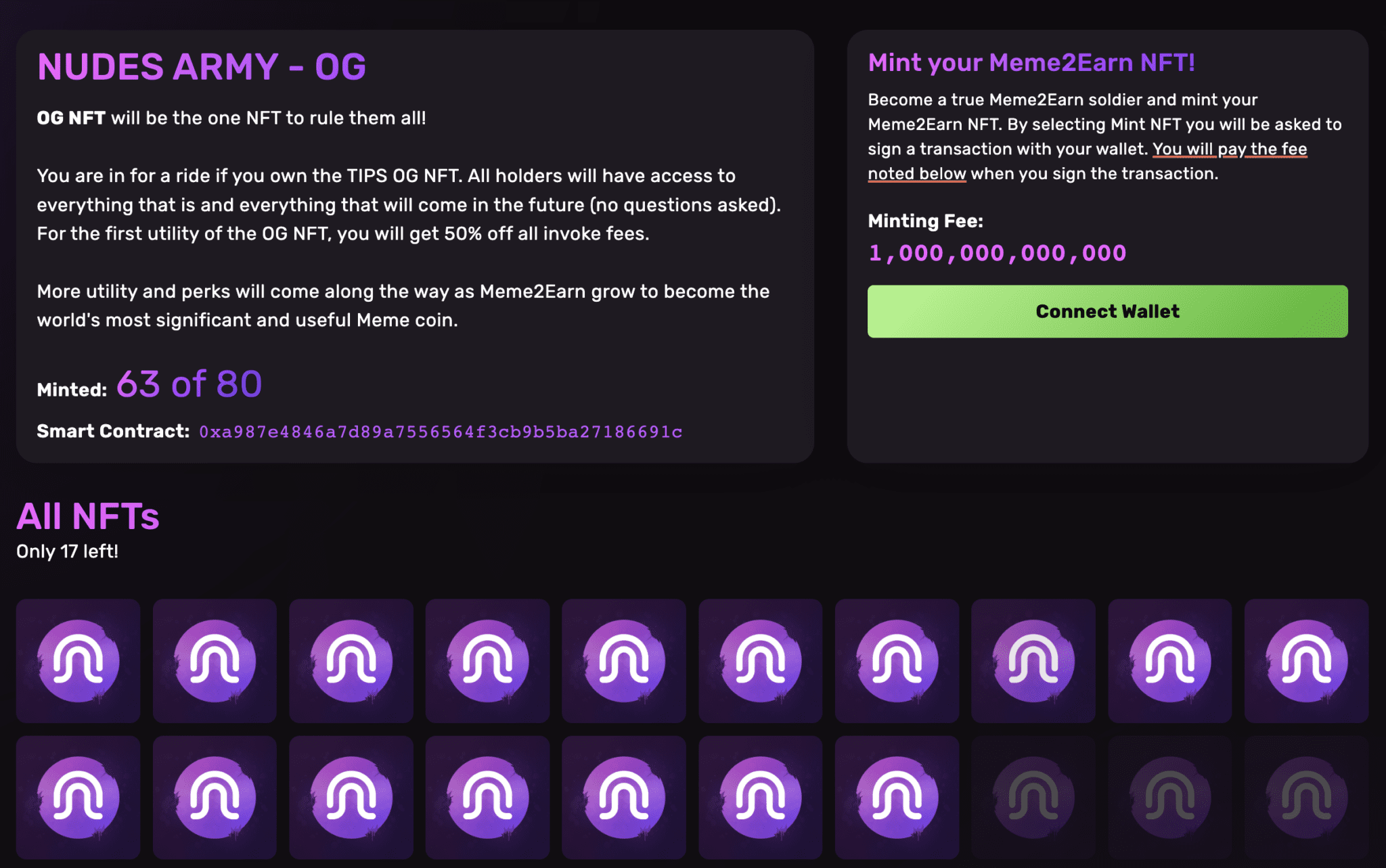 Source: Meme2Earn
Each OG NFT costs 1 trillion TIPS, and at the time of press, 17 NFTs remain in the collection available to mint. A 20% royalty fee is also included in the smart contract. Each time the OG NFT is sold or traded, 50% of the royalty will be burnt and 50% sent to the single-stake Boomer Fund.
About Meme2Earn
M2E launched in May 2022 and was initially designed for meme creators and consumers, with a plan to expand service offerings for advertising other projects.
On the platform, users submit meme content and receive NEP-17 TIPS tokens in return for upvotes from other users. Likewise, users can spend TIPS to downvote meme content submissions. A portion of any TIPS used to upvote or downvote content is burnt, and a portion goes into the single-sided staking Boomer Fund.
In Nov. 2022, the team began hosting Meme of the Day campaigns to incentivize community members to engage with M2E. In May 2023, M2E hit a milestone, surpassing $10,000 in reward distributions from the Meme of the Day campaigns.
The full announcement can be found at the link below:
https://medium.com/meme2earn/meme2earn-launches-version-3-0-8c2d0e555fe8