Important crypto news: the Solana Foundation recently released a plugin for ChatGPT that integrates artificial intelligence with the layer 1 blockchain.
In this regard, Solana co-founder Anatoly Yakovenko expressed his belief that every app should be developed in orientation to the increasingly impactful world of AI.
Below are all the details.
Solana's integration with ChatGPT is the benchmark for AI
As anticipated above, the Solana Foundation said Tuesday that it has created an open source reference implementation that allows users to interact with the Solana network directly from ChatGPT with a plug-in available for download on Github.
In this regard, the Solana Foundation said the following in a note:
"This Solana Labs integration serves as a reference for how AI can facilitate understanding of Solana data and protocols, or surface data about Solana's IT infrastructure and DeFi projects."
Adding further that the plug-in can be used to buy NFTs, transfer tokens, inspect transactions, interpret public account data, and find NFT collections based on floor price.
Solana co-founder and CEO of Solana Labs, Anatoly Yakovenko, said artificial intelligence would make Solana's blockchain more usable and understandable:
"Every developer building consumer oriented apps should think about how they will interact with their app through an AI model because this is a new paradigm for telling computers what to do."
Meanwhile, the Solana Foundation said it has increased the amount available in a previously announced strategic grant program focused on artificial intelligence from $1 million to $10 million.
The foundation has already received fifty applications and continues to accept them for new projects. Specifically, the statement reads the following:
"The Solana Foundation has also kicked off a 3-month accelerator program for college students that has an entire cohort dedicated to experimenting with blockchain and artificial intelligence."
Surge in Solana's activity due to high fees from Bitcoin and Ethereum
Based on the data, we know that Solana saw a surge in activity this month as higher fees on Ethereum and Bitcoin prompted some users to explore alternatives.
The network saw the seven-day moving average of new addresses reach 323,000 last week, the highest number since June 2022, according to data from The Block .
This month, more new addresses have already been added than the protocol has seen in each of the past six months, the data show.
Meanwhile, the number of active addresses that have sent or received funds on the Bitcoin network has dropped to its lowest level since July 2021.
In addition, The Block's research analyst Rebecca Stevens, noting that a similar increase in new addresses was occurring on platforms scaling Ethereum, such as Polygon, said the following:
"The surge appeared to start before May when fees started to increase on Ethereum and people were looking for other places to transact, but that second rally could also be related to Ethereum finality issues."
Finally, referring to two incidents in recent weeks that saw Ethereum's beacon chain briefly stop finalizing blocks, she added:
"Solana has faced a lot of pushback for its outages, so the recent Ethereum network issues may be putting things into perspective."
Meanwhile, Solana's native SOL token, which experienced a drastic drop last year due to the collapse of cryptocurrency exchange FTX, has rebounded since then, rising 101% since the beginning of the year.
On Tuesday it rose 2.6% to trade at $20.03, according to TradingView data.
The CEO of Solana on ChatGPT: as revolutionary as the first introduction of the computer
On 23 May, Solana Labs co-founder and CEO Anatoly Yakovenko discussed his company's recent focus on artificial intelligence and ChatGPT. In particular, Yakovenko called artificial intelligence an important change.
In addition, Yakovenko said the following during a discussion:
"I think the natural language interface that ChatGPT has enabled is cool and interesting. It's as big a change as when Microsoft Windows and the computer mouse were first introduced."
Not only that, as anticipated, he also said that developers creating consumer apps should consider how their apps can be used through AI.
He also suggested that cryptocurrency APIs are ideal for interaction with AI due to their programmability, especially compared to centralized finance.
Yakovenko then highlighted Solana's existing ChatGPT plug-in mentioned above, which allows users and developers to retrieve on-chain data on NFT accounts and collections.
Although these features have been previously announced, Yakovenko suggested that Solana users could eventually perform transactions from a "ChatGPT loop," meaning that users could perform transactions within the chatbot itself.
Increasing Solana addresses, but decreasing on-chain activity, why?
As of this month, Solana has demonstrated growth in its user base, with 5.4 million new addresses joining the blockchain.
This increase represents the highest number of new addresses added since October 2022, suggesting increased interest in Solana's blockchain.
Typically, a surge of new addresses suggests a solid foundation for a blockchain, reflecting growing community adoption and involvement.
However, while Solana experienced a surge in new addresses, its on-chain activity declined during the same period.
Data from The Block, a leading blockchain analysis tool, reveal that on-chain activity on the Solana network declined in May, counteracting the influx of new participants.
On-chain activity refers to transactions, smart contract interactions and other operations that occur on the blockchain.
The decrease in on-chain activity raises questions about the factors affecting Solana's overall blockchain engagement and usage and why the growth in activity has not had a positive impact on its price.
Meanwhile, the price of the asset has also reflected its on-chain activity as SOL has been trending downward over the past week, down nearly 10%.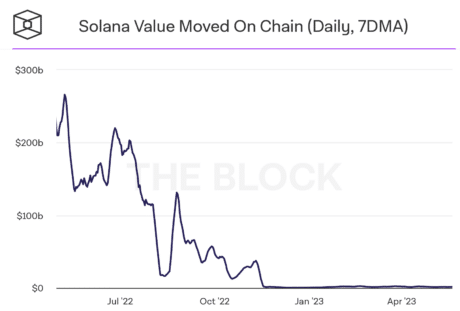 Graph of value moved on Solana's blockchain