Back to the list
Terra Classic Finally Implements Major Upgrade; Can This Take LUNC to $0.1?
thecryptobasic.com
24 May 2023 08:27, UTC
Reading time: ~2 m
---
The Terra Classic (LUNC) community has again implemented another initiative to support the ecosystem's revitalization goal.
The Terra Classic (LUNC) revitalization plan remains a significant goal for the community, as evidenced by recent developments. Most recently, the LUNC network was recently upgraded to accommodate the increase of the burn tax to 0.5%. However, it remains to be seen how effective this move will be in the revitalization plan.
Terra Validators, the LUNC validator behind the Terraport Finance project, called attention to the latest development in a tweet today.
A quick investigation carried out by The Crypto Basic indicates that the 0.5% burn tax rate has indeed been implemented on the network. This development essentially bumped the fees collected from transactions to 0.5%, up from the previous 0.2%. These fees are then sent to the burn address, contributing to the ongoing burn initiative.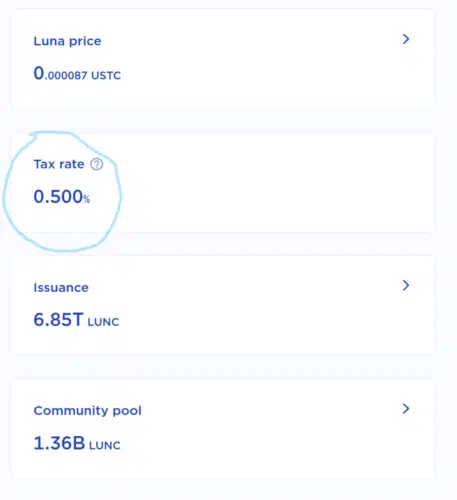 Terra Classic LUNC burn tax
The proposal to implement this change was submitted by dfunk, a prominent LUNC community member. The individual submitted four different proposals aiming to facilitate economic reforms in the ecosystem to bolster the revitalization plan. The community voted in favor of all four proposals.
Following the passing of the proposals, several notable exchanges declared support for the burn tax increase. As previously reported by The Crypto Basic, Seychelles-based exchange KuCoin was one of the first to declare support. Following kucoin's announcement, Binance also supported the increase.
After the community saw the detrimental effects the previous burn tax increase had on LUNC's volume, they voted to reduce the tax to the original 0.2% rate. Subsequent proposals to once again increase it has been declined by the community until now. Notably, dfunk's proposal suggests a more modest tax bump, as opposed to the aggressive rate increase with other proposals.
Could This Take LUNC to $0.1?
Accordingly, the Terra Classic network upgrade for implementing the rate bump occurred yesterday, as scheduled. The development has elicited excitement from the community, increasing the burn tax rate by up to 2.5 times. This essentially means that more LUNC will be burned with each eligible transaction.
The Terra Classic revitalization plan centers around the burn campaign and other initiatives such as staking. An increase in burns will support the asset's recovery goal. However, the rate of burns will depend on adoption.
LUNC is trading for $0.00008752, down 1.59% in the past 24 hours. The asset currently has a circulating supply of 6.61 trillion tokens, with about 58.6 billion burned so far. At the current burn rate, the community would take approximately five years to burn 393 billion tokens (5.7% of the total supply).
---
Source
---
Back to the list