Bitcoin (BTC) has recently been facing some selling pressure and trading in a tight range between $26,500-$27,500 for a while. The trading volume and liquidity for Bitcoin have dried up with exchange inflows hitting new lows.
Amid the current subdued performance of Bitcoin (BTC), sharks and whales have started accumulating altcoins and stablecoins. On-chain data provider Santiment reports:
As sharks & whales stay flat on their #Bitcoin holdings, we are seeing that #stablecoins have been accumulated by these large holders, increasing their future implied buying power.
The most widely accumulated stablecoins include USD Coin, Binance USD, and the DAI Stablecoin. The $100k-$10m whale addresses hold 37% USDC, 6% BUSD, and 39% DAI.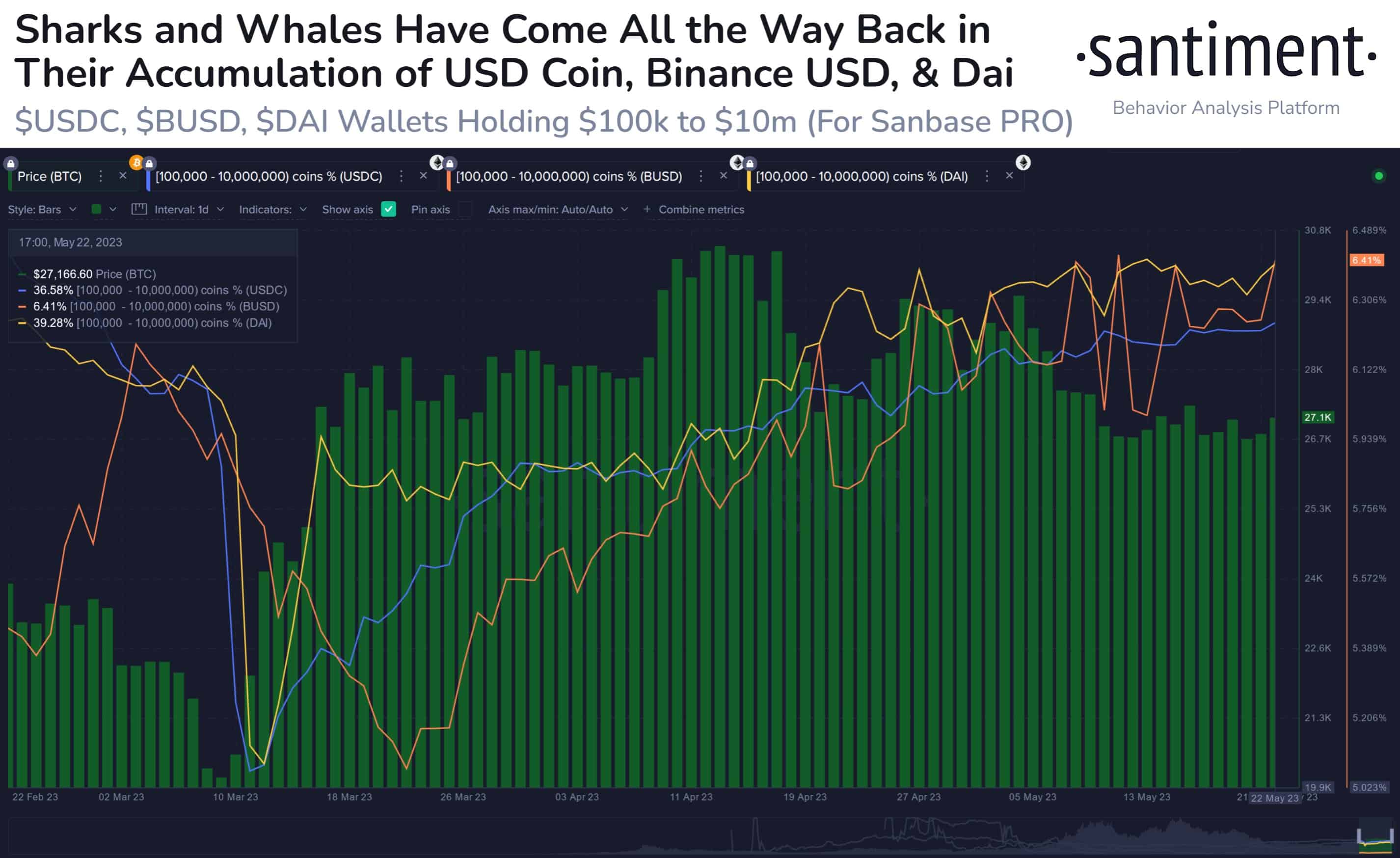 Courtesy: Santiment
Whales Accumulating Altcoins
On the other hand, some lesser-known altcoins have also been on the radar of the whales. During this month of May, whales and sharks have accumulated a few lesser-known altcoins such as Porspoer $PRO, Banqi $QI, and Maker $MKR. As per on-chain data provider Santiment, $100k-$1m tier of wallets have accumulated these assets.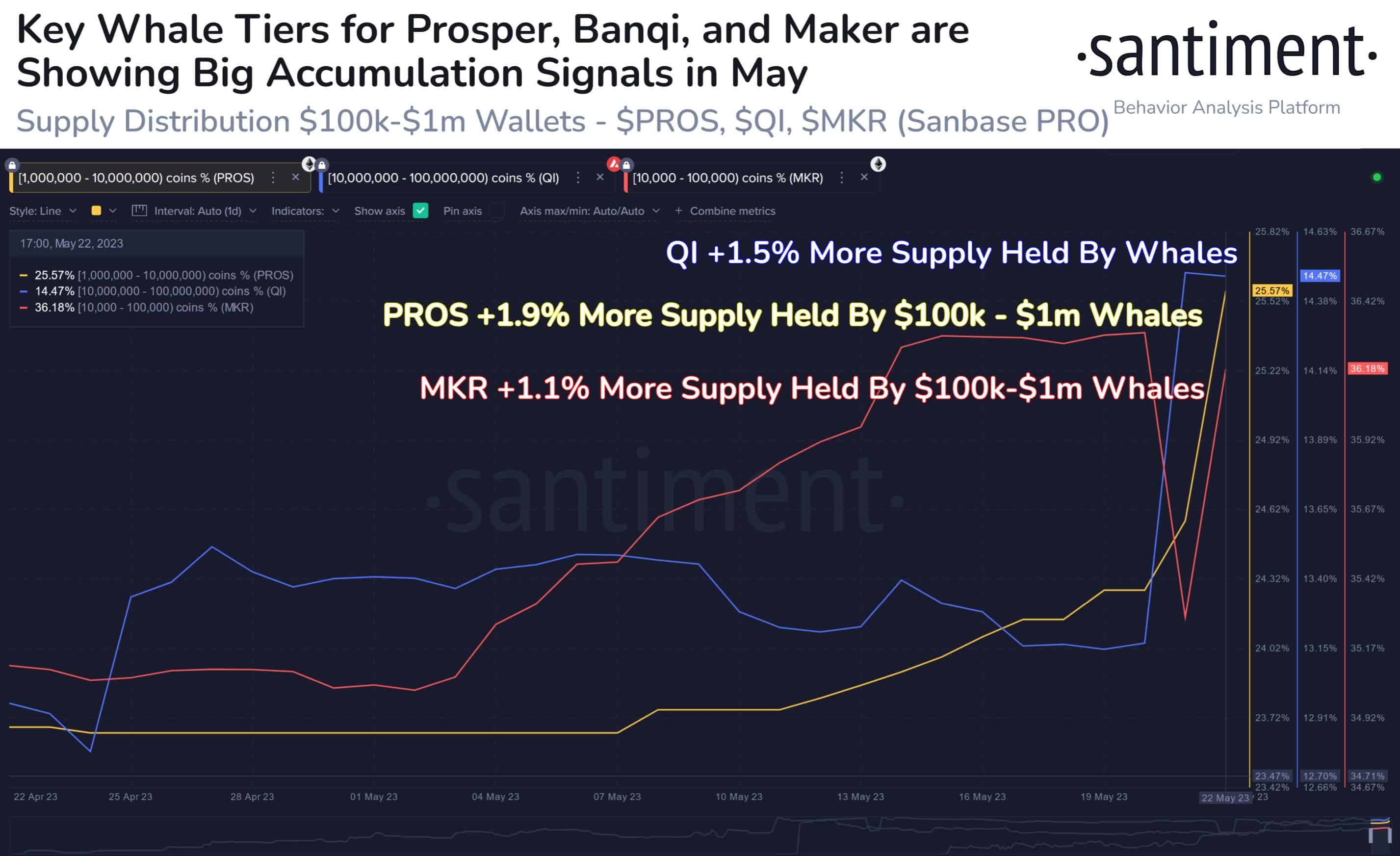 Courtesy: Santiment
Another altcoin which has delivered a solid rally in the recent times is Render Token (RNDR). Just over the last fortnight, RNDR has gained 63% and has jumped to becoming the 45th largest cryptocurrency by market cap.
On Tuesday, May 23, the RNDR price surged all the way to $2.785 after which it entered into some sort of profit booking. On-chain data provider Santiment reported that investors need to stay cautious considering that the whale transactions surged to the third highest over the past month. Santiment explained:
The key shark & whale RNDR addresses are continuing to rise in terms of their number of addresses. The tan line, representing wallets holding 1m to 10m RNDR, are particularly increasing rapidly. 90 such addresses is the most in the history of the asset. And if whales were profit taking, these numbers of addresses likely wouldn't be continuing to rise.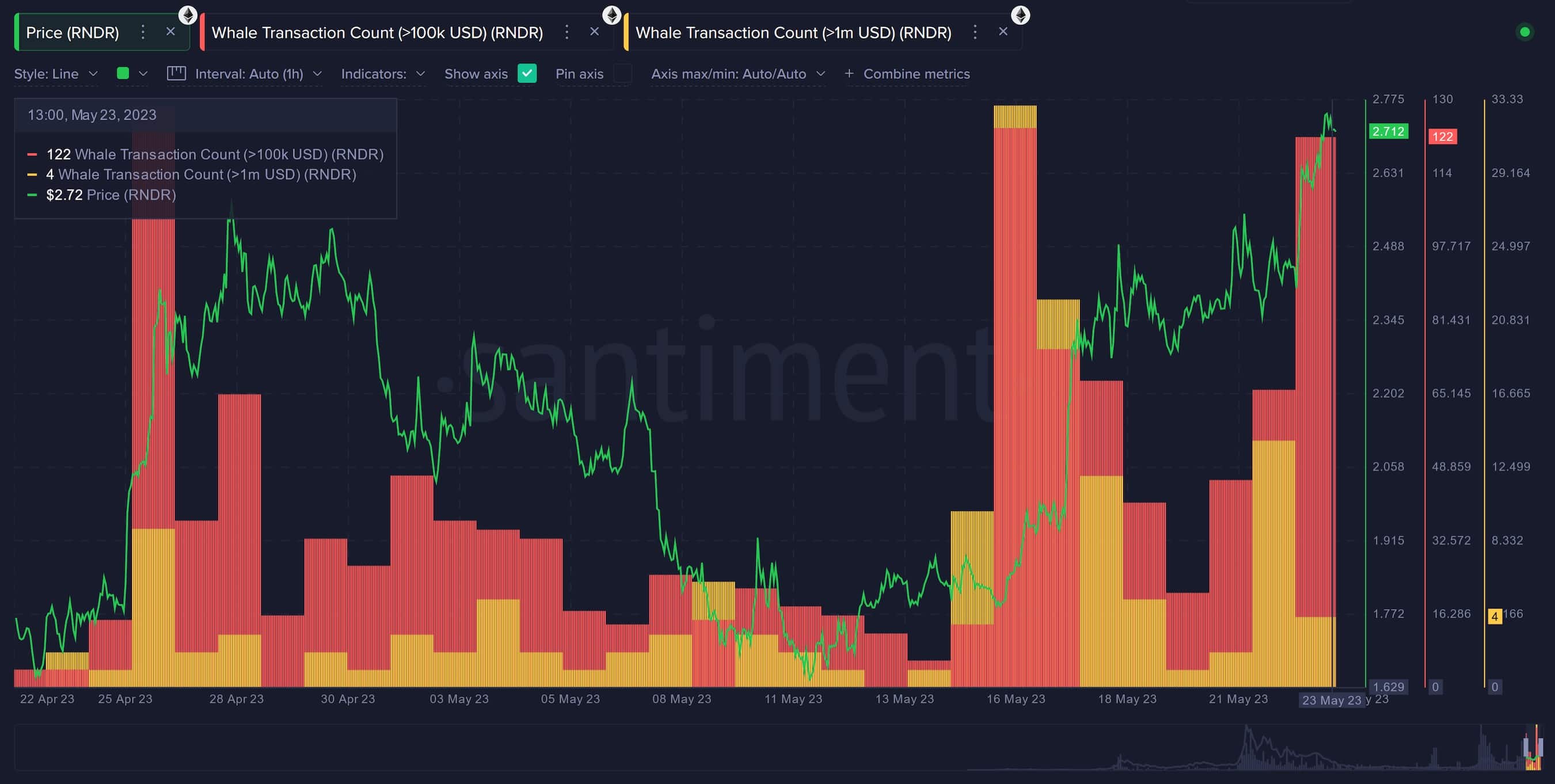 Courtesy: Santiment