Back to the list
Cardano's (ADA) First Dapp on Alonzo Faces Heavy Criticism, Here's IOHK's Response
coingape.com
06 September 2021 10:55, UTC
Reading time: ~3 m
---
Cardano blockchain launched the first Dapp on Alonzo testnet after the launch of smart contract functionality on September 1. The blockchain is all set to integrate the same to its mainnet on September 12 amid high anticipation and hype. However, Dapp has faced heavy criticism over its functionality and trading limits from ETHhub founder Anthony Sassano.
Sassano in his Twitter thread bashed and laughed at the first Dapp on Cardano calling it fundamentally flawed. He went onto mock the community for the useless discourse and even took a dig at the developers. He said,
"The first dapp went live on Cardano today and ADA fanboys are finally discovering that you can't peer review your way out of fundamental issues."
The first dapp went live on Cardano today and ADA fanboys are finally discovering that you can't peer review your way out of fundamental issues. pic.twitter.com/tYQXNcVKGN

— Anthony Sassano 🦇🔊 (@sassal0x) September 4, 2021
The major issue faced by Dapp users is related to UTXO transactions that are failing to go through for some users. One user even called it impossible to implement smart contracts using UTXO consensus which is primarily used for swaps on decentralized exchanges. Others called for a fix before the mainnet launch.
Cardano's IOHK Calls Criticism cum Bashing a FUD
Cardano's research and development community InputOutput (IOHK) responded to the criticism around UTXO transactions and even called out the FUD on social media, claiming the criticism was more of misinformation. The official Twitter handle of IOHK posted a long thread clearing a lot of confusion and queries posed in the discussion that was used by Sassano to troll Cardano.
IOHK explained that the main reason to go with the UTXO protocol was that it offers higher security and a predictable transaction fee. It also cleared UTXO transactions are not limited to just one transaction per block as claimed in the discussion.
"And to be clear, dapps are NOT limited to 1 transaction per block. By designing your service or application with multiple UTxOs, you can enforce more parallelism. This is inherent and – we believe – one of the advantages to eUTxO design as we have implemented it in Plutus"
IMPORTANT THREAD: Over the past 24 hours we have seen a lot of social media speculation (and let's face it, outright FUD & misinformation) over Cardano's ledger approach and specifically 'concurrency'. Let's clear this up. #Cardano $ADA 1/n

— Input Output (@InputOutputHK) September 5, 2021
Cardan0 ($ADA) has become the talk of the crypto town over the past few weeks owing to the smart contract upgrade on September 12. It is being seen as the biggest update for the blockchain that would enable it to compete against the likes of Ethereum and Solana. The price of $ADA has also surged significantly in the past month where the altcoin has touched a new ATH of $3.09. The altcoin is currently trading at $2.90 building strong momentum.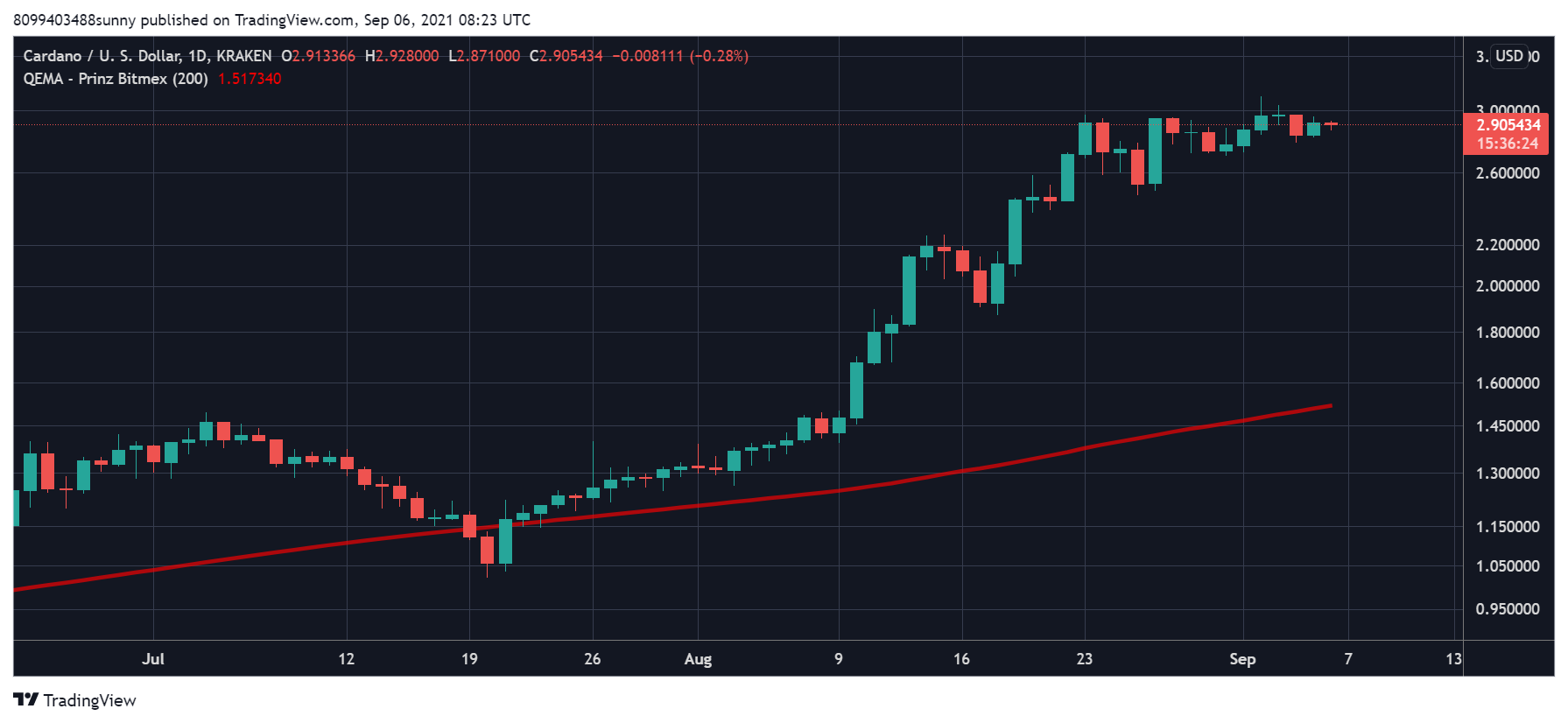 ---
Source
---
Back to the list