Back to the list
There are now over 1,000 DOGE-made millionaires after Dogecoin price skyrockets 
finbold.com
01 November 2022 13:33, UTC
Reading time: ~3 m
---
Last year the meteoric surge in popularity of the meme-based cryptocurrency Dogecoin (DOGE) turned a significant number of retail investors into millionaires. However, the number fell below 1,000 in mid-2022, owing to a Dogecoin downtrend and a broader crypto market collapse.
According to data obtained by Finbold, the number of Dogecoin millionaires stood at 1,046 as of November 1, returning above the 1,000 mark for the first time since April 2022. Notably, the price of DOGE also reached $0.15 for the first time since April on November 1.
887 DOGE holders have a balance of $1 million or more, based on the numbers that were supplied by the cryptocurrency data tracking site BitInfoCharts.com. Additionally, 160 addresses have a total balance of $10 million or more.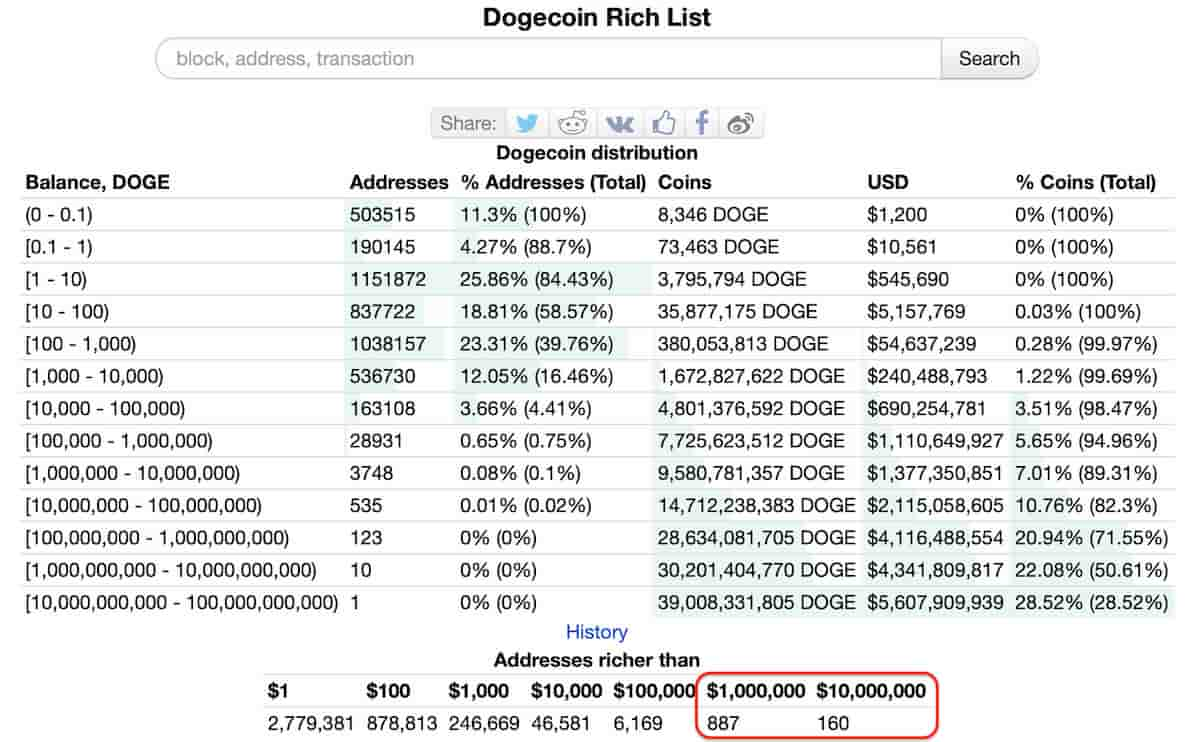 Finbold was able to discover that the number of millionaires on September 11 was 590, by using a program that archives online content. This indicates that the number has nearly doubled in under two months, representing an increase of 77.55%. It's interesting to note that Dogecoin and its price were in the midst of a downward trend until Elon Musk backtracked and definitively announced that he would purchase Twitter (NYSE: TWTR).
While DOGE holders saw their wealth grow, data shows that over 70% of Bitcoin millionaires were wiped out over three quarters in 2022.
Dogecoin leads crypto market gains
A recent uptick in the global cryptocurrency market has led to a rise in various alternative cryptocurrencies, including Dogecoin, which has also benefited from this trend.
The majority of analysts believe that the recent surge in the price of DOGE may be ascribed to the token's potential use case on Twitter as a payment system. Musk's electric vehicle company Tesla (NASDAQ: TSLA), already allows the use of Dogecoin to purchase merchandise.
In the midst of heightened purchasing pressure, the asset experienced weekly gains of over 100% at one point. This caused DOGE to overtake Cardano (ADA) BY market capitalization despite many crypto enthusiasts considering the latter to have more use cases.
Crypto community bearish on DOGE price prediction
Despite this, the crypto community has low confidence in their price estimate for DOGE by the end of November. Perhaps they believe that the capacity to maintain the Musk-inspired gains can be ascribed to the speculation seen in meme stocks and cryptocurrencies in 2021.
When considering whether the recent rally can be maintained, it is reasonable to presume that the asset's limited number of current use cases is the primary factor holding it back. Additionally, there are question marks around DOGE as a reliable form of wealth storage. Because of these constraints, the recent increase in the asset's value may be explained by pure speculation.
As things stand, Dogecoin is changing hands at $0.1395, up 16.18% in the last 24 hours, leading the top 100 cryptocurrencies by market gains, up 133.27% in the previous week with a total worth of $18.4 billion.
Disclaimer: The content on this site should not be considered investment advice. Investing is speculative. When investing, your capital is at risk.
---
Source
---
Back to the list
Similar news