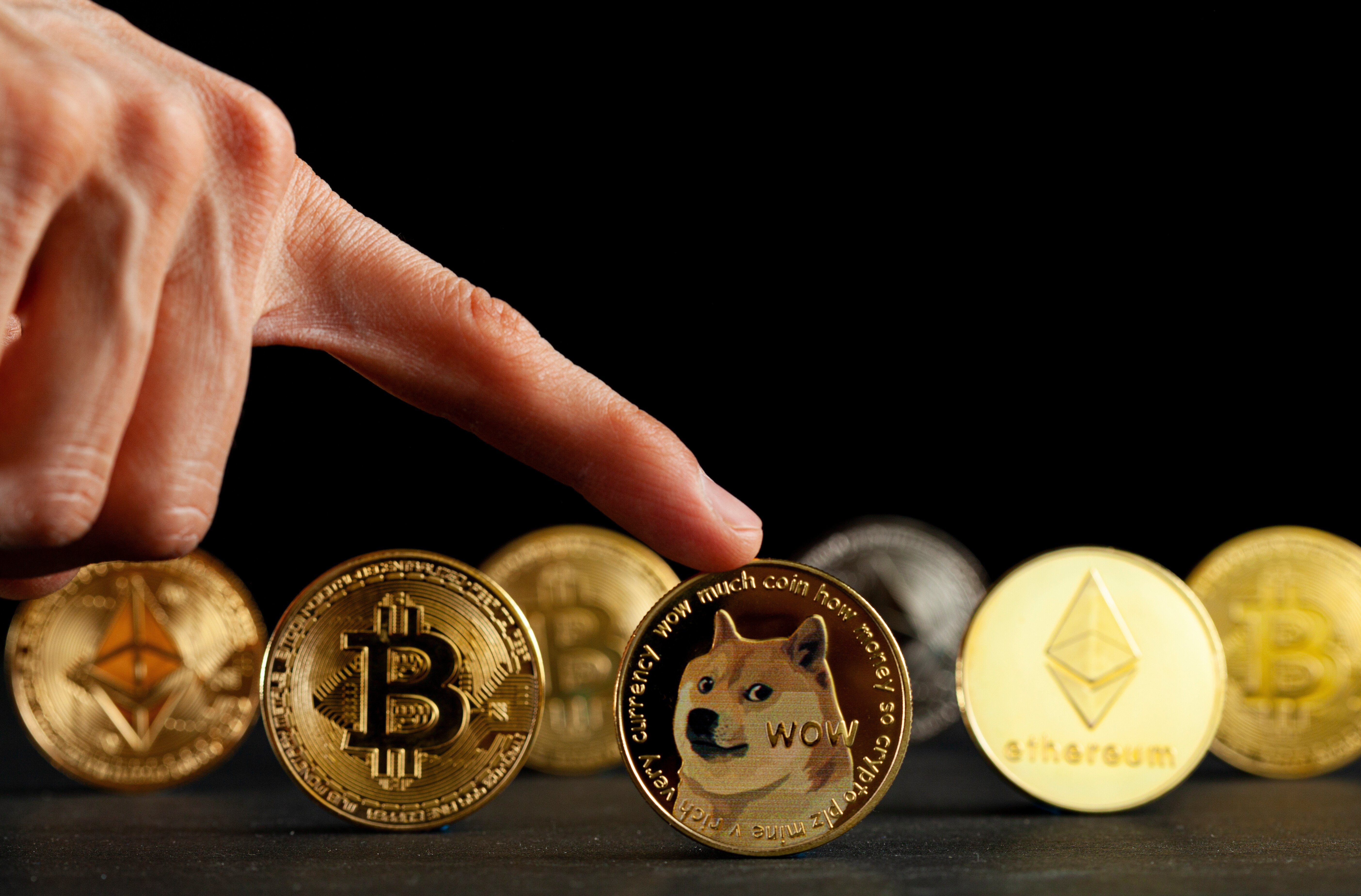 Dogecoin is up 16% to trade at $0.0768 on Thursday as Elon Musk closes in on the Twitter acquisition deal expected on Friday. The largest meme coin, which boasts $10.56 billion in market capitalization, saw its volume burst to $2.26 billion as investors and traders beamed with hope for a potential rally to $1.
Elon Musk Set to Close Twitter Deal on Friday
The world's richest man, Elon Musk, has vowed to complete the acquisition of Twitter Inc. by Friday this week. According to Bloomberg, Musk revealed his plan in a video call with a team of bankers, aiming at fast-tracking the process.
People familiar with the details of the conference call claim that a $13 billion debt financing facility has been gathered from selected banks. A credit agreement has been prepared and awaiting relevant signatures before the cash is wired to Musk.
Twitter, Inc (TWTR) shares sprouted as investors reacted to the news and exchanged hands at $53.92, just a few cents short of Musk's $54.20 acquisition price.
Investors are waiting with bated breaths due to Elon Musk's unpredictable behavior. Notably, just a few weeks ago, the billionaire wanted to opt out of the $44 billion deal.
Dogecoin Price Prediction
Dogecoin price tagged intraday highs of $0.0809, a level it had not touched for almost ten weeks. The daily chart reveals that the bulls are squarely in control, even though DOGE has retreated to $0.0764 at the time of writing.
Looking at the OBV (On Balance Volume) indicator, a spike in buying volume is positively backing the relief rally. It is worth mentioning that most crypto assets trimmed mid-week gains, like in the case of Binance Coin (BNB), down 0.2%, and Polkadot (DOT), down 1.4%.
The 200-day SMA (Simple Moving Average) (in purple) now stands in the way of Dogecoin reaching the much-coveted $1 level. A considerable resistance zone also sits on top of the moving average, precisely at $0.0800. Therefore, bulls must come prepared to deal with the selling pressure at this level.
Dogecoin's outlook has the potential to stay positive, looking at the position of the MACD (Moving Average Convergence Divergence (MACD). Traders triggered their long positions as soon as the 12-day EMA (Exponential Moving Average) (in red) flipped above the 26-day EMA (in blue).
The large green MACD histograms show that buyers have the upper hand and are unwilling to let go until DOGE brushes shoulders with $0.1000 ahead of a further move to $1.
Insight from the In/Out of the Money Around Price (IOMAP) model by IntoTheBlock paints a bullish picture of Dogecoin price, where support is stronger than resistance. The biggest green circle in the chart shows that approximately 116,000 addresses purchased 47.09 billion DOGE between $0.0664 and $0.06917.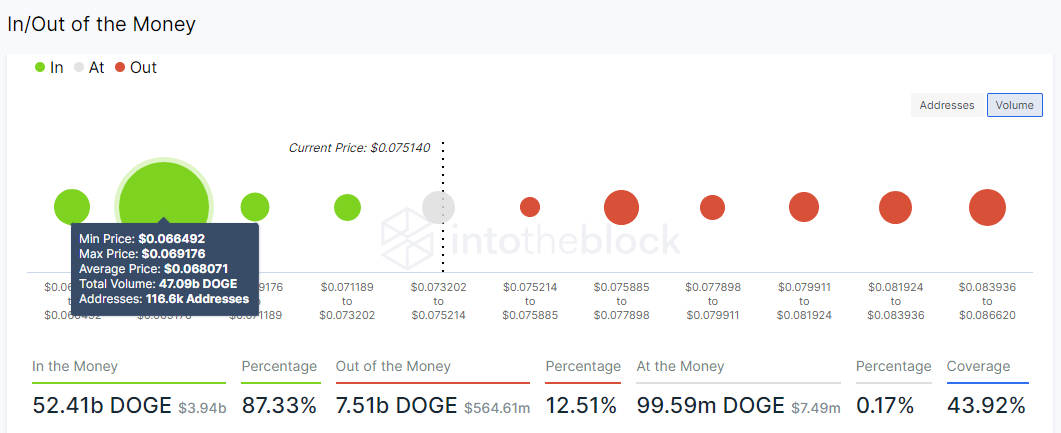 Dogecoin IOMAP
If Dogecoin price retraces, traders can look forward to new entries because holders in the range are in profit and are unlikely to stand by and let sell-offs worry them. Moreover, with resistance shrinking to the upside, DOGE has a higher probability of stretching its leg higher as opposed to going the other way.
Intriguingly, large volume investors referred to as whales are backing a $1-bound Dogecoin price rally. On-chain data (see chart below) reveals a spike of around 133 transactions worth more than $100,000 on October 26. Although the metric has retreated to 43 at the time of writing, interest in DOGE will likely keep growing as we inch closer to the completion of Musk's Twitter Inc. deal.

Dogecoin whale transaction count
Investors seem to have welcomed the news on Twitter openly and are ready to show support for the self-proclaimed "Dogefather." Positive commentary across social media platforms rose to 1,862 after dropping below 1,000 on October 10.
The meme coin's total social volume reflected a similar growth pattern, which jumped to 2,898 after Musk's assurance. For now, the path with the least resistance will remain to the upside for Dogecoin.

Dogecoin social volume/positive sentiment
On the other hand, investors and traders must consider booking profits whenever possible. Pullbacks are necessary for an up-trending market, as they offer new entry positions to sidelined investors.
Holders have already started realizing profits on their investment as per the MVRV (Market Value Realized Value) model. From the chart below, DOGE is quickly becoming overvalued.

Dogecoin MVRV ratio
A reading above 1 suggests that holders are mainly in profit and likely to sell. Moreover, the price tends to correct to a fair value, hence the potential for a trend reversal, at least in the short term, needs to be considered.
IMPT Offering Better Gains than Dogecoin?
Dogecoin holders will have to wait a long time for the coin to return to its former glory and beyond. For that reason, many investors have begun looking at smaller altcoins that have been beating the market in recent weeks, with presale tokens proving particularly lucrative.
For example, Tamadoge (TAMA) raised $19 million in its presale before witnessing a 1,800% gain after it was listed on OKX.

One promising new coin in this area is IMPT, a decentralized carbon credits marketplace that began its sale just over a week ago.
Based on the Ethereum blockchain, it provides users with the ability to trade NFT-based carbon offsets, while it will also enable consumers to shop online with retailers that support green initiatives. At a time when ESG investing is becoming a big thing, it has the fundamentals to perform well.

The IMPT presale is at its second stage after quickly selling out its first. So far, over $11 million of the token has been sold with just over half of the tokens remaining from the second stage.

Visit IMPT Now