Back to the list
Litecoin [LTC] bought at $100k on Binance when coin was trading at $90
ambcrypto.com
14 May 2019 14:00, UTC
Reading time: ~2 m
---
Litecoin [LTC], popularly known as the silver coin of cryptoverse, rose in the market along with Bitcoin [BTC]. Amid the rise of the market, the fifth largest cryptocurrency stole the spotlight as someone made a buy order at around $100k on Binance, one of the largest exchanges in terms of trade volume. The order was executed at around 08:15 UTC on 14th May 2019, with the coin being pegged against PAX, a stablecoin.
According to the data present on Trading View, the coin's opening price during that particular timeframe was $90.48 and the closing price was $90.04, indicating that this price shift lasted for a brief moment.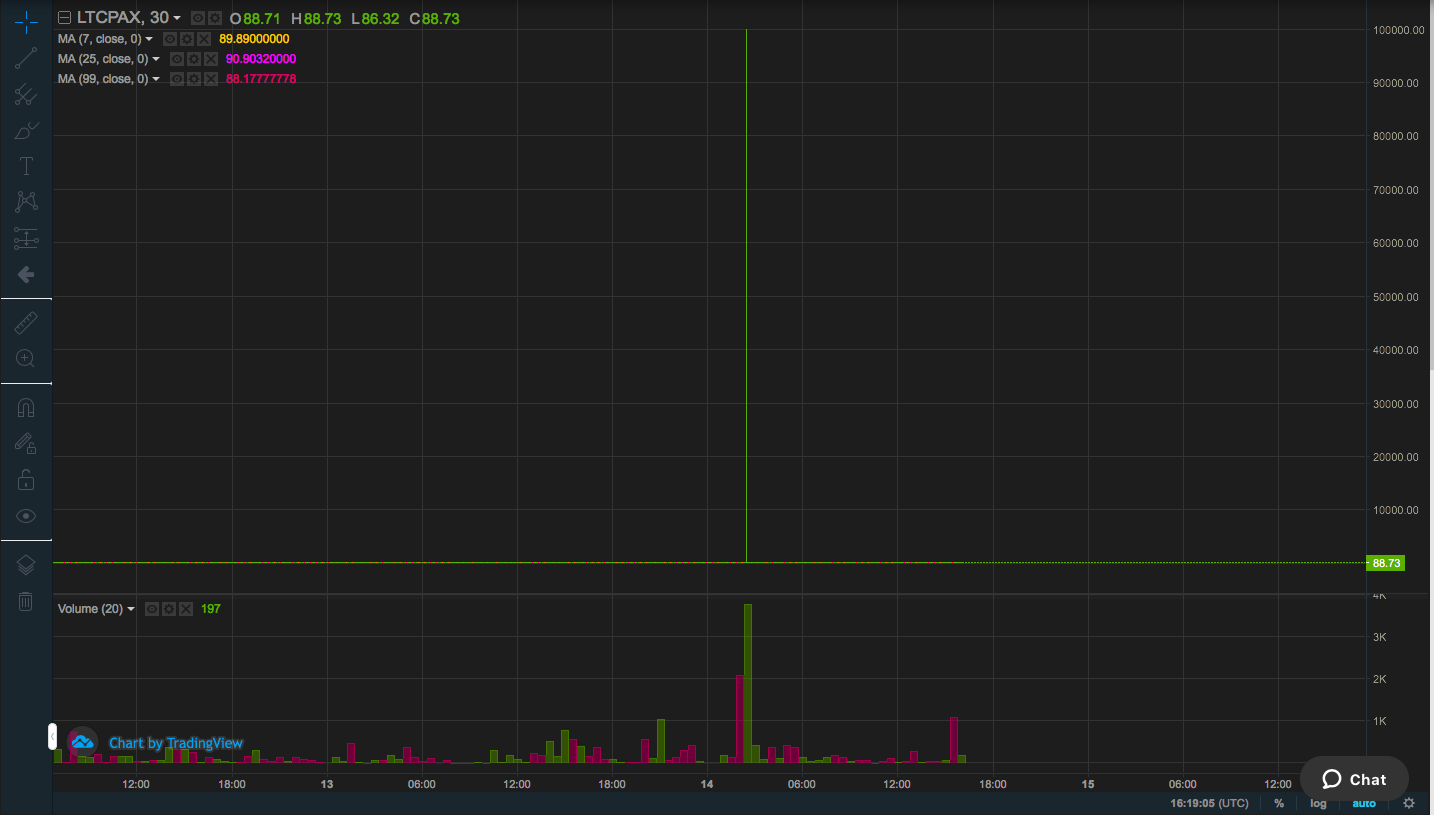 Source: Trading View
From LTC/PAX pic.twitter.com/kUCQj5UMMc

— Nick Rose (@imnotdonewritin) May 14, 2019
The Great Batsby said on Twitter,
"Someone just paid $100,000 for LTC, seriously, $100k….yes….what the fuck….someone is having a bad night."
Joshua Davis, a Twitter user said,
"Fat fingers and thin order books cause cascading fills. These exchanges don't have safeguards against user errors and enable SFYL"
Bitsplainer, another Twitter user said,
"Ha well the person on the other side of that trade is probably feeling pretty pleased"
This was not the first time that a cryptocurrency was sold/ bought a price that was more/less than the actual price. This trading error was witnessed in both Bitcoin [BTC] and Ethereum [ETH]. Notably, this was the second time for this to occur for Litecoin/ PAX. Earlier this month, Litecoin's price against the stablecoin peaked around $106, when the coin's aggregated market value was around $70.
In December 2018, when the entire cryptocurrency market was taking a deep dive into the bear's realm, Ethereum price plunged on Coinbase Pro for a brief moment as someone sold their holding for $13 on Coinbase Pro, when the coin's aggregated value was around $100.
According to CoinMarketCap, at press time, Litecoin was trading at $88.69 with a market cap of around $5 billion. The coin's trading volume was recorded to be over $4 billion and the coin has dropped by 2 percent in the last 24-hours.
---
Source
---
Back to the list