Back to the list
Dogecoin Becomes Second Largest Proof Of Work (PoW) Crypto
thecryptobasic.com
15 September 2022 10:22, UTC
Reading time: ~3 m
---
Dogecoin Becomes Second Largest PoW Crypto Following Ethereum's Shift to PoS
Dogecoin is now the second largest crypto-asset powered by mining, as The Merge successfully transitions Ethereum to PoS.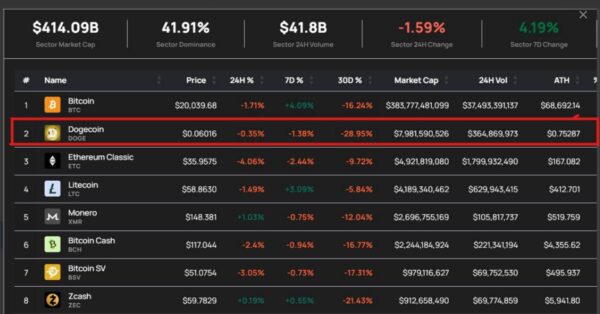 The much-anticipated Ethereum Merge is finally here, and it brings with it certain changes the crypto space has been expecting. One of these changes directly affects the canine-themed meme coin Dogecoin. 
DOGE, which had remained the third largest PoW cryptocurrency prior to The Merge, has now moved to second place, bestriding notable assets such as Ethereum Classic (ETC) and Litecoin (LTC). Dogecoin is only below the firstborn crypto Bitcoin (BTC) on the list.
With a market capitalization of $8.04B at the time of reporting – per data from CoinMarketCap – Dogecoin still comfortably places itself on the 10th position of largest cryptocurrencies, taking into consideration all assets, including PoS tokens. 
The shift to second position of largest PoW assets is an outstanding achievement for the meme coin, considering its initial frivolous outlook and the sentiments surrounding it. A Dogecoin proponent who highlighted the feat on Twitter acknowledged the surreal nature of the accomplishment. "Who would have thought that this would happen. Congrats #Dogefam," he remarked.
As noticed on the screenshot shared, amongst the top PoW cryptocurrencies, Ethereum Classic (LTC), Litecoin (LTC), Monero (XMR) and Bitcoin Cash (BCH) respectively secure third, fourth, fifth and sixth positions.
The fact that Dogecoin sits above Litecoin on the list despite being launched two years after it underscores the increasing interest in the asset. Launched in 2013, Dogecoin has crept into the hearts of several proponents, including billionaire and Tesla CEO Elon Musk who had in the past repeatedly given the asset free PR on Twitter.
As previously reported, Elon Musk's Tesla recently put up its premium collectible Cyberwhistle for sale, with Dogecoin being the only currency accepted for its purchase. Priced at 1000 DOGE – an approximate value of $60 against prevailing rates – the collectible sold out hours after Musk promoted it on Twitter.
Dogecoin, in part, has Ethereum to thank for this recent unconscious leg up. The Ethereum Merge which occurred on September 15 at a Total Terminal Difficulty (TTD) of 58,750,000,000,000,000,000,000 remains the talk of the town. The entire crypto space is currently abuzz, as proponents acknowledge the significance of the event.
By transitioning Ethereum to PoS, The Merge successfully reduced Ethereum's energy usage by over 99% – this translates to a reduction of the global energy usage by 0.2%. Notwithstanding, the ETHPoW – the Ethereum hard fork chain which would continue utilizing mining – is likely to go live soon as well. The official Twitter account of the ETHPoW mentioned that the 1-hour countdown to the mainnet release will go live in under 23 hours. 
Thanks a lot everyone for joining us in the ETH Merge Party with Binance Live, we got over 6000 audiences!

Next, within 23 hours, we will publish the 1-hour Count Down Timer for the ETHW mainnet release.

— EthereumPoW (ETHW) Official #ETHW #ETHPoW (@EthereumPoW) September 15, 2022
---
Source
---
Back to the list
Similar news