Back to the list
CCID ranks EOS, Tron and Ethereum as top 3 cryptos in latest report
www.chepicap.com
23 March 2019 09:30, UTC
Reading time: ~1 m
---
It has been reported by Cointelegraph that China's Ministry of Industry and Information Technology (CCID) has released its 10th report in which it ranks the best cryptocurrencies based upon their usefulness and potential. In the latest ranking, EOS, Tron and Ethereum come in the top 3 as the firm seems to be keen on platforms for development.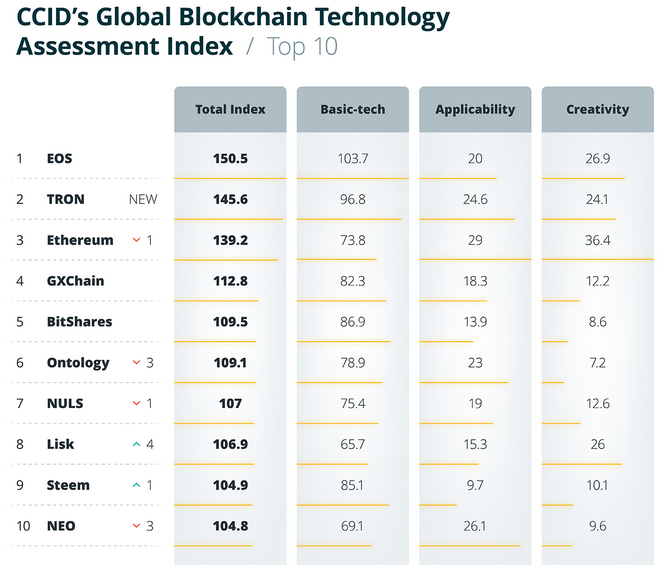 As you can see, EOS, Tron and Ethereum take the top spots. Tron is a new addition to the coins considered each month, so it is rather impressive it should debut at number 2.
The firm currently ranks 35 cryptos. Ratings are based along the parameters of "Basic tech," "Applicability," and "Creativity." Previously, Bitcoin was ranked 15th but with the updated report it has now reached 13th. It is clear however that platforms that allow for development and smart contracts seem to be favored higher than straight currencies. NANO, for example, is just before Bitcoin at 12th, Ripple is in 20th and Bitcoin Cash is ranked 27th.
While this is just one company's assessment, it does show that at least in China, interest is primarily on decentralized platforms. Will this help determine future value? Stick with Chepicap for all updates!
3 Undervalued ALTCOINS in 2019!Subscribe to the Chepicap YouTube Channel for more videos!


---
Source
---
Back to the list