Polish Club Legia Warsaw to launch LEG fan token - Bitcoin World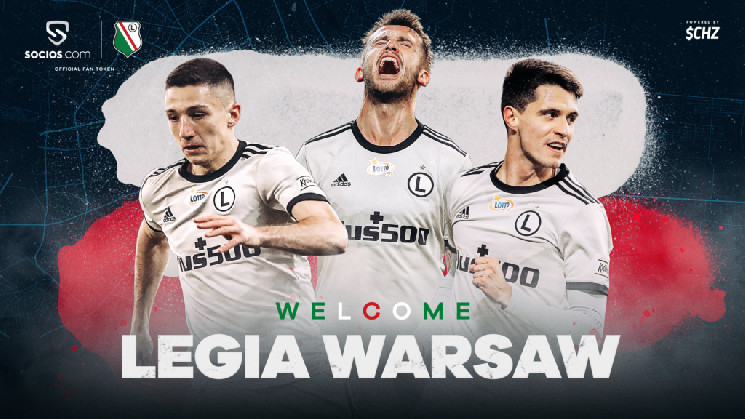 bitcoinworld.co.in
February 23 2021 09:46, UTC
Reading time: ~2 m
---
The expansion of blockchain-based soccer fan tokens over Europe proceeds as Poland's most successful soccer club partnered with sports fintech firm Chiliz. Legia Warsaw, which holds the record for maximum Polish league championship wins, will introduce a token on Socios.com. Moreover, they will launch their LEG fan tokens in the forthcoming months. Legia Warsaw fan token LEG will allow its holders many perks. It will involve the right to vote in various club decisions each season. 
LEG fan token offers various benefits to fans
The LEG fan token will also offer VIP rewards and experiences, exclusive club, sponsor promotions, games, competitions, and 'super-fan' recognition. Meantime, $LEG will have a maximum supply of five million tokens. Moreover, the Polish club has not revealed the LEG token launch date. LEG will be accessible on Socios.com, a Chiliz-powered social platform. Famous fan tokens are available on exchanges however are also found by Socios.com. Furthermore, the Socios.com app was downloaded by over 500,000 people globally in one year. Fan tokens produced $30M for clubs and associates in 2020, symbolizing a developing interest in soccer-themed crypto coins.
Furthermore, the CEO of Legia Warsaw, Dariusz Mioduski, seemed positive about cooperating with the latest technology proposed by blockchain and tokenization. Moreover, Alexandre Dreyfus, the founder and CEO of Socios.com, and Chiliz embraced Legia Warsaw onto the Socios platform and assumed it would develop complete fan engagement. Legia Warsaw accompanies 21 European football giants to have developed fan tokens on the Socios platform recently. Massive soccer institutions like Lionel Messi's FC Barcelona, Cristiano Ronaldo's Juventus, and Zlatan Ibrahimovic's A.C. Milan have all started club-based fan tokens on the Chiliz blockchain.
The Polish powerhouse enters the series of AC Milan, FC Barcelona, Juventus, and Paris Saint-Germain to introduce a club-themed crypto asset. Moreover, Legia Warsaw is the most successful Polish football club of all time, accomplishing 15 Ekstraklasa titles. Additional high-profile football clubs that have circulated fan tokens on the Chiliz exchange involve Paris Saint-Germain ($PSG), Galatasaray ($GAL), and the E-sports club, OG ($OG). This month AC Milan has become the latest club to launch its coin.
---
Source
---