Back to the list
Matic Surges Again after Losing 70% Value in 'a Coordinated Attack'
newslogical.com
22 December 2019 05:00, UTC
Reading time: ~2 m
---
Matic, a cryptocurrency recently listed by Binance, has again seen 15% growth in the last 24 hours, not long after the digital currency tanked by 70% early this month in a surprising manner said to be a 'coordinated attack'.
At the moment, the digital currency is up by 14% on Binance, and on CoinMarketCap, it has seen 14.92%, with the price staying around $0.017464 USD.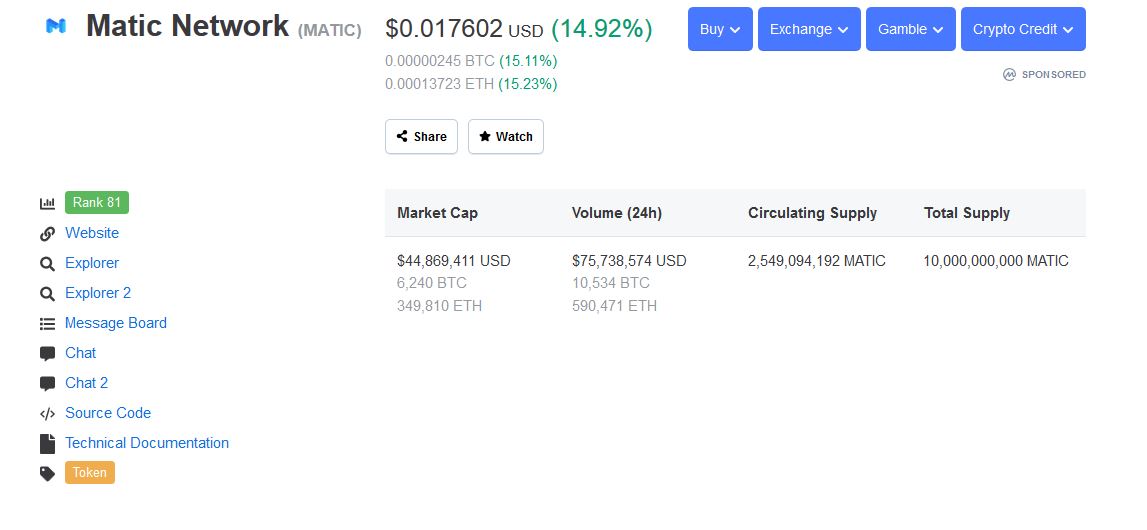 Monday 10 December, MATIC, a token of the Matic Network, tanked by 70%, moving from $0.042 to $0.013 within an hour.
What led to the sudden dump is not completely clear, but a blog post by Matic Network indicated that a piece of misleading information shared on Twitter by Samuel Gosling, Validity Crypto, a digital currency evaluation platform "created the FUD" that ended in a drastic drop for the Matic.
As tweeted by Gosling on Monday that the Matic Network Foundation moved nothing less than 15% of the supply, around 1.50 billion Matic token equivalent to $67 million, within 50 days, with claims that some of the tokens are being moved to exchanges for liquidation.
While the dump was attributed to the tweet, the price of Matic token had nosedived hours before the Gosling claim. This indicated that the said tweet had nothing to do with the Matic value drop.
Gosling tweeted after he was condemned: "I just want to deeply apologize for providing an inaccurate claim, it turns out it was only 381,903,830 $MATIC (3% of the supply) that 'seems' has been liquidated."
The price dump made Matic co-founder and COO, Sandeep Nailwal, to hold an AMA session to holistically look at the cause of the problem.
He said there are market manipulators who believe the digital currency would be an ideal project to short.
"I think the timing of this manipulative shorting was chosen in a way that our whole team was asleep because it was night time in India. It seems to be a coordinated attack."
Before the AMA, Binance CEO had tweeted that it was going to look into the issue and feed the crypto community back.
The Binance CEO weighed in on the issue considering that the Matic Network held its token sales on the Exchange's Launchpad, and made around $5 million from the sales.
CZ said that it's "already clear that the MATIC team has nothing to do with it. A number of big traders panicked, causing a cycle."
---
Source
---
Back to the list