Back to the list
Ledger Shares Open-Sourcing Roadmap Amid Community Outrage Over 'Recover'
beincrypto.com
24 May 2023 08:06, UTC
Reading time: ~2 m
---
Hardware wallet manufacturer Ledger has accelerated its open-sourcing roadmap. The company will steadily transition towards open-sourcing its OS.
Amid the furor over its "Recover" feature, hardware wallet manufacturer Ledger has announced that it would accelerate its open-sourcing roadmap.
The company's CTO, Charles Guillemet, tweeted on May 23 that the decision has been made "to bring more verifiability to everything we do."
Ledger Takes a Step Back
Guillemet added that the company strongly believes in open-source technology and that it was one of its core values. He also noted that most of its products were already open-source and that, together with other developers, this figure amounts to over 150.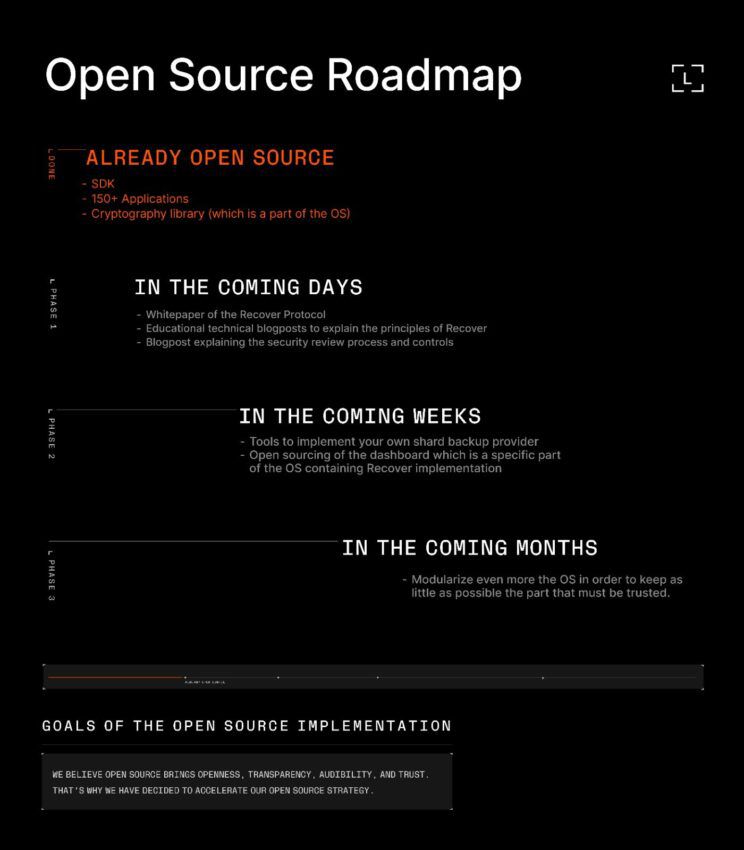 Ledger's Open-Source Roadmap: Twitter
Ledger CEO Paul Gauthier also commented on Ledger Recover and the open-source decision, stating that the "experience has been very humbling – we miscommunicated on the launch of this product, it was not our intention to take people by surprise." He referred to a letter that he had published, where he touted better security and transparency.
The announcement of Recover set off a wave of backlashes and led to much damage control by Ledger. The latest announcement could perhaps assuage any worries for a while. However, the crypto community will still be wary of any changes.
Recover Pushed Back After Backlash
The criticism from the crypto community led to Ledger delaying the launch of its Recover feature. Not long after it was announced, the hardware manufacturer held a town hall with the leadership team, where they spoke on various matters.
The crypto community, while angry about the new feature, seemed to be more welcoming of the open-source shift. Others have emphasized that not opting into the Recover feature will mean nothing has changed. Ledger will also publish the whitepaper of Ledger Recover soon, which would allow anyone to audit the feature.
Wallets Using Recover Could Have Seed Phrases Shared
There have been other developments concerning Ledger and Recover as well. Gauthier recently stated that private see phrases could be shared with governments if it was subpoenaed. This sparked another wave of concern.
Meanwhile, the Shiba Inu project, which is building its own hardware wallet, stated that the wallet would not be built on Ledger. It will instead use the Tangem wallet maker as the foundation for the new cold wallet.
---
Source
---
Back to the list
Similar news