Bitcoin is often criticized for its high energy consumption and carbon footprint. But a new report by Bloomberg cryptocurrency market analyst Jamie Coutts challenges this narrative and shows that Bitcoin mining is becoming more environmentally friendly.
According to Coutts, the use of renewable energy sources in Bitcoin mining has surpassed 50% for the first time, as miners shift to less fossil fuel-intensive regions and adopt more sustainable solutions such as off-grid power and 'gas flare'.
This trend has also resulted in a decrease in carbon emissions from Bitcoin mining, even as the hash rate of the network, which measures the processing power of miners, has increased.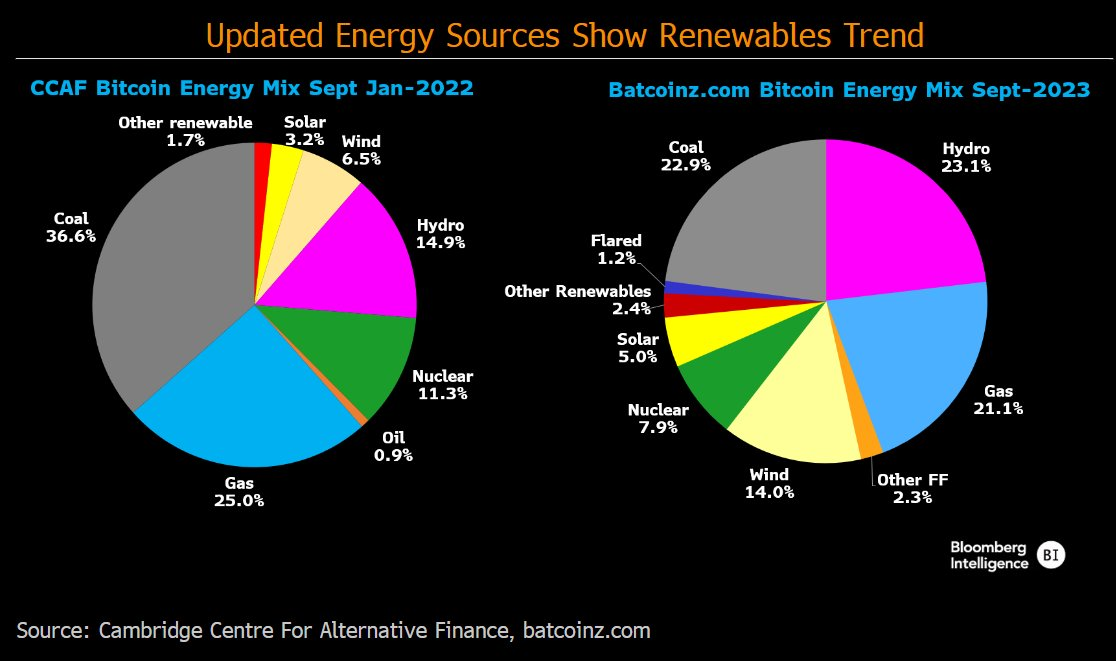 BTC madenciliğinde enerjinin çoğunluğunun yenilenebilir kaynaklardan geldiğini gösteren grafik.
To support his claims, Coutts cites data from the University of Cambridge, Coin Metrics and climate technology researcher Daniel Batten.
Cambridge recently revised its forecast for 2022 electricity consumption from Bitcoin mining from 105.3 terawatt-hours (TWh) to 95.5 TWh, following a more accurate assessment of ASIC machines used in the mining process by Coin Metrics, the analyst notes.
Batten also points out shortcomings in the Cambridge model, which exclude new sustainable energy sources and the major geographic shift in the last three years. The analyst estimates that since China's mining ban in mid-2021, which caused a temporary drop in the hash rate, emissions from Bitcoin mining have decreased by 37.5%, while the hash rate has recovered and quadrupled.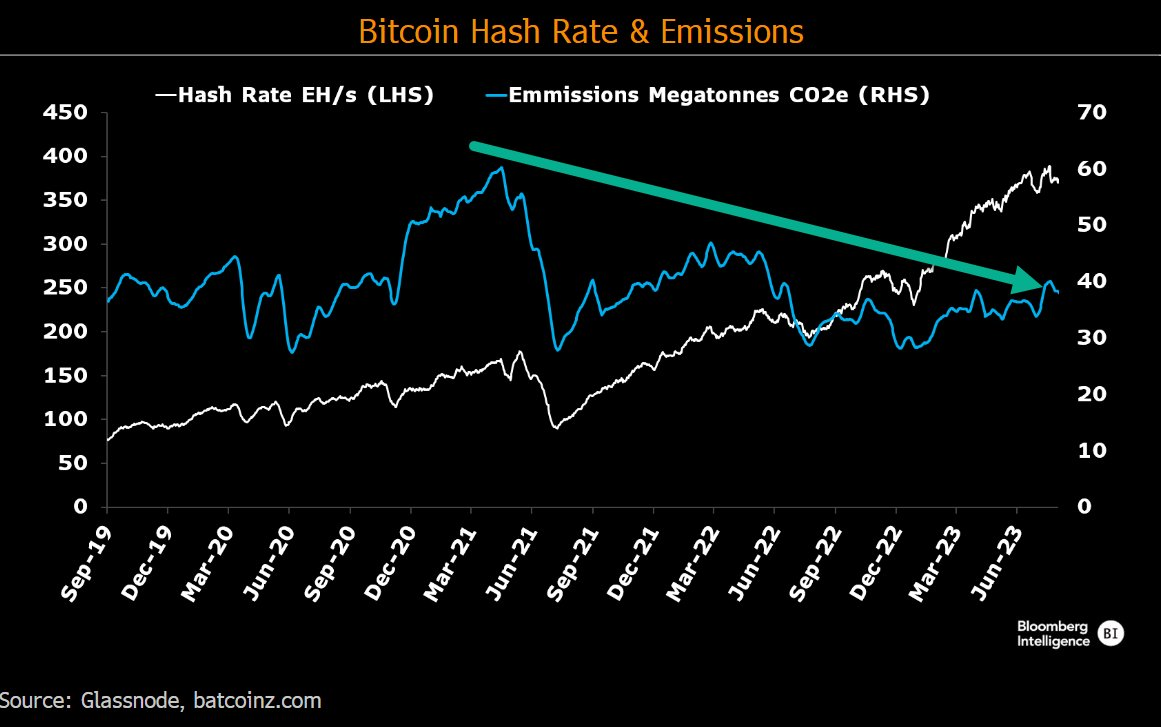 Graph showing that emissions decrease as the hashrate increases in BTC mining.
Coutts argues that falling emissions and rising hashrate indicate that Bitcoin mining is increasingly consuming more renewable energy in its composition. Additionally, the analyst said that BTC mining could also reduce the costs of using wind and solar energy:
"What is becoming more apparent is that switching away from coal for wind and solar often requires incentives and involves suboptimal returns early in the life cycles of power plants. "Bitcoin mining as a source of revenue from excess energy can support this transition."
Elon Musk Said Tesla May Accept BTC Again When 50 Percent of the Energy Used in Bitcoin Mining is Renewable
After the share of renewable energy sources in BTC mining exceeded 50%, all eyes turned to Elon Musk, who announced that Tesla would accept BTC payments again if this rate was exceeded. Musk said the following in his statement in July 2021:
"It looks like BTC is shifting more to renewable energies and many of the heavy coal power plants used, especially in China, have been shut down.

I would like to do some more due diligence to confirm that the percentage of renewable energy use is most likely 50% or above and that there is a trend towards increasing that number. If this happens, Tesla will most likely start accepting BTC again."
*This is not investment advice.